How about a Marc Anthony Concert Tickets Giveaway to kick off Hispanic Heritage Month on QueMeansWhat.com ?!
To make a long story short, I've had a very crappy last few days. Plans just didn't go like I wanted and we had major setbacks in my family. And then, I received some incredible news  … thanks to our friends at BudLight, we get to send one lucky reader and a guest to see Marc Anthony! Eeeek!!!
So, we take the good and the bad … whatever comes our way and make the best of it! Queridos, I am MUY EXCITED to get to giveaway 2 Premium Concert tickets to see the one and only Marc Anthony in San Antonio at the AT&T Center on Sunday, September 28, 2014 at 7:00PM.
My husband and I love all Marc Anthony music. I like the new stuff like Vivir Mi Vida …
My husband likes old school Marc like Vivir Lo Nuestro …
Which Marc Anthony song is your favorite?! Even as I type this, I still can't decide which one I'd say is my absolute FAVORITE. Remember the
No Me Ames
with JLo?! My Spanish professor in college used that to help us learn Spanish. Yep, I even love that one.
THE GIVEAWAY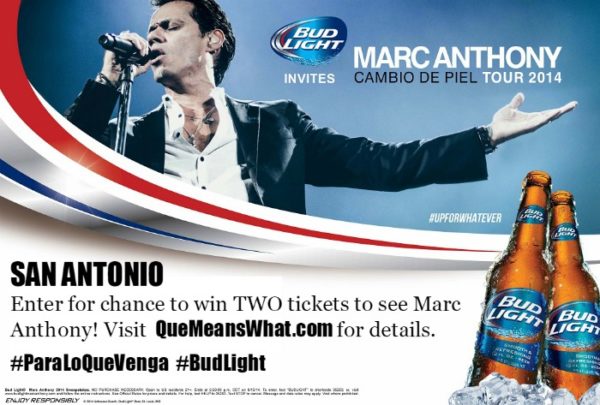 Below are some easy way to enter the giveaway but I'm going encourage you to get the most entries possible! All other entries will gain you 1 entry. RECORD A VIDEO OF YOU SINGING OR DANCING TO YOUR FAVORITE MARC ANTHONY song and get 10 entries!!! TEN! and you can do that each day for next 4 days!
Go ahead, queridos! Enter! and Good Luck!!! **You must be 21+ to participate**
a Rafflecopter giveaway
Purchase tickets to Marc Anthony Cambio del Piel Concert in San Antonio.