Melanie Mendez-Gonzales is a digital media entrepreneur and the founder of Que Means What, an award-winning blog. She's a seventh-generation Texan and raising her two boys in beloved San Antonio, TX with her husband. She loves teaching and learning as a homeschool mom, exploring the outdoors and binging her favorite tv shows and movies.
On her blog and social media, Melanie creates content exploring today's American Latino identity through leadership, education, entertainment and family life. She understands the pride and confusion of living between two cultures. Melanie embraces her Mexican-American identity as an absolute strength and uses it as a community leader both in person and online. Her content empowers others to do the same.
In 2020, Melanie launched her own interview series "Latinas Who Lead." This series highlights different Latinas leading in their respective industries. They are CEOs, authors, influencers, politicians and more. These Latinas open up to Melanie about their own bicultural identity, personal journeys and current projects. Watch all interviews on Facebook: https://www.facebook.com/quemeanswhat/videos
AWARDS
Since the start of her blogging career in 2010, Melanie has received various recognitions but she is most proud of receiving the 2018 TECLA Award "The Jewel Award" for Social Good Content Creator and the 2016 Best Latin@ Education Influencer Award by Latinos in Tech Innovation and Social Media (LATISM).
BRAND PARTNERSHIPS
Melanie has worked with major national brands such as Walmart, Chevrolet, Verizon, Prudential, and Disneyland. Locally, she has collaborated with organizations such as LiftFundUS, CPS Energy and the City of San Antonio.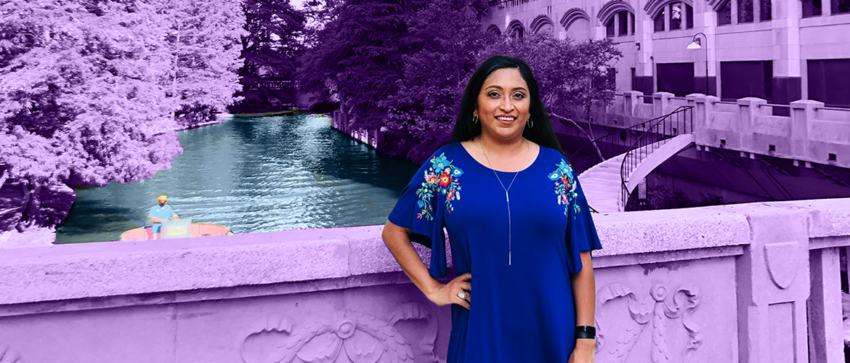 TV HOST
Melanie is the host of ¡SALUD! on KLRN-TV, Season 2.
¡Salud! highlights Hispanic women taking charge in the business world in San Antonio.
Our city features many Latinas who work at, own, or operate a variety of businesses. We want to give them the recognition they deserve. Meet the Latina leaders who are working in our community, from large corporations to corner bakeries. Join us as we hear firsthand from women who have broken stereotypes and barriers to reach success – and what they learned along the way.
All Season 2 episodes are streaming online: https://www.klrn.org/salud/
SPEAKER
Melanie is a four-time South by Southwest (SXSW) speaker on entrepreneurship, diversity in the outdoors, multicultural influencers, and parenting with STEM education. She has also been a speaker at H-E-B's Diversity and Inclusion Summit, Women's Global Connection Girls Summit, Voto Latino Power Summit, and Hispanicize Event. 
LEADERSHIP
In an effort to continue leadership education in her own community, Melanie completed several leadership programs and serves on nonprofit boards and committees. In 2019, she completed the Latina Leadership Institute – a program of the San Antonio Hispanic Chamber of Commerce. She is a 2020 graduate of the Leadership SAISD Program. In 2021, Melanie earned a certificate in the Dare to Lead™️ program based on the research of Brené Brown, Ph.D, LMSW, and a certificate from eCornell in Entrepreneurship. Melanie is a proud SA2020 Ambassador engaging people in her city to strengthen the San Antonio Community Vision.
Past leadership roles included serving as a Board Member and Communications Chair of SAY SÍ (2020 – 2022); Hispanic Women's Network of Texas as the Vice Chair of Marketing for the San Antonio Chapter (2021); San Antonio Hispanic Chamber of Commerce Leadership Committee and Latina Leadership Institute Co-Chair (2021 – 2022).
PRESS
She has been featured in NBC Latino, San Antonio Magazine, San Antonio Express-News; and local TV shows WOAI's SA Living, KENS5 Great Day SA, KSAT's SA Live and KLRN's Salud.