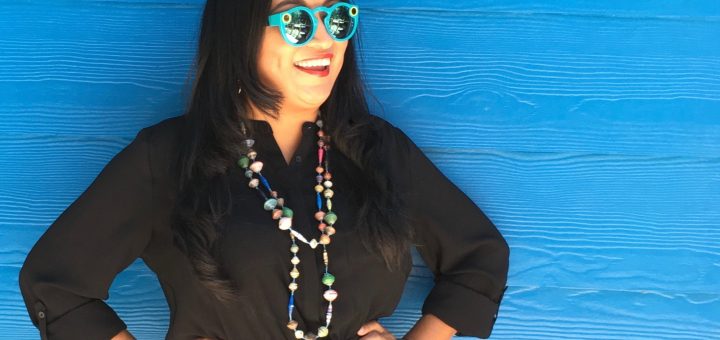 Hire Melanie Mendez-Gonzales, founder of Qué Means What, as a SPEAKER, BLOGGER, or SOCIAL MEDIA CONSULTANT. Email Melanie at quemeanswhat@gmail.com for packages and more information.
---
SPEAKER
Suggested Topics:
Raising STEM Educated Children
Hispanic/Latino Identity in America Today
How to Use Social Media to Share Your Message
Blogging About Culture
Blogging as a Solopreneur
Current Speaking Engagements Include:
2017 Voto Latino Power Summit How to Make Social Media Work for Your
2017 Hispanicize Finding Your Voice to Make a Difference
2017 SXSW Pathway to Increase Diversity in the Outdoors
2017 UTSA Institute of Texan Culture 30th Annual Asian Festival Interview with Dr. C. Mauli Agrawal
2017 PRSA San Antonio Adding Social Media to Your PR Plan
Previous Speaking Engagements Include:
2016 Adelante National Leadership Institute: Leveraging the Power of Social Media and Tech
Hispanicize 2016: Leveraging Our Multicultural Influence for Commerce, Justice and Social Good – Presented by The Calvert Foundation
Hispancize 2016: Tapping into the Booming Influence of Texas Latinos
SAAHJ Media Professional Development Workshop
2016 SXSW Interactive: Multicultural Blogger and Content Creator Meet Up
2015 Texas Conference for Women: Social Media Rountable: How to Maximize Your Blog's Reach
2015 Blogalicious Conference: Traditional Media Isn't Dead. Make Them Partners in Building Your Empire.
2015 SA-STEMIC Workshop: How to Engage Latino Families in STEM
2015 SA-Association of Hispanic Journalists Media Workshop: PR/Pitching to the Media
2015 SXSW Interactive: "How Latina Moms Are Raising Next Gen Coders" https://soundcloud.com/officialsxsw/how-latina-moms-are-raising-nextgen-coders-levelated?in=officialsxsw/sets/sxswinteractive2015playlist1
2015 Hispanicize: Latina Innovators Embracing STEM http://www.hispanicizeevent.com/?post_type=speakers&p=9298
2014 Christian Women's Small Business Association: Finding Purpose & Profits Through Your Passions http://www.meetup.com/Christian-Women-s-Small-Business-Association/events/213155332/
2014 Voto Latino Summit: Making New Friends: Maximizing Your Network http://quemeanswhat.com/voto-latino-power-summit-san-antonio-join-im-speaking/
---
INFLUENCER MARKETING CONSULTANT
Influencer marketing is the current buzz. Know why? Because it works. Melanie can help you on your next influencer marketing campaign. She keeps her 'ear to the ground' to listen for the bloggers who are the right fit for your brand.
Host an influencer/blogger event for your brand
Create a strategy for influencer/blogger outreach
Serve as liaison between your brand and the right-fit influencers/bloggers
Create and execute social media strategy for your brand and influencers/bloggers
---
BLOGGER
Freelance Writing for Your Publication
How to Begin Blogging Classes
Brand Ambassadorships featured on QueMeansWhat.com
Sponsored Content Campaigns featured on QueMeansWhat.com
---
SOCIAL MEDIA CONSULTANT
Strategic Planning for Your Brand and Message Online
'How To' Social Media Classes for Business, Organizations or Personal
Twitter Party Host Including Reports and Analytics
Social Media Live Reporting from Your Event
---
About Melanie
San Antonio, TX
Melanie Mendez-Gonzales is an online media entrepreneur and the creator of ¿Qué Means What? – a leading Latina lifestyle blog. ¿Qué Means What? began as a platform for Melanie to share about the re-discovery of her Mexican-American heritage. Today, it has grown into an online community for news in entertainment, resources for STEM education and candid stories about family life in her beloved state of Tejas.
Melanie has partnered with national brands, organizations and media networks to bring ideas and stories to life as a digital influencer. She has been named 2016 Latin@ Education Influencer by LATISM, a 2015 Texas-based Bloggers to Follow by FlipKey by Trip Advisor; 2014 American Latino Expedition Influencer by National Park Foundation; a Top Bloguera by LATISM in 2016, 2015, 2014 and 2013; and an SA2020 ambassador for her city. She has been featured in NBC Latino, San Antonio Magazine; and local TV shows WOAI's SA Living and KENS5 Great Day SA.
She is the co-founder of the online community Texas Latino Bloggers and the Programming Director/Co-founder of STEM to Vine. Melanie is also a member of San Antonio Association of Hispanic Journalists.