Voto Latino is coming to San Antonio! Their 2 day Powe Summit will be held on September 12th and 13th.
What is Voto Latino Summit?
Voto Latino's Power Summit is a leadership conference to educate, empower, & engage Latino Millennials to create positive change in their communities. Each Power Summit brings together nearly 300 Latino Millennials to network, sharpen their organizing skills, and learn about tools they can leverage to galvanize their communities into action.
Participants can choose from 3 tracks – advocacy, leadership and media & technology – where they will receive training and hear best practices from elected officials, community activists, grassroots organizers, celebrities, and business leaders. (votolatino.org)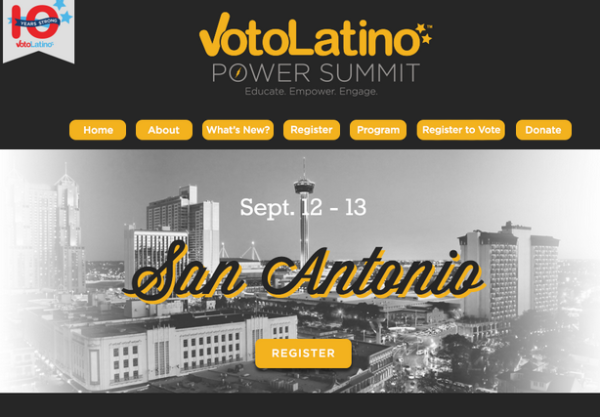 Speakers and Panelists – Voto Latino Power Summit San Antonio
Speakers include: Wilmar Valderrama – Actor and Activist, Co-Chair of Voto Latino's Artist Coalition. (He's more than Fez from That 70's Show, queridos!); one of my Latina heros – Maria Teresa Kumar, President & CEO of Voto Latino; Our very own Congressman Joaquin Castro; and Lalo Alcaraz, Syndicated Cartoonist and Writer of FOX Show Bordertown (a.k.a. muy badass). Many more talented speakers will be there. Find a full list here.
I'm excited and honored to announce that I've been invited to be on the social media panel with Jessica Ramirez – Digital Media Consultant at Voto Latino; Matt Reyes – Director of Digital Strategy at Inspire; and
Francisco Pelayo – Social Media Manager at Univision. Our session is

Register or Volunteer
For both days, registration is only $25. Register here. If volunteering is your gig, find out more about those options here. Whatever you do, queridos, DON'T MISS IT!!!
Voto Latinos Summit is only happening in four cities this year and it's already half way over! They went to New York and Miami. After San Antonio, they are headed to San Jose. SATX is definitely a "City on the Rise" and that's why they chose us! Join us!

AND DON'T FORGET TO REGISTER TO VOTE! Click here.