In September 2021, this little blog of mine turned 10 years old! TEN! I still can't believe I've been blogging for a whole decade. What do you do to celebrate 10 years of blogging? Throw una fiesta of course!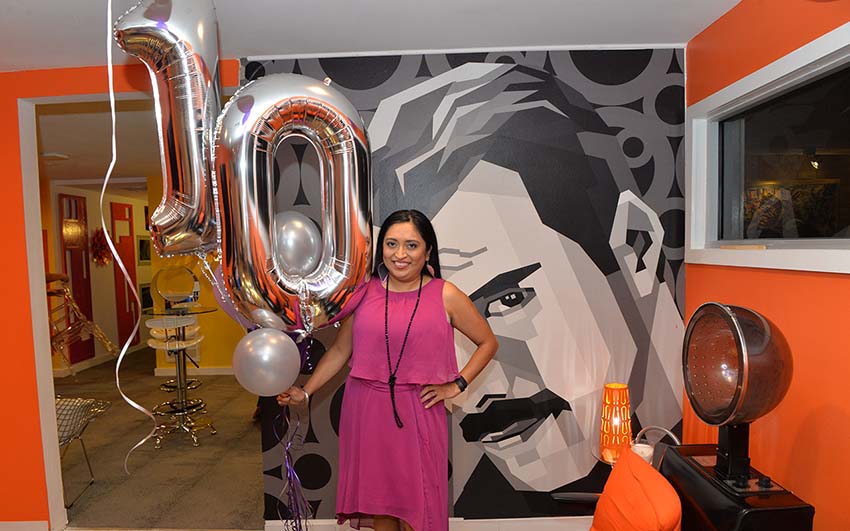 The idea of throwing this party sounded fantastic up until it came time to plan the party. Then, the imposter syndrome set it. Who am I to celebrate writing blog posts and social media posts about Latino community and cultura for 10 years? Pero, thanks to some amazing amigas, I got over that – actually, I pushed through – and planned the party anyway! Because our stories deserve to be celebrated, Queridos!
Blogging Ten Years Ago
Ten years of creating content – writing blog posts, taking photos, producing videos, joining Facebook, then Twitter, then Instagram and today even TikTok – is notable. I started Que Means What because I was already blogging and during a writing exercise, I had to write my most embarrassing moment which was the famous "que means what" story. Read that here. I changed my self-named blog to Que Means What because I knew that if I was experiencing self doubt about my Latina identity for many reasons like not speaking Spanish, others were feeling the same.
A little over ten years ago, I looked around and simply didn't see other Latina bloggers like me talking about identity beyond immigration stories. I'm a 7th generation Tejana. I didn't speak Spanish. I didn't grow up feeling like I was connected to my own heritage. I didn't feel Latina enough, Mexican enough or just enough period. So, I bravely embarked on writing my story online and sharing it with whomever would read it. I had no idea just how many other people were identified with my story. Ten years later, here we are.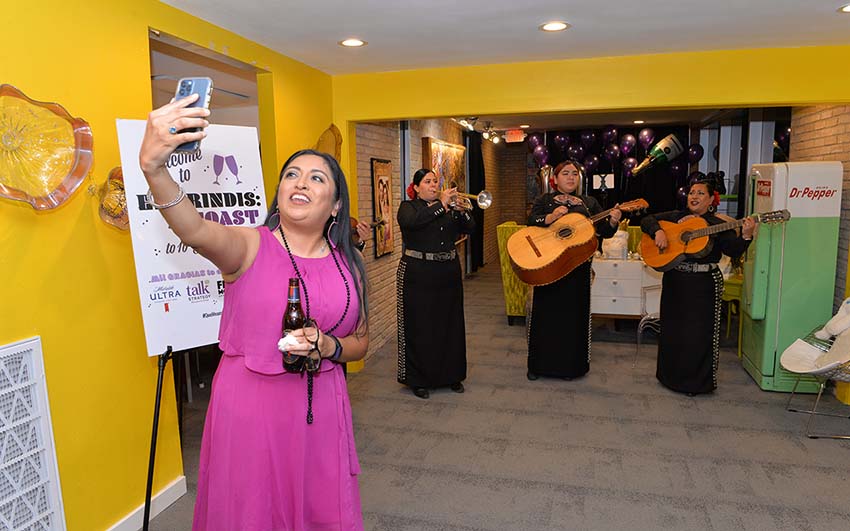 Sponsors Are Part of the Success
TALK STRATEGY
So much of the success of this blog is because I learned how to partner with brands to create sponsored collaborations. One of the first agencies who introduced me to their clients for a sponsored collaboration was talkStrategy (formerly the DeBerry Group). The relationship that was fostered out of this collaboration was priceless. The people at talkStrategy taught me how to be selective with who I work with to ensure our missions align. It's a lesson I've never forgotten. talkStrategy is a woman-owned, full-service, independent communications agency who graciously joined El Brindis as a sponsor – MIL GRACIAS.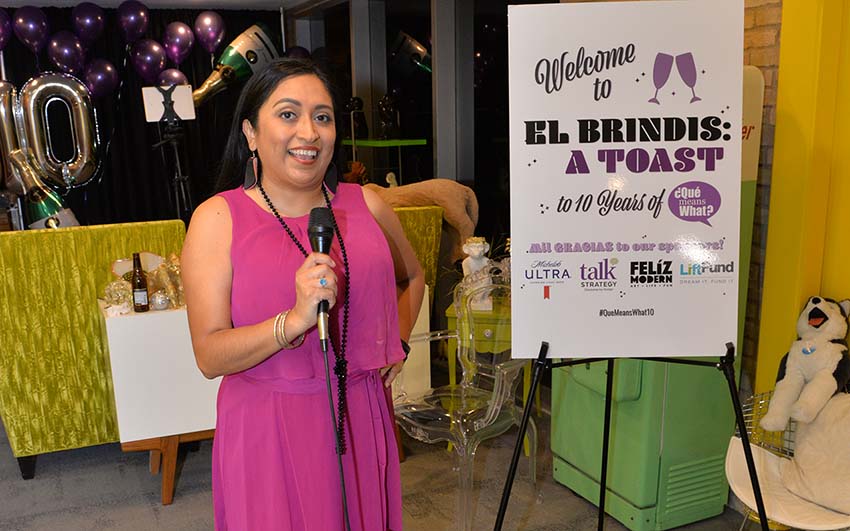 SILVER EAGLE BEVERAGES
Not every brand collaboration is the same. A great partner I've partnered with over the years in various ways is Silver Eagle Beverages. You've seen my Instagram posts featuring fun packages of a Silver Eagle Beverages product! As one of the largest members of the Anheuser-Busch wholesaler family, Silver Eagle Beverages serves the metropolitan area of San Antonio and South Texas counties. MIL GRACIAS, Silver Eagle Beverages, for sponsoring and providing the beer and wine because what's un brindis without Michelob Ultra?!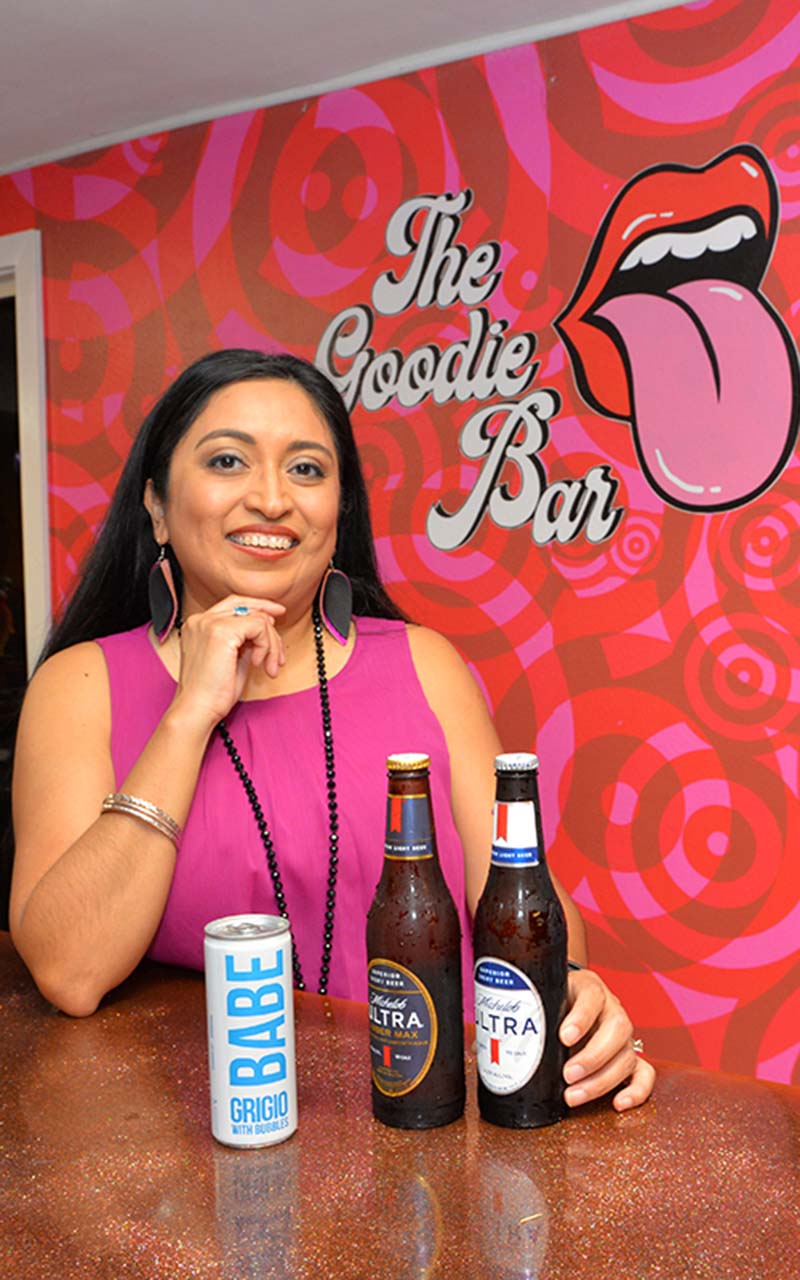 LIFTFUND
LiftFund and Que Means What partnered last year for their 25th Anniversary celebration. LiftFund is a microlender that has provided financing to over 20,000 entrepreneurs in 13 states since 1994. I interviewed LiftFund President and CEO, Janie Barrera, and she reminded me that LiftFund started as "working capital to the working poor". Today, it's so much more providing business owners with credit, tools, resources and education. MIL GRACIAS, LiftFund, for continuing to support this Latina entrepreneur and joining us as a sponsor of El Brindis.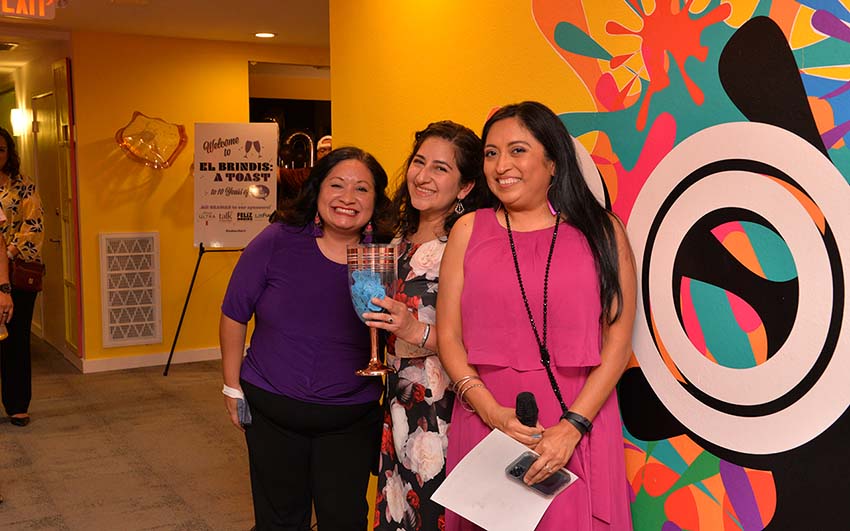 FELIZ MODERN
Que Means What shares a September anniversary with one of the coolest tienditas in San Antonio – Feliz Modern. Owned by Mario and Ginger Diaz, Feliz Modern not only sells fun and culturally relevant products but it's a place that supports so many local creators. That's what I love most about Feliz Modern. Not only are many of the items in the store are made by Latinx gente but by Latinx from San Antonio AND some I call friends. Congratulations on your 4th Anniversary, Feliz Modern and MIL GRACIAS for your sponsorship!
Cheers to a Cause
Take a look around this site and you'll notice education is a recurring theme because my own education journey changed my life. When I graduated with my Bachelor's degree, I was the first person to do so in my familia. So, supporting students in their own higher education journey is muy important to me. Inviting people to a party was an opportunity to raise some money to donate to local students to attend college.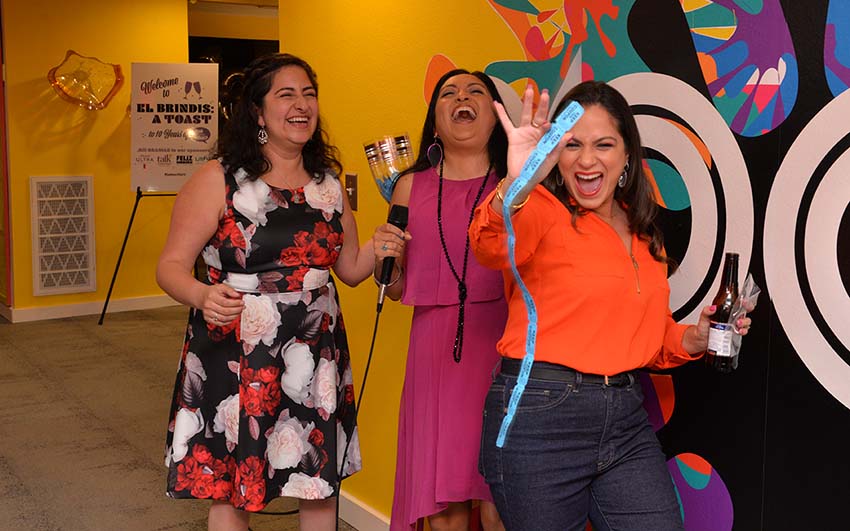 I chose to support Cesar E. Chavez Legacy and Educational Foundation because CECLEF and the March for Justice was one of the first topics I blogged about way back when. Also, as the years have passed my family has become more engaged with the organization. Our raffle raised $1,000 to donate to CECLEF! In large part to my amiga, Tiffany, who volunteered to sell raffle tickets! Guests generously purchased raffle tickets for a chance to win many prizes that were donated by amazing friends of Que Means What. Those friends include:
The Party, The Guests, The Gracias
I'm proud to say that El Brindis: A Toast to Ten Years of Que Means What is one of the first events to be held at an upcoming and super swanky event space INOV8. It will soon be opened to the public for meetings and events. It is owned by Hispanic marketing madrina and creative mind Yvonne "Bonnie" Garcia. Bonnie's colorful venue was the perfect space to create fun, celebratory energy we held on to all night.
Check out my Latinas Who Lead featuring Bonnie on Facebook.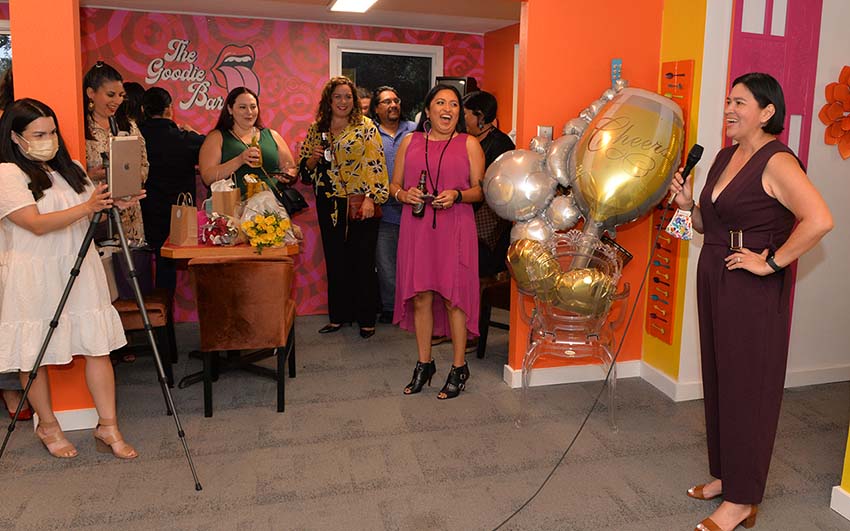 Our delicious cheese and cracker boxes were catered by Vida Mia Cuisine and the amazing cookies were made by Sugar Rush SA. My familia – my sister, nephew and niece – created the festive photo booth backdrop! See the photo booth gallery here: https://www.simplebooth.com/gallery/Tipaqe9jsNdJ-quemeanswhat10
There is no real celebration in San Antonio without mariachis! The all mujeres Marichi De Mi Rancho was the perfect group to join us. My husband even asked them to sing my favorite song: Neon Moon! And, when you have amigas who will join the mariachis to serenade you, it makes the celebration all the more special. Gracias Sonia!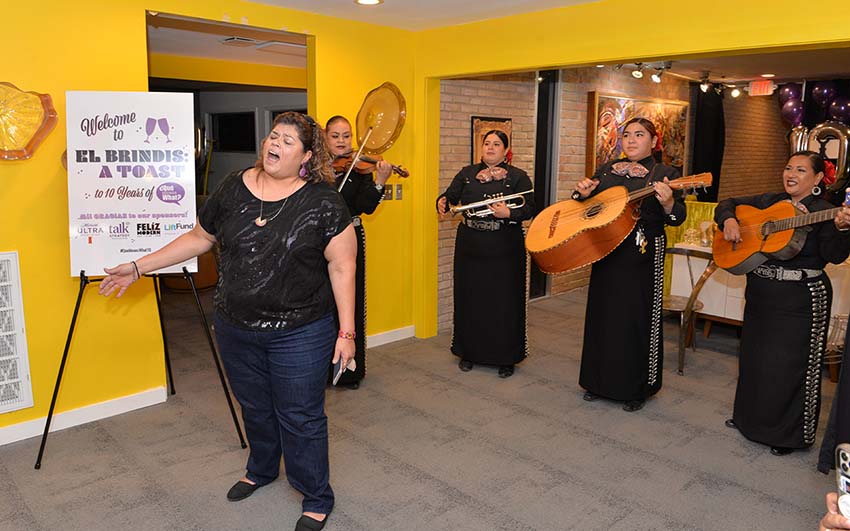 Finally, all the guests left with a thank you gift thanks to more friends of Que Means What including:
San Antonio Water System (SAWS)
Feliz Modern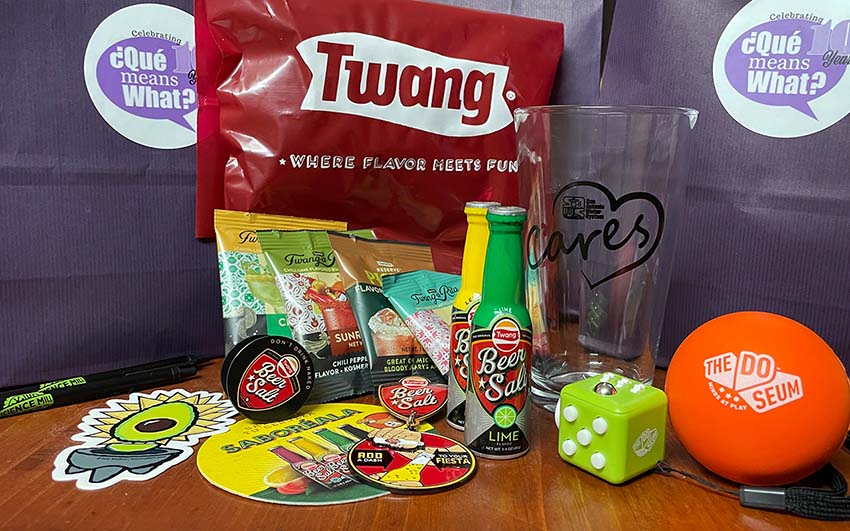 What can I say about mis Queridos who showed up to celebrate? The room was full of people who have supported me since 2011 or before; people who I would never have met if I weren't blogging; people who kept me going with their encouraging words and acts of kindness; people who taught me life and business lessons I hold dearly. These are all my people – mis Queridos. I'm forever grateful.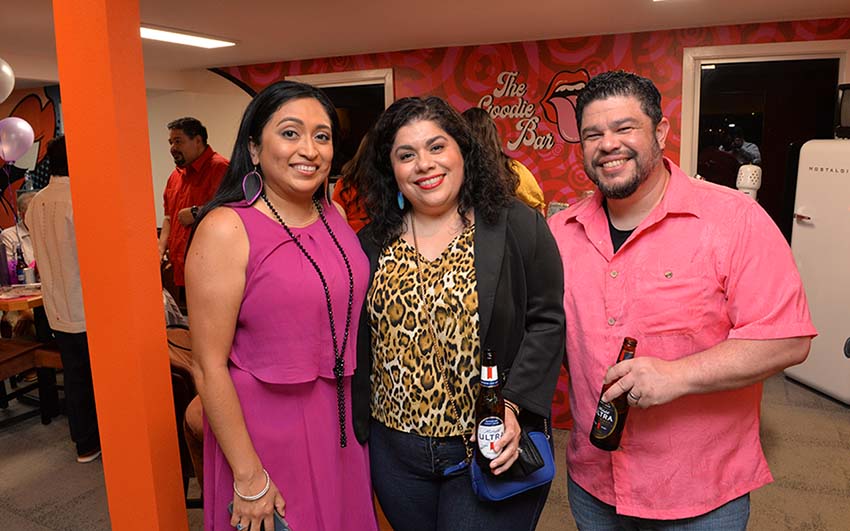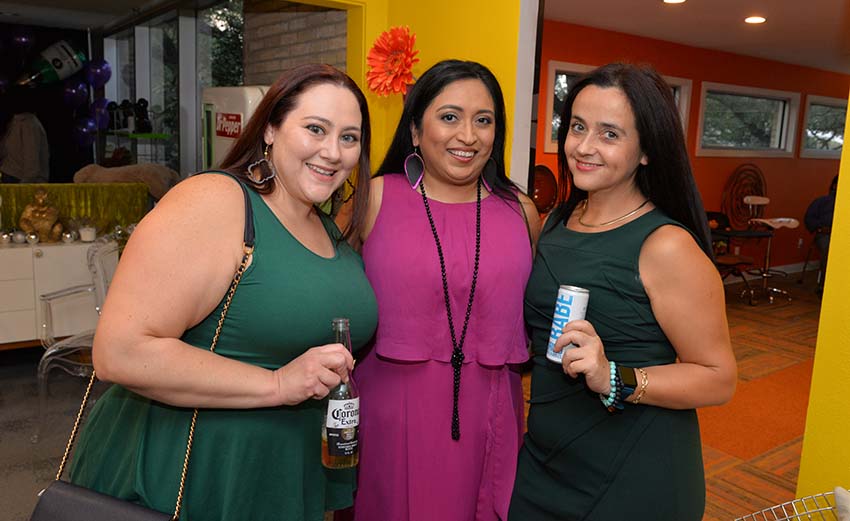 So many thank yous – in particular, for this event, to my amigas Michelle, Lejla, Luisa whom helped me plan and held me accountable. Gracias to my amigas Irene and Tori for standing up front with me to officially toast to a decade of storytelling. And, of course, THANK YOU to my familia – my husband, my boys, my mom, my suegra, my siblings, my dad – for your support and your encouragement.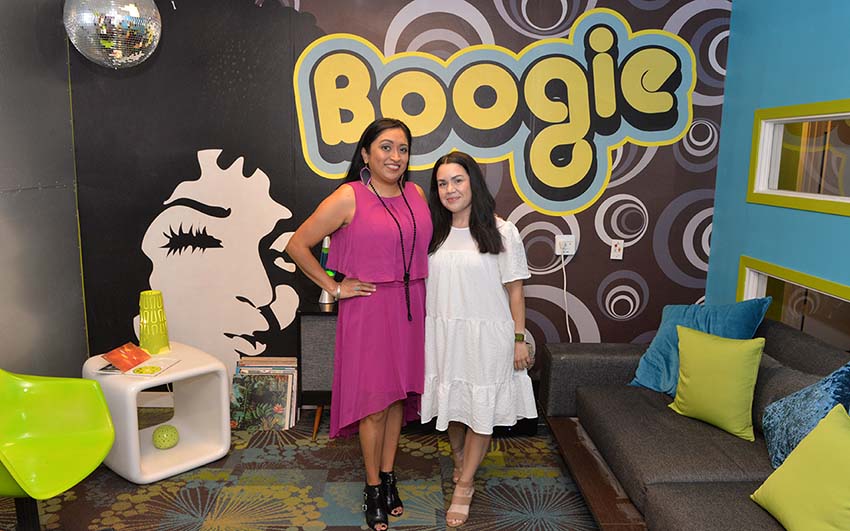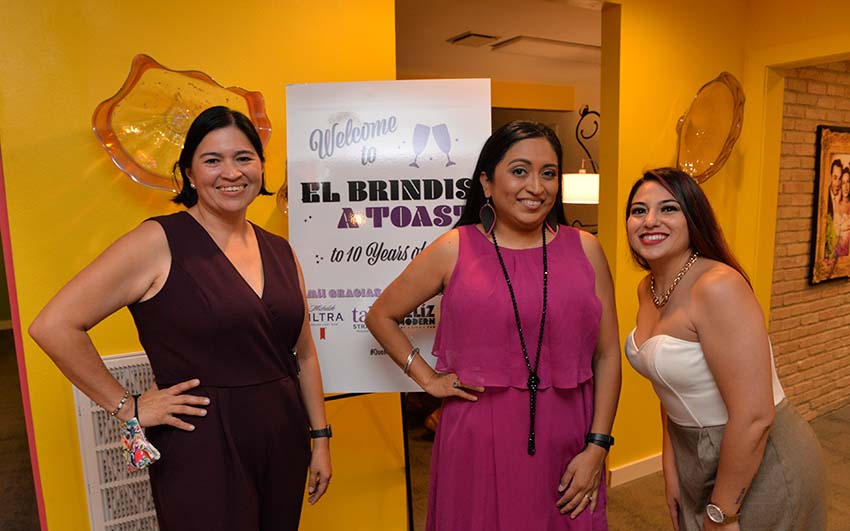 CHEERS to the next 10 years!
Watch my chillona speech here on Facebook