Beach Camping for the first time was quite an ambitious goal for a family who has never camped in a tent before … or camped at all as a family. I have fond memories of my own college camping days but it was also the last time I slept in a tent. Ay, ay, ay! So, I have partnered with REI to share my family's first camping trip story and give you a chance to win a four-person REI tent.
I was a bit nervous bringing the idea to my husband. I've mentioned it before and he would say things like, "Sounds cool." However, I don't think he thought I'd actually make the plans to sleep in a tent … outdoors … in Texas … in the summer. His one request was that we had to camp on the beach.
The beach? Um, okay. Neither of us had ever done this before much less with two kids and a dog. Yep, we decided to bring along the perro even though we had never traveled anywhere with him.
Let's Go Camping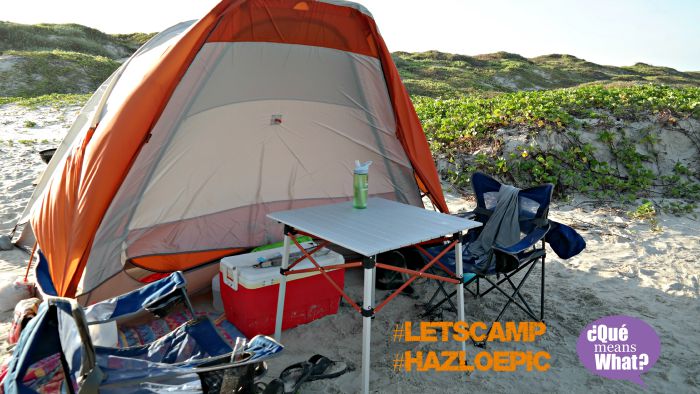 We chose our date. After visiting the National Parks Service website, I called NPS at Padre Island for any additional beach camping information they suggested. The helpful people at REI worked with me to find out what equipment we needed. Finally, I read as much as I could online about beach camping.
As a partner in the #LetsCamp #HazloEpic campaign, REI sent us an REI InCamp 4 Tent, two REI Camp X Chairs and an REI camp roll table. We already had a cooler, sleeping bags, a small grill, a lantern and a few other chairs. After we went grocery shopping, we were ready to camp!
One of my biggest concerns was setting up the tent. This would be a first for me and my husband. So, we set up the tent the night before in our backyard. It was super easy! I'm so glad that we did practice because when we got to the beach, it was so windy. Not knowing exactly how to set up a tent would have led to a lot of frustration.
TIP: When pitching a tent in the sand, fill plastic bags with sand and place them on top of your anchors. This helps to secure the tent.
We chose to keep the food simple. We were already doing other big things for the first time, I didn't want to stress out in trying to cook something new, too. We went with hot dogs on the grill, fresh fruit, cereal bars, and marshmallows. For drinks, lots of water, frozen juice to make on site, and cervezas for mom and dad. We were only there for one day so we had plenty of food.
TIP: if you are bring meat to your beach camp, freeze the meat the night before. It stays colder longer and also helps keep the other food cold in your cooler.
No matter how much you plan, you must prepare for a plan B. We drove from San Antonio to Padre Island. I had called earlier in the week and the office said that we should be fine because they hadn't been busy all month and there would be plenty of space. This particular campsite had covered picnic tables, running water, and restroom facilities. However, once we got there, it was already full. I wasn't prepared for that.
We drove to Mustang Island State Park just 15 minutes away. Guess what? Their campsite with restroom facilities was also full. People like to camp on the beach in Texas, y'all! Thankfully, they still had room for primitive beach camping. So, even though this wasn't our original plan, my little familia was up for the adventure!
Most of the time was spent in the water. Texas summers are hot, yes. Cooling off in the gulf is a fun way to handle it.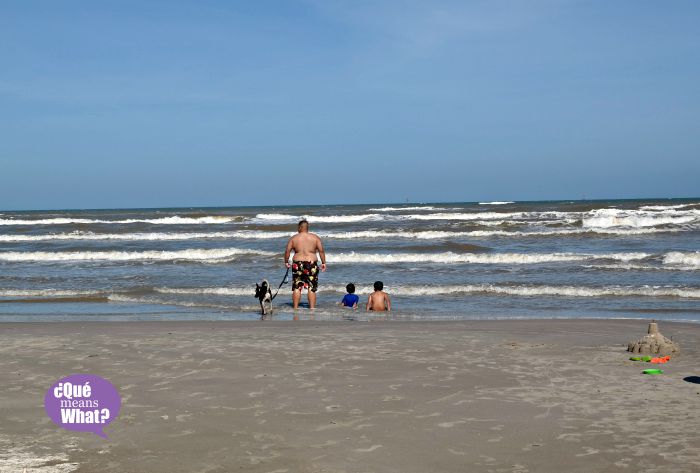 The bird watching on Mustang Island is spectacular.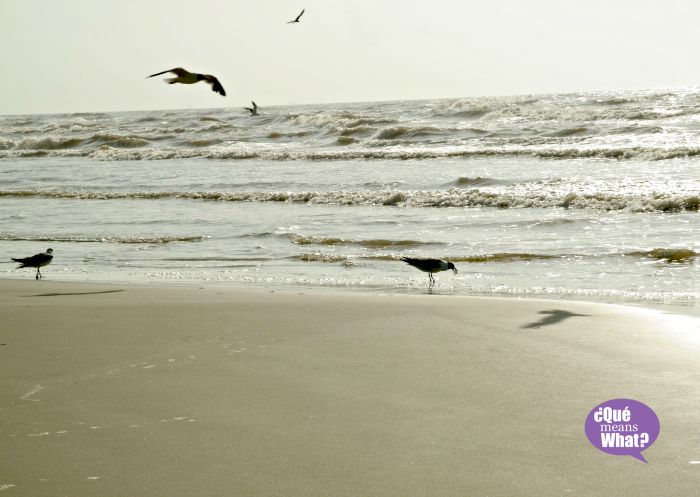 Hot dogs on the grill was the perfect choice.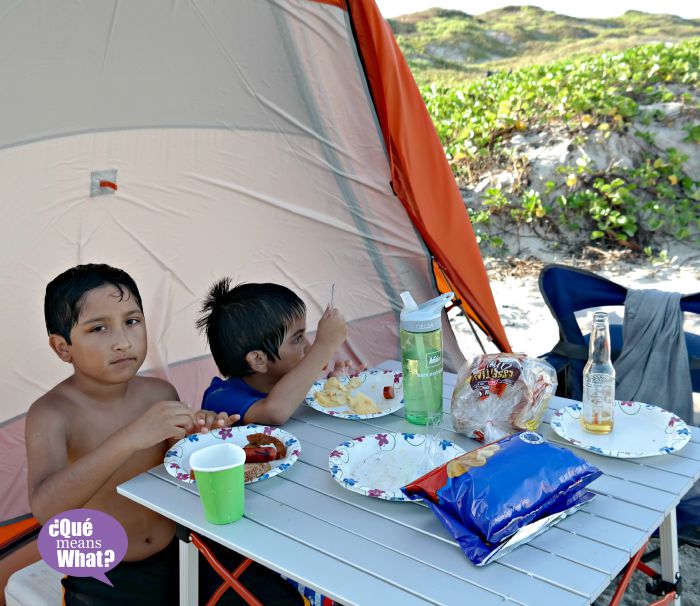 Of course, we had to bury the cook!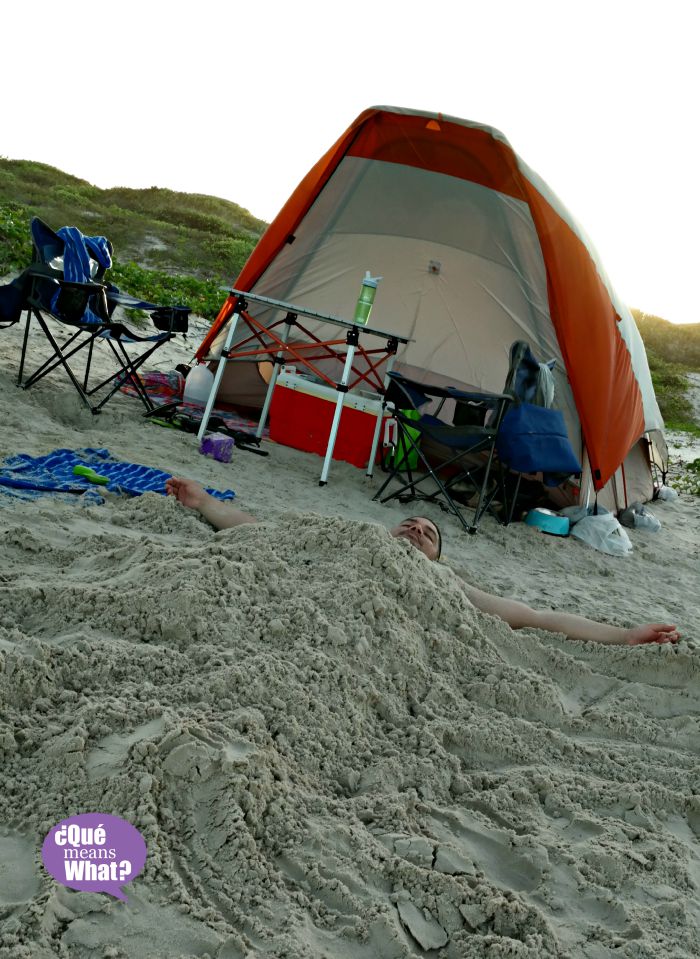 I'm sure in all that reading that I did before we left, someone somewhere mentioned how much sand would get in every cranny of your campsite. I just didn't realize exactly how much sand would get in every cranny of our campsite. Regardless, we had a great beach camping experience. We couldn't wait to get to a real shower but we still had a fun time! Now that we've conquered beach camping, we are ready for our next adventure!
Let's Camp Giveaway – In Partnership with REI #Sponsored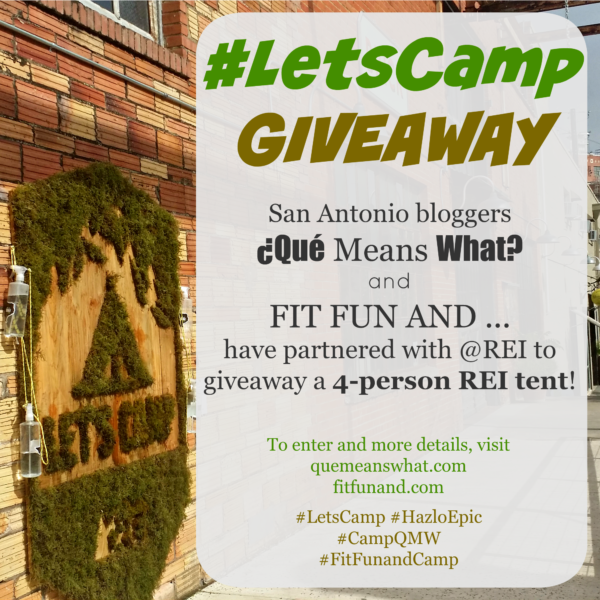 Thanks to our friends at REI, fellow San Antonio blogger, Josie from Fit Fun And, and I are happy to host a giveaway for a 4-Person REI Tent from each of us! Enter below and then head over to FitFunAnd to double your chances of winning. Good luck, queridos! I'm looking forward to seeing and hearing about your camping adventures.