(Disclaimer: I was invited by Mom Trends to attend this event. This is a sponsored post. All opinions are my own.)
Any time I get the chance to get my boys in front of real champions, I take it. We recently had the opportunity to meet Olympic Swimmer Dara Torres as part of her visit to San Antonio as part of SwimToday.org tour. As a Swim Today spokesperson, Dara is meeting with parents and sharing her experiences as a swimmer and a swim mom while addressing common misconceptions about swimming as a sport.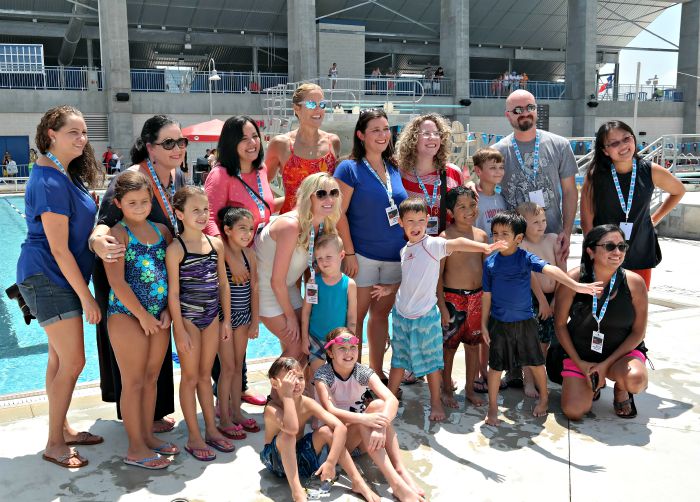 I belong in the category of the parents who had never considered swimming as a sport. We haven't even started swim classes. To us, swimming has been a fun past time as part of family time. We, like many other parents, have considered other sports like basketball, baseball and soccer for teaching our kids teamwork, self-esteem and social skills.  We learned quite a bit about swimming as a sport during our afternoon at the Northside Swim Center.
Top 10 Benefits of Swimming as a Sport #FunnestSport
It's closer than you think – 62 percent of families live within 10 minutes of a pool; 52 percent of households with combined income of $50,000 or less report they have access to a pool nearby
Everyone participates – Swimming is inclusive, there are no benchwarmers (nor benches)
Swimming is a team sport – Only 16 percent of non-swimming parents view swimming as a team sport but parents of swimmers associate the sport with teamwork more than any other sport
Suit up and go – Only a swimsuit, cap and goggles are necessary to get started
Life skills – Swimming increases self-confidence, self-esteem, time management, goal-setting and social development
Easy to learn – 76 percent of parents said the ease of learning to swim was high
Low risk of injury – No contact makes for a safer environment
Swimming = total body fitness – Burn 650 calories in an hour – more than walking, biking or team sports
Sport for life – Once you learn to swim, you can enjoy no matter your age
Swimming is FUN – Parents confirm that swimming is the #FunnestSport
Queridos
, I was happy that at the end of the swim lesson, the positive talk with Dara Torres and the tour of the swim center, my boys were feeling excited about seeing themselves as potential competitive swimmers. That means they had FUN! Now, where do we start?
Finding a Swim Team for Your Child
First, some words of encouragement for parents from Dara Torres:
Don't push them too hard.
Set goals.
Recognize that every child is motivated differently.
Do what's best for your child.
Let the coaches coach.
Encourage your kids and be there for them.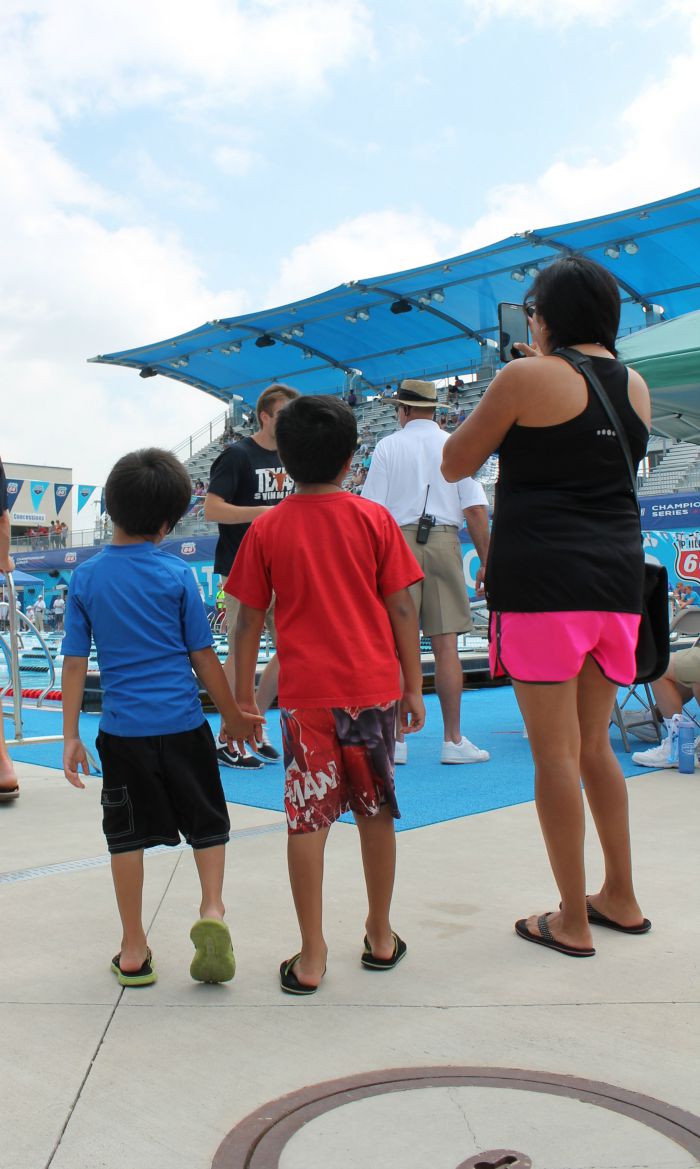 Next, for us, the next step is complete our swimming lessons. Using resources from  SwimToday.org, we hope to find the right instructor for our boys. The SwimToday campaign is a first-of-its-kind in the swimming community and was formed by a collection of industry-leading organizations within the swimming industry.
If you aren't sure if your child is ready for to participate in swimming as a sport, Swim Today has a Parent's Guide for you.
Then, we look forward to finding a local swim team. For families who are ready to join a swim team, visit the website, type in your zip code and find a local team near you. Swim Today wants to show families the benefits of team swimming and at the top of that list is FUN! Fun is the most important factor for parents when choosing a sport for their child.
Join the team swimming conversation on Facebook and Twitter with Swim Today.