(You may have seen my segment on SA Living on Tuesday, September 2, 2014. These are the highlighted healthy products for moms and kids and the links to where you can find them.)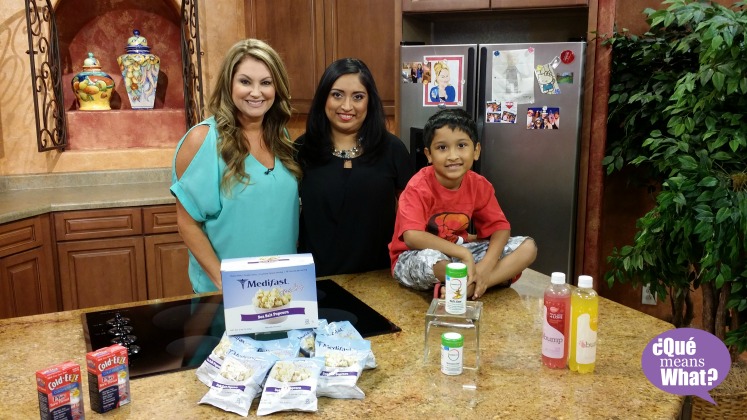 The Fall season is back and it's time for carpools, getting kids ready for school, helping with homework, etc. – the last thing you need is to let your (or your kids!) nutrition sit on the back burner.  Luckily, there are a few new companies offering products that are equally nutritious and delicious for everyone, so you can pack two lunches at once!

Food for Mom and Child
Medifast Snacks: A perfect alternative to unhealthy snacks, the new Medifast popcorn is a great light snack for an on-the-go, healthy lifestyle. The popcorn comes in Sea Salt and Cheddar & Sour Cream flavors and are naturally flavored with around 50-70 calories per serving. A perfect 'guilt-free' snack, you will feel at ease knowing you will get your popcorn craving fix without the extra pounds! Visit www.medifast1.com for more information.
Drink for Mom and Child
Bump Water is a product created by Stacy Rauen and Amber Wilcox, two Brooklyn mothers who were seeking an alternative way to help obtain the pre-natal nutrients needed for a healthy pregnancy. Their creation? Bump Water, a beverage with 100% of the recommended daily amounts of Vitamin A, Vitamin B6, Vitamin B12, Vitamin D, Vitamin E, Calcium, Niacin, Biotin, Zinc, Magnesium that are found in prenatal vitamins. Kiddies can drink it too! Bump Water is available in both still and flat versions with flavors including Lemonade and Cranberry Ginger. Bump Water is made in the USA and is currently available nationwide atwww.bumpwater.com.
Vitamins/Remedies for Mom and Child
Rainbow Light's Kids One™ Chewable Multivitamin & Minerals provides a balanced profile of the essential nutrients kids need for healthy growth, plus the nourishing goodness of vegetable concentrates they might not be getting from their diet alone. Probiotics are also included to support natural digestion and promote immune health. Kids One™ is also free of allergens such as gluten, soy, yeast, milk, eggs, nuts, fish or shellfish, and is 100% natural. SRP $10.95 (30-ct bottle). Available at vitamin retail shops nationwide and online at www.rainbowlight.com
Women's One™ Multivitamin: The #1 selling natural women's multivitamin from Rainbow Light contains potent vitamins, minerals, antioxidants, superfoods and herbs to nourish, protect and support major systems of a woman's body, and promote natural energy, in just one tablet each day. Added calcium, magnesium and vitamin D3 support bone and breast health while specially blended herbs promote natural stress and hormone balance. Live plant-source enzymes and probiotics promote easy, gentle digestion without stomach upset. Free of Gluten, sugar, lactose, dairy, wheat, yeast, artificial colors, flavors, sweeteners, preservatives or additives. SRP $35.99 per 90-ct bottle, and available at www.rainbowlight.com
Cold-EEZE Cold Remedy – The hustle and bustle of back to school and the fall season means you have a greater chance of weakening your immune system and are more likely to develop a cold. Cold-EEZE Cold Remedy Lozenges and Oral Spray are great grab-n-go options for to keep the family healthy. Clinically proven to shorten the duration of a cold by almost half, Cold-EEZE Cold Remedy is the perfect essential for your family ages 12 and up to keep them healthy and safe so they can enjoy their favorite activities sniffle free.  www.coldeeze.com