Fiesta time in San Antonio is one of my favorite times in San Antonio! There's not really a better place to experience FIESTA than the epicenter of Fiesta – Fiesta de los Reyes (FDLR). FDLR takes place in the heart of downtown at Market Square.
Some of you may be asking 'What is Fiesta SA?'. It's a 10-day city-wide party in which each event raises money for a nonprofit organization. You can find a full list of events on Fiesta SA's official website.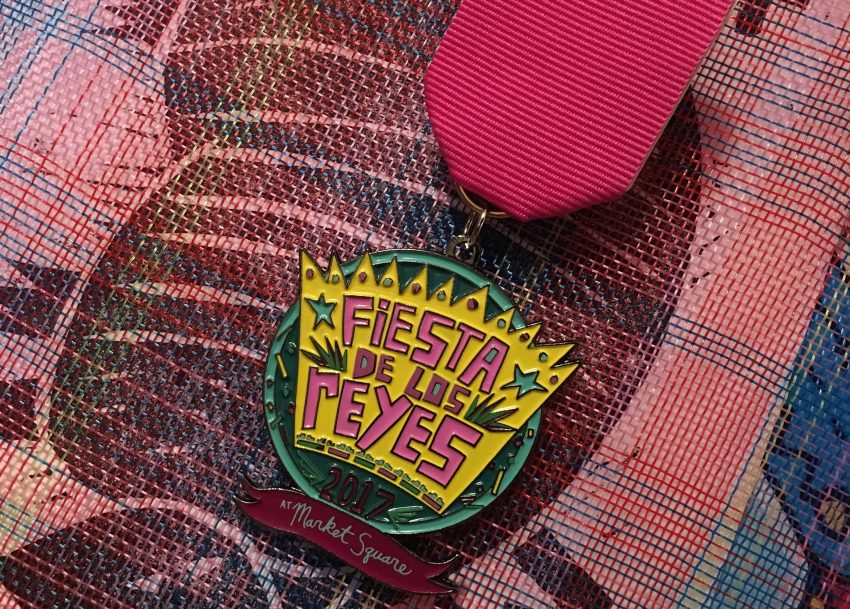 Party for a Purpose – Education Scholarships
With so many choices, it's hard to choose one favorite event. However, because education is always my cause to bring awareness to, Fiesta de los Reyes is at the top of my list. The Rey Feo Consejo Educational Foundation and City of San Antonio partner to produce Fiesta de los Reyes to raise money for scholarships. Part of LULAC Council #2, El Rey Feo's program, a 501-C3, non-profit organization, has raised over $7 million for scholarships given to over 3,000 students with 100 students presently receiving $1,500 for books and tuition. Find more information about the scholarship and the application here: http://www.reyfeoscholarship.com/rf/scholarship-application/
Fiesta de los Reyes 2017
Now, in its 7th year, FDLR brings together Fiesta SA goers for a culturally-rich celebration with live music performances, a variety of cuisine from Mexican food to funnel cakes, and exciting family-friendly events.
FDLR is FREE to attend every day. The show goes on rain or shine. The fun starts at 10 a.m. and goes until midnight and 1 a.m. on Saturdays. You can find the fun at the Market Square located at 514 West Commerce St., San Antonio, TX.
Here's the exciting musical line up: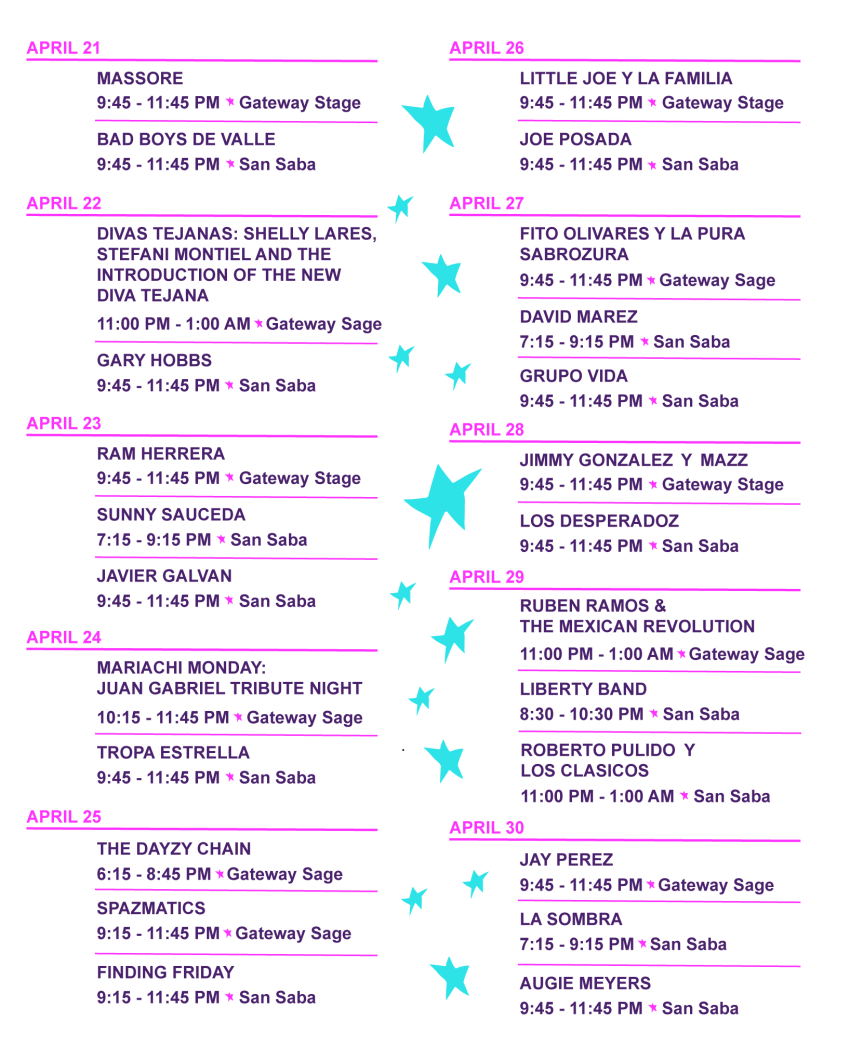 Featured Events include:
Military Monday & Mariachi Monday Night
MONDAY, APRIL 24TH
Military Monday – A day honoring the military and their families who support them! Active Duty and veterans present your military ID at any Fiesta de los Reyes beverage booth to receive a special wristband for food and vendor discounts and $1 off beverages for the entire day! From 10 AM till 8 PM look for the Rey Feo Consejo Educational Foundation members distributing wristbands from the beverage booths. Look for the booths with a U.S. flag for discounts!
There will be a presentation of colors and a military salute at the San Saba Stage at noon.
Mariachi Monday Night – From 7 PM till midnight, in partnership with San Antonio 300 and Univision Communications, Fiesta de los Reyes presents an evening filled with mariachis and a special tribute to the late Juan Gabriel at the Gateway Stage underneath the highway overpass! Be a part of the largest and loudest outdoor serenade of "El Rey" to ever fill Market Square during Fiesta!
COLLEGE NIGHT Featuring The Spazmatics
TUESDAY, APRIL 25TH
It's the only night Market Square will switch it up from the popular Tejano scene and become the gathering place to hear your favorite 80s, 90s and current hits. The Spazmatics are back by popular demand on the Gateway Stage underneath the highway overpass at 9 PM! Finding Friday will perform on the San Saba Street Stage.
FIT Fiesta
SATURDAY, APRIL 29TH
10 AM – 11 AM
No time for siesta, it's time to Fit Fiesta! Join us at the Market Square Gateway Stage as Fiesta de los Reyes teams up with Your Fitness 365 featuring Trey Werk, D FIT Studio featuring Dayna Offutt, KATZ Studio featuring Elvira Ledezma, and The Lion's Den Nutrition Fitness Training featuring Savina Ramos to host San Antonio's largest outdoor Zumba class! Given its success and popularity, Fit Fiesta will return for its seventh year and it will be the greatest yet! Fiesta fitness attire highly encouraged!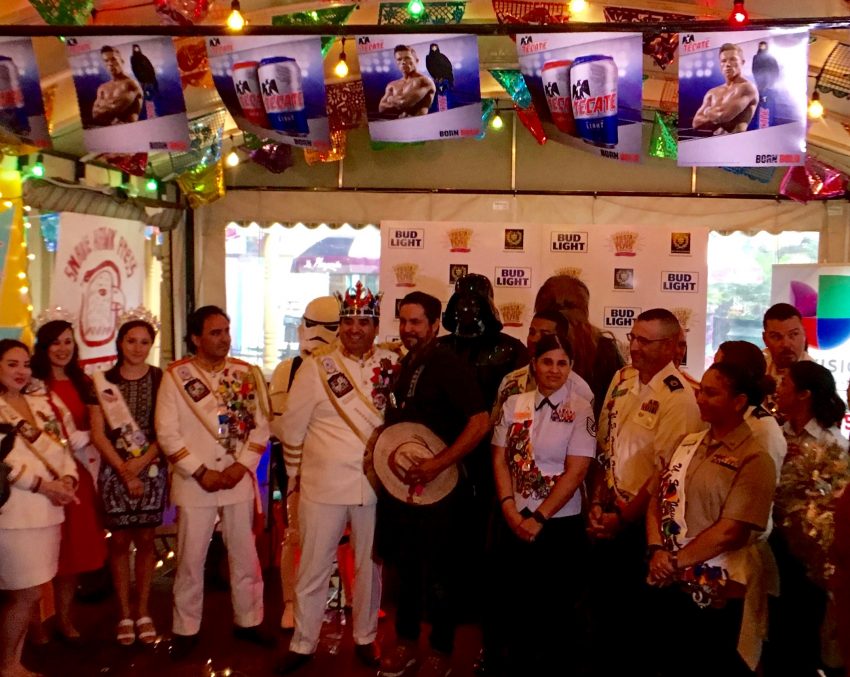 I hope to see you at Fiesta de los Reyes, Queridos! If you're sharing your photos from there, please tag me @QueMeansWhat and use hashtags #EpicenterofFiesta and #FDLR