I received Discovery Adventures outdoor products from Academy Sports + Outdoors. All opinions are my own.
I asked both my boys why they loved to go camping. My youngest said it's because we get to sleep in a tent. When I probed a bit more, it came down to the fact that he has fun when we camp. My oldest son said that he loves camping because he can explore nature. Me encantan estas respuestas.
In our digital age, it may seem so much easier to let my boys explore quietly online on their gadgets than it would be to take them outdoors and explore nature in real life. Online they can get quick and easy answers when they have questions. It's in real life that questions can become adventures. Their curiosity can lead them on a whole day of searching for answers, exploring bugs, leaves, landforms, animal tracks, and much more. I like it when the answers aren't readily available and we have to keep digging, sometimes literally digging.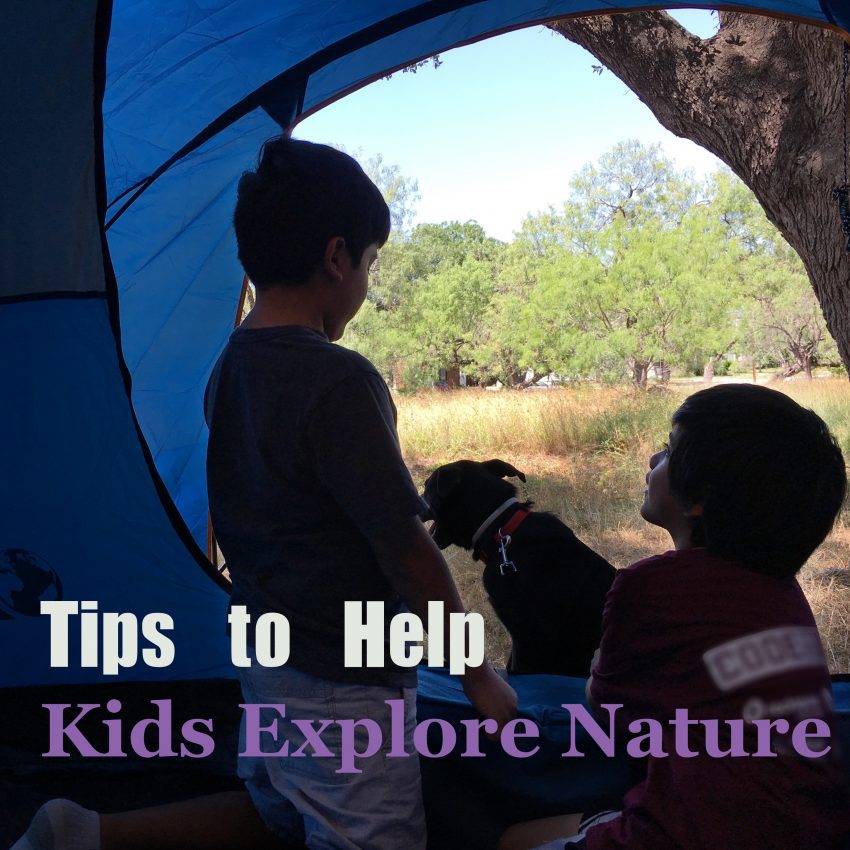 Tips to Help Kids Explore Nature
Let the kids lead! Kids are natural explorers as everything is new to them. They can feel empowered when they feel like they are in charge. Let them guide you.
Encourage listening for sounds. Listening for sounds can lead you on new adventures. Do you hear water from a nearby stream? Do you hear birds chirping? Go find them!
Ask open-ended questions. Not having all the answers will encourage more exploring. Ask questions to which your kids may not easily know the answers. What do you think that animal eats? Where do you think the birds are going? Describe what that plant looks like.
Research outdoor area ahead of time. By learning a few things about the place you will be visiting, kids will be excited to get to see what they learned about with their own eyes. Visit your local library to find books about the area's vegetation and wildlife.
Get artsy in the outdoors. If your kid likes to read, ask them to make mental notes about their environment so they can write a story of their own. Same suggestion for artists who like to paint or draw.
Make a game out of exploring. Create a photo scavenger hunt to explore. I encourage photos instead of gathering items in order to leave the space the way you found it. Play the alphabet game and try to find one item that begin with each letter of the alphabet. Game ideas are endless.
Family camping is one way we can make exploring nature an adventure for everyone. Once camp is set up, we can take an exploring hike around the campgrounds or nearby trails. We could spend hours watching, observing, and experiencing the new environment together. When we get back to camp, our exploration makes great discussion over dinner or around the campfire.
Discovery Adventures Outdoor Products from Academy Sports + Outdoors
Our familia is planning our next camping adventure. There's so much to explore! One of the most important factors when it comes to a successful camping experience is the gear. Having the right gear means that there's one less thing to think about when you're ready to take the kids exploring.
Academy Sports + Outdoors is partnering with Discovery Adventures, the consumer arm of the Discovery Channel, to exclusively sell a brand new line of outdoor products. I received a few items to review and prepare for our next camping trip. Because practicing setting up your tent is important to do before your camping trip, my boys and I used that practice as a reason to go 'fake camping' in a local park with our Discovery Adventures outdoor products.
Watch our video:
Discovery Adventures 6-Person Instant Camping Tent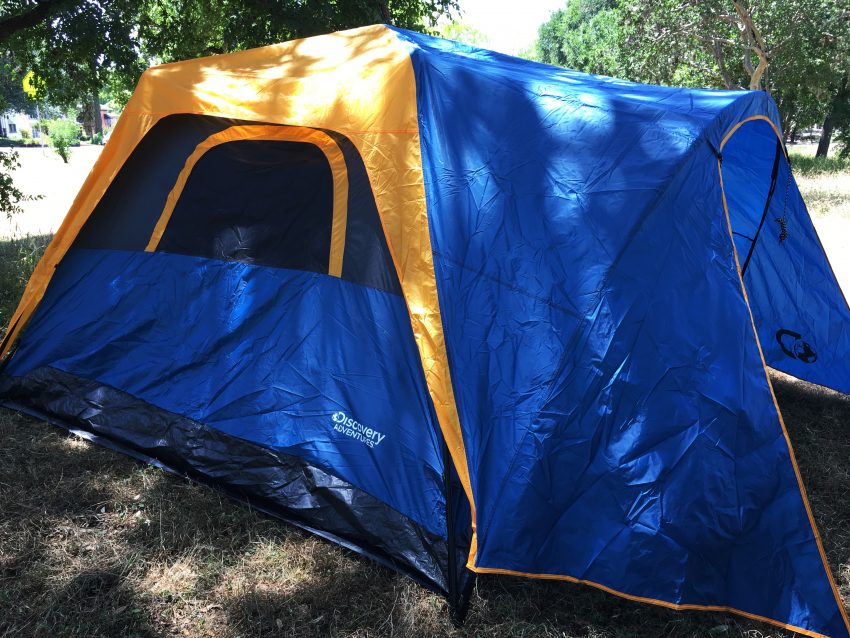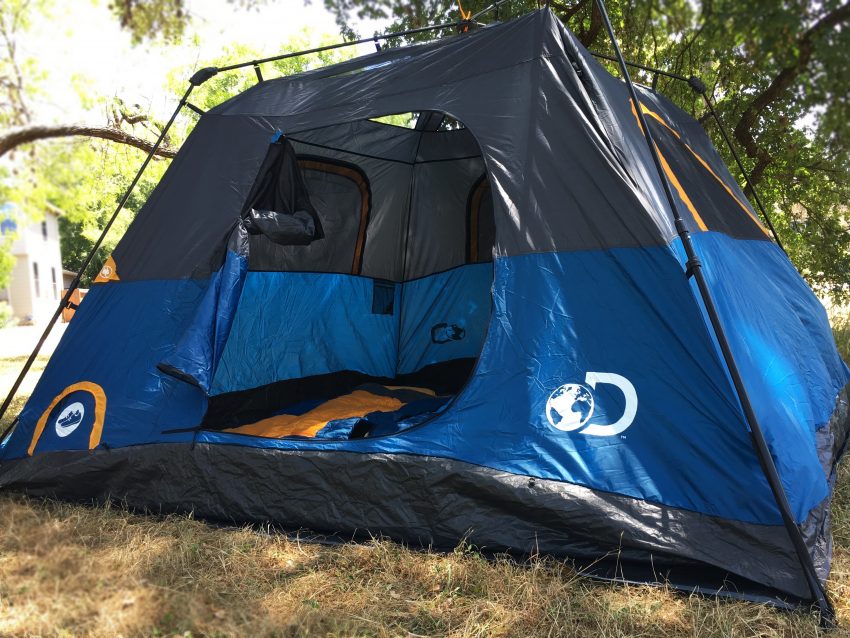 This tent really is easy to set up. Many tents say that but often, that's not the case. By myself, I took the tent from inside the box to fully standing in less than 12 minutes. Once we are camping, we'd still need to anchor it but I was happy that it took little time to set it up that far along.
My favorite things are the shoe pockets to keep shoes protected and to keep the inside of the tent clean; the 2 interior pockets and hanging mesh gear lofts provide additional storage for important items; and the large dry-entry vestibule with a mat. I obviously am more concerned about keeping the inside as clean as possible and storage.
Note: Be sure to take out any of your belongings from those interior pockets. It's not fun to pack up the tent and realize your keys are still in there. (I may or may not be speaking from experience.)
Discovery Adventures Kids' Coolvent 45 Degrees Sleeping Bag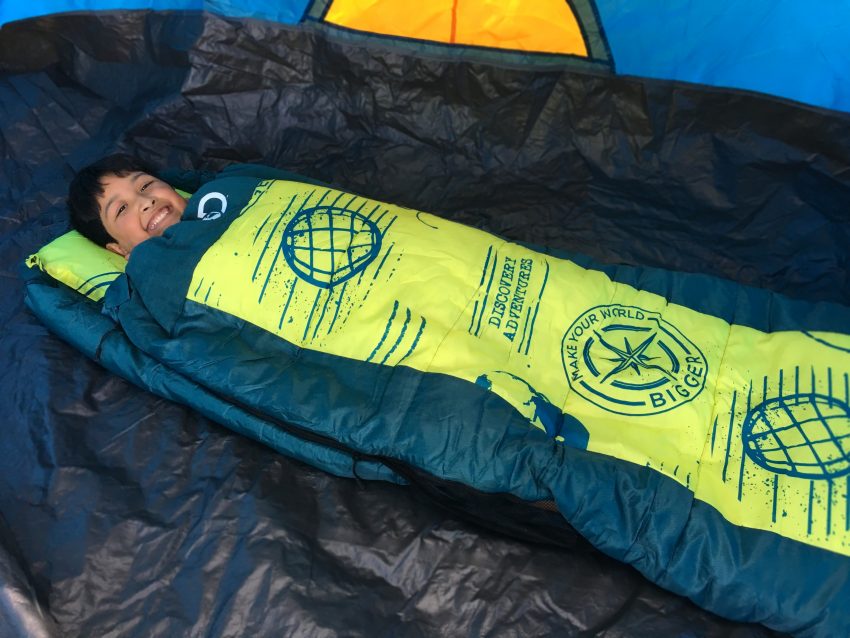 Okay, the boys were actually sleeping in these for the first few days that we moved into our new house and were waiting for their bed to be delivered. They loved the drawstring hood for extra snuggly feeling; removeable air pillow; and the Adjustable Coolvents™ for airflow. I loved the color design and how soft it was on the inside.
Discovery Adventures Classic Coolvent 40 Degrees Sleeping Bag and Ultravent 30 Degrees Sleeping Bag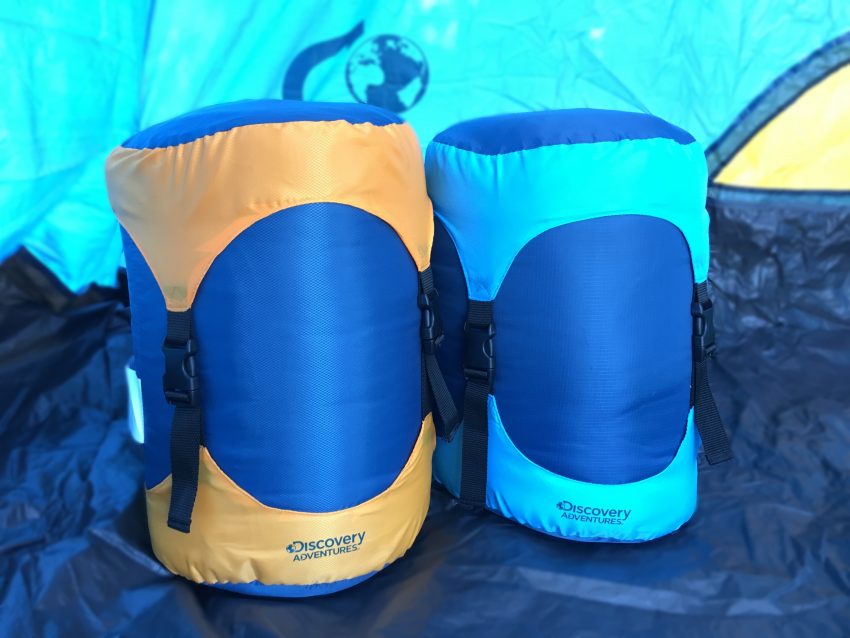 It's the cositas or little things that make me excited to use these sleeping bags like the washable pillowcase and removable pillow; interior and exterior accessory pockets so I can keep important things like my eye glasses close; and the compression bag that makes it easy to story and carry. (Watch the video above for more visuals of these two adult sleeping bags.)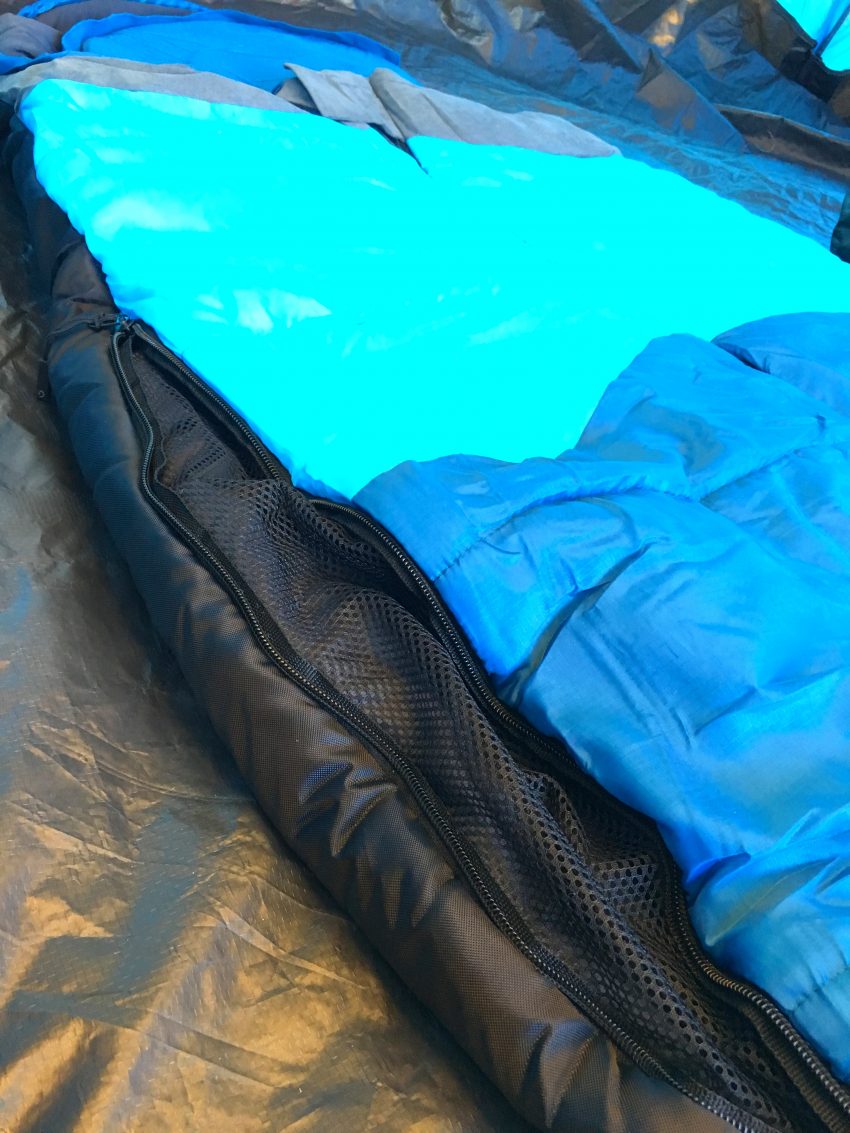 In the Texas summer heat, what's really important is being able to adjust the temperature inside your sleeping bag. And the Adjustable Coolvents™ for airflow in all of these sleeping bags just made us so happy. They are located on the sides of the bags and are easy to access and adjust for your own comfort. ¡Eso es genial!
Bueno Queridos, we have our gear. We've practiced setting up the new tent. Now, we just need to go! Where do you go to explore nature all over again?
You can find all of the Discovery Adventures products online or in your local Academy Sports + Outdoors.