CPS Energy Public Input Meeting Recap: A Balancing Act of Reliability and Affordability
{This is a sponsored collaboration with CPS Energy. All opinions are my own.}
How does a municipally owned energy utility balance reliable and renewable energy, safety and affordability, and the challenges of a pandemic? Last week, I attended the CPS Energy Board of Trustees Public Input Meeting via teleconference. Topics discussed were plenty but I focused on the COVID-19 updates; renewable energy status and options; and updates on rates. I learned so much more. Understanding more about how CPS Energy works and who makes the decisions helps residents like me and you, Queridos, ask the right questions so that we can work together.
The Public Input Meetings are to update customers on current or new programs but more importantly, they are for listening to the customers. Decisions made at CPS Energy affect the daily lives of San Antonio residents so I am eager to learn. This was my first one to attend and I had questions going in. They are below and most were answered during the meeting which mostly consisted of a 30-minute report from their President &CEO, Paula Gold-Williams.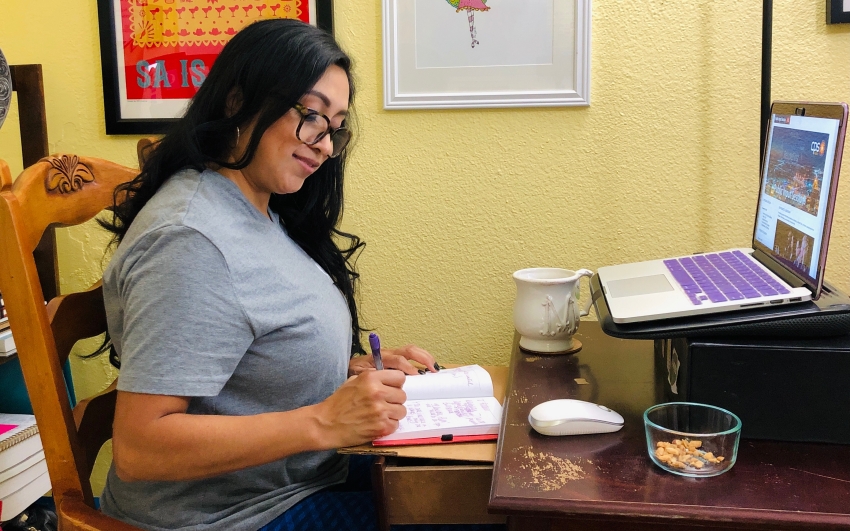 Who Leads CPS Energy in San Antonio?
CPS Energy is the nation's largest municipally owned energy company. It serves more than 860,934 electric customers and 358,495 natural gas customers. The CPS Energy Board of Trustees is composed of five residents of San Antonio. Four of them live in the quadrant in which they represent. The fifth trustee is the Mayor of San Antonio, currently Ron Nirenberg. CPS Energy also has an executive team led by President and CEO Paula Gold-Williams. And, to help connect to the community, the 15-person Citizen's Advisory Committee (CAC) meets monthly. Ten of them are appointed by San Antonio's City Council and five of them are at-large.
---
Note to Queridos: Because diversity and representation matter to me, I want to point out that the five-person board consists of four men (one Black man), one woman (a Latina), and President and CEO Paula Gold-Williams is a Black woman. Of the 13 seats filled on the CAC, seven are women and eight are people of color. 
---
How Is CPS Energy Serving Customers During a Pandemic?
There are six pillars that guide every initiative and interaction at CPS Energy. They are:
Reliability
Customer Affordability
Security
Safety
Environmental Responsibility
Resiliency
According to customer surveys, the two most important to San Antonio residents are Reliability and Customer Affordability. Paula Gold-Williams noted in her CEO's report that all six are important. While customers acknowledge CPS Energy's responsibility for the environment and want them to work on that, they want them to do so while making sure customer's utilities are not disrupted and bills do not come in as a shock.
COVID-19 Updates
COVID-19 changed everyone's daily lives including the team at CPS Energy. Committed to serving while keeping both customers and employees safe, CPS Energy began to make changes in early 2020. All disconnects have been stopped since the middle of March and will not start at least through the rest of 2020. CPS has been waiving late fees for customers who are on a payment plan.
When customers call the number 210-353-2222, they will speak with an energy advisor ready to assist them. The energy advisors are encouraged to keep customers on the phone instead of setting a goal for more shorter calls. CPS Energy wants to find a way to help. Understanding some of the challenges residents and businesses are facing due to the pandemic, energy advisors began to make outbound calls to customers. The intent is to make people aware of bill assistance programs. They also want to connect residents to other organizations who were offering financial support. At the time of the public input meeting, energy advisors had made almost 38,000 calls and have been able to find assistance for 56% of those customers. The outbound calls will continue.
CPS Energy has not had a rate increase in six years – the only one in the last 10 years. However, a new rate advisory committee is being considered. In her CEO's report, Paula Gold-Williams said more than once that there would be no rate increase in 2020 but did not specify about 2021. She noted that credit rating agencies have expressed concern that CPS Energy has not had a rate increase in a while. Why does a credit rating matter to a utility company? Because just like consumers, the better your rating is, the better your cost of money is.
---
Note to Queridos: Saving energy is still important! The more energy we can save, the less we consume, the lower the bills are. Conservation was important before the pandemic. It's still important today. It will be important tomorrow.
---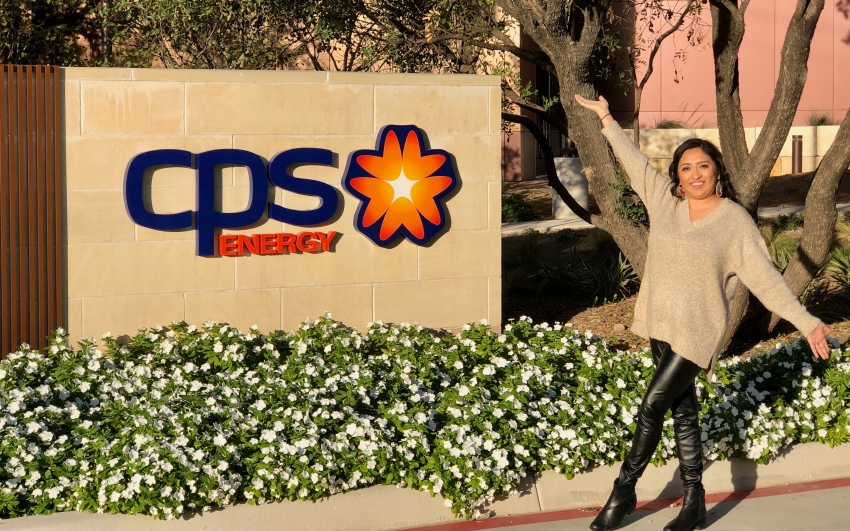 What Are The Reliable, Renewable and Affordable Energy Options?
It is the responsibility of CPS Energy to keep their systems reliable. Not doing so could lead to black outs not just in San Antonio but also in Texas because it's all connected. How does a utility keep systems reliable and affordable?
In a strategic effort to balance the new with the tried and true, CPS Energy developed the Flexible Path strategy. It was created in 2017, implemented in 2018, and aligned with the Climate Action and Adaptation Plan (CAAP) in 2019. Flexibility keeps CPS Energy open and looking for better options for cleaner energy.
Did you know that San Antonio ranks #1 in Texas and #5 in the nation in solar energy? Here's a report from the nonprofit organization Environment Texas that I looked up to confirm this information after the meeting. CPS Energy has been investing in solar energy since 2012. They have been investing in wind energy even longer – since 2000. And, in 2018, CPS Energy closed two older coal plants and is focused on 80% reductions in carbon emissions by 2040.
Great! So why doesn't CPS Energy just move over to renewable energy faster?
This is a question I think many people ask themselves. I am one of those customers who wants renewable energy but also wants reliable energy and I want it to be affordable.
The answer: Reliability and Affordability. There are two important things to remember about solar and wind energy. If there's no sunshine, no solar energy is being created; and, if the winds are not blowing at the needed speeds, no wind energy is being created. CPS Energy is working to balance phasing in as much renewable and clean energy as possible while still ensuring customers have reliable energy. 
The other factor of moving towards reliable and renewable energy is the cost. If you look on your bill, you will notice the portion that reads Conservation Programs which goes to funding CPS Energy's commitment to sustainability. The only money that is allocated for moving towards renewable energy comes from customers' bills. Bottom line is that if CPS Energy decides to move at a faster rate, the customers will pay more sooner. It's all about balancing the "new with the tried and true."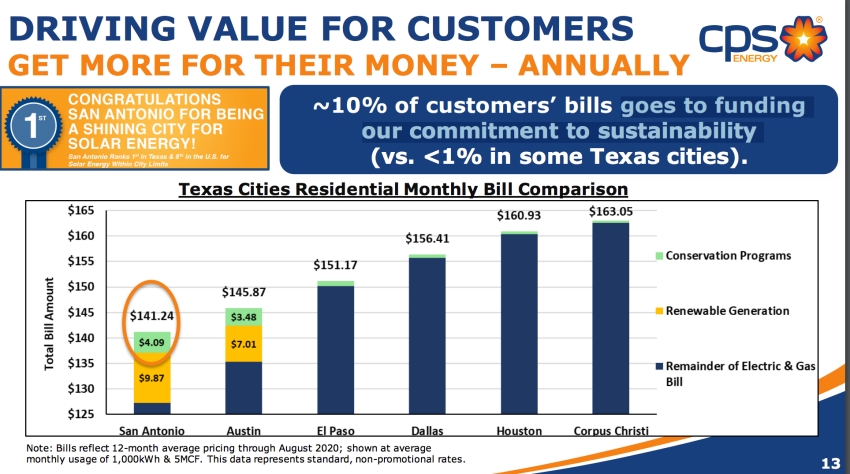 How Is CPS Energy Receiving Public Input?
At the beginning of the meeting, Trustee Janie Martinez-Gonzalez stated that this was an opportunity to empower the people who joined and noted that people attending were from many different backgrounds. After Gold-Williams' report, the teleconference was open to all the people who signed up to speak. Each person had two minutes. They indeed were from different backgrounds. Many callers were in support and gave praise to CPS Energy for their partnerships and leadership. Some callers were more critical of the timeline to close coal plants.
Now it's your turn, Queridos. As a municipally owned utility, it is vital that CPS Energy hear from you. While these public input meetings are well-organized and appreciated, we don't need to wait for them to make contact. There are several ways to do this.
Email: feedback@cpsenergy.com
By phone: 210-353-2222
By mail: CPS Energy ATTN: PUBLIC INPUT, 500 McCullough, San Antonio, Texas 78215
Also, follow them on social media. Familiarize yourself with their website. And, if you'd like to get involved, there are two empty seats on the Citizen's Advisory Committee (CAC) for District 1 and District 2.
"CPS Energy is here to help."

Paula Gold-Williams, CEO of CPS Energy. 
Any energy utility is a complex business. There is so much that happens in CPS Energy that affects all San Antonioans not just today but in the near and distant future. Because it is municipally owned, the residents of San Antonio, TX have the opportunity to work with CPS Energy and give input on making the best decisions for our city.
You can listen to the full session and view the CEO's Report for this meeting at https://www.cpsenergy.com/publicinput