All my feelings about Selena The Series on Netflix are conflicting. On one hand, I want to love it and support it because it's mostly Latinx-made and we need more of that. Plus, anything for Selenas, right? On the other hand, there are so many untold Latino and Latina stories but okay, let's make a series about Selena from the same perspective of the people who made the movie – her family. I watched it in its entirety. I needed to make up my own mind about it. Plus, my amiga Tori E. asked me to talk about it on her podcast Chicana Chisme.
Latinx Representation on the Screen
Latinx-created anything on the screen deserves at least a conversation. (Except Mario Lopez in that KFC Lifetime whatever-that-is.) There is not enough of Latinx representation in front of or behind the camera. Selena the Series was created by Moisés Zamora. Produced by by Campanario Entertainment with Suzette Quintanilla joining as an executive producer. It checks the boxes for representation. That isn't the issue.
There are not enough Latinx-created and Latinx-cast shows or movies on the screen. Selena the Series debuted four days after One Day at a Time producers announced that there would be no more episodes from them. We knew the show was not returning to CBS or POPtv but there was hope that the show would find a new home. It didn't. In 2020, Ashley Garcia: Genius in Love, which starred a young Tejana actress Paulina Chávez and created by Mario Lopez, was cancelled by Netflix. The Ashley Garcia Christmas Special is streaming but it's been confirmed that the show will not be returning to Netflix. 
So, yes. There is some Latinx representation on screen right now but so few are in production or will be returning for future seasons. Does that have anything to do with the criticism or the success of Selena the Series? I don't know but it would be nice to be talking about the multiple Latinx productions rather than a handful.
NOTE: Selena the Series spent the first seven consecutive days in the #1 spot on Netflix. 
Selena the Series
Overall, the production is a bit underwhelming when we compare it to scripted Netflix hits like The Crown or Gentefied. While the series shows us parts of the Quintanilla family's story we didn't see in the movie SELENA (1999), there's only so much drama that can unfold. We know what's going to happen. This gives the series a limiting essence.
While its titled Selena the Series, it is referring to Selena the musical group not the person. The storyline is much more focused on the Quintanilla family as a whole. In an interview with Entertainment Tonight, Suzette Quintanilla shared that the series was much more about the long process of family's journey to success.
The wigs and costume design definitely stand out in this series. If you compare scenes from the series to actual footage of shows and interviews, the series got it on point. Yes, the 80s really were that tacky. And, everyone loved it!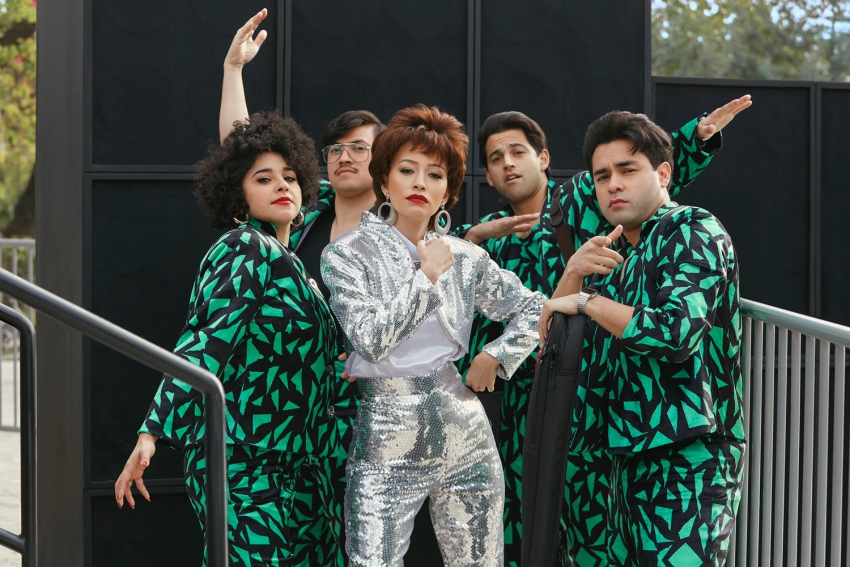 Women of Tejano Music
What I enjoyed about this first season of the series is the homage to the Women of Tejano Music in episode three. Before Selena's rise in Tejano music, there were other women who built the steps. In particular, Laura Canales was the the most-known female performer in Tejano music. Canales won both female entertainer and female vocalist honors at the Tejano Music Awards from 1983 to 1987. The creators of the series include Canales in the story and do it with class. Also in episode three, we get a glimpse of Suzette's story as a drummer. A role she resisted in the beginning. Suzette's success as a female drummer in Tejano music is definitely a topic overlooked by many.
Any other woman in Tejano music is often overlooked unless you talk to my amiga Tori Escamilla. Tori E. hosts a rapidly-growing podcast Chicana Chisme. She is also the host of the weekly show Women of Tejano on San Antonio's KLMO 98.9 FM. Not only does Tori E. know her Tejano music but she's a mega Selena fan. She auditioned to be young Selena on the movie. 
So, when she invited me to talk about Selena the Series on her podcast, of course I said YES! Who better to have this discussion ?! Listen to it here on Chicana Chisme:
At the end of the day, my thoughts on this series are based on my hopes and expectations for a Selena the Series project. That's the truth about any project though. Even though we know the story, Selena was Tejana like me. I was a fan when she was alive but never got to see her perform. I thought there would be a 'next time'. Her songs over the years have become a soundtrack to so many of our lives. So, yeah, I still had high expectations. Maybe Season 2.
Do I recommend adding it to your Netflix queue? I encourage you to watch with no expectations.
PIN IT FOR LATER