Over the summer, the media brought some attention to the "Border Crisis" which referred to the situation of many unaccompanied children crossing the U.S. border fleeing from violence and seeking refuge in the United States.
While it's true that there was a surge in numbers of children crossing our borders from late 2013 through summer of 2014, the fact remains that it continues to happen. As a parent, it is heart-breaking to think of these children risking their lives to come to the U.S. for a future that is not even guaranteed.
It's not an argument that our immigration system needs some fixin'. This crisis isn't all about immigration. This crisis is about the humanitarian aid that is needed for children. Children! They cannot do much for themselves once they are here. You can help them, though.
To get involved on a national level, Univision is partnering with Save the Children to continue to raise money to help provide these children with the care and support every child deserves, including nutritious food, housing, educational programs, medical care, social services and legal representation during immigration hearings that will determine their future.
The funds raised will go directly to help Save the Children and other organizations providing humanitarian aid to these young children. These children need our help. These children need you!
Please donate today at Estamos Con Los Ninños: www.savethechildren.org/ninos Just $10 can make a big difference.
TONIGHT LATISM and Univision are having at Twitter Chat to help make a difference. Follow @LATISM and hashtags #LATISM and #EstamosConLosNiños to follow the chat. #LATISM Chat starts at 8pmCST/9pmEST. Join us!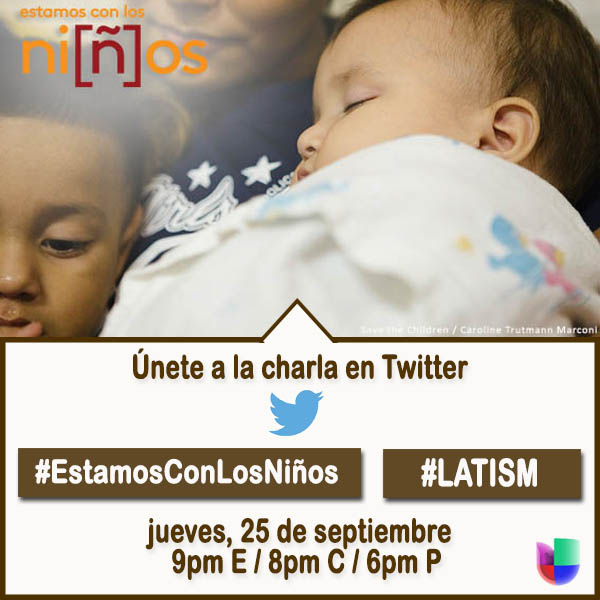 I've partnered with both local and now national organizations to help these children. If you are in the Greater San Antonio area, visit Somos Humanos on Facebook to learn how you can volunteer with unaccompanied immigrant minors.
LATISM (Latinos in Tech Innovation and Social Media) hosts weekly chats on Thursday nights at 8pmCST/9pmEST. You can always follow along on http://twubs.com/LATISM