Do you know what Día de los Muertos/Day of the Dead is really about? En serio, do you understand why this Mexican holiday is sacred to some and holds a special meaning to so many? Watch THE BOOK OF LIFE and you will leave with an appreciation of this holiday, of Mexican culture and of true love stories like you've never had before. It's about more than just death.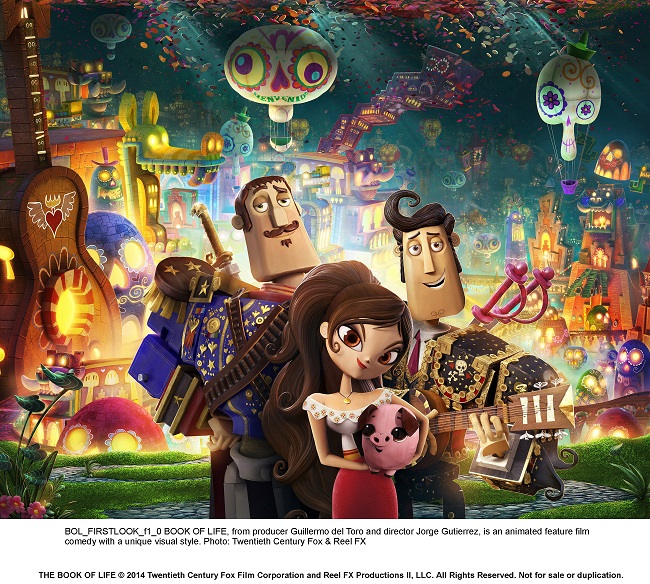 The Book of Life Movie Review
THE BOOK OF LIFE movie on its surface is about Manolo (Diego Luna) and Joaquin (Channing Tatum) fighting for the hand of their friend and love of their lives, María (Zoë Saldaña). Three childhood friends are close but like in any case, three's a crowd and one of these boys wants to win the heart of the beautiful María.
The story develops deeper as two deities of the after-life set a wager on this love triangle. La Muerte (Kate del Castillo) is the beautiful ancient god who oversees the enchanting Land of the Remembered and her estranged husband who is her complete opposite, Xilbalba (Ron Perlman), ruler of the Land of the Forgotten chose one boy each to win María's heart. The winner gets to oversee the celebratory Land of the Remembered and the loser is banished to the desolate Land of the Forgotten.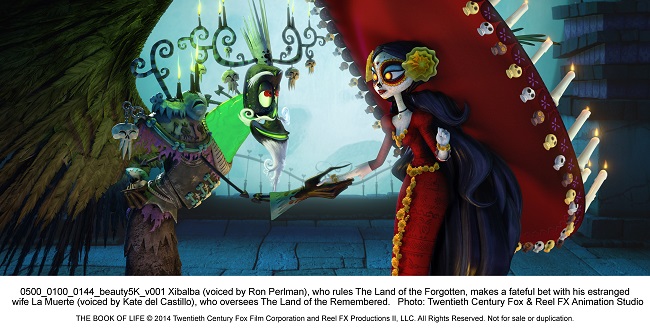 La Muerte believes in the goodness of mortals and she chooses Manolo as she can see his pure heart and his desire to make beautiful music for Maria. Xilbalba doesn't waste time and trades Joaquin a loaf of pan de muertos (a special bread made for Day of the Dead) for a medal that will keep Joaquin from ever being physically harmed.
Young María becomes too rebellious and strong-willed for her father and he sends her off to Spain to learn to become a proper young lady. The time apart is for all three of them to grow into their own.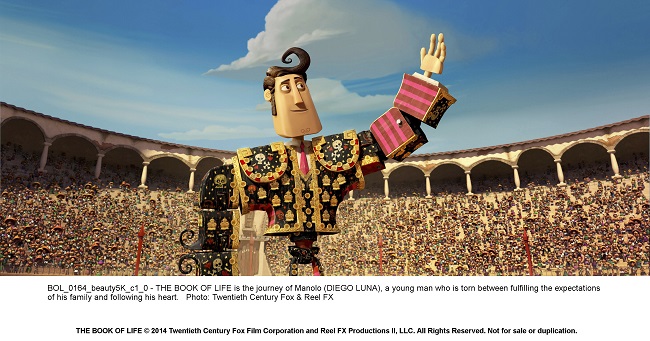 Manolo is from a long-line of matadors and trains to become the greatest one in his family yet.  Despite truly wanting to be a musician, Manolo trains for his greatest bullfight to please his father and make his family proud.
Joaquin follows in the footsteps of his late father to become a great war hero destined to protect his beloved town of San Angel. With his medal from Xilbalba, he does become the town's hero not having lost one battle.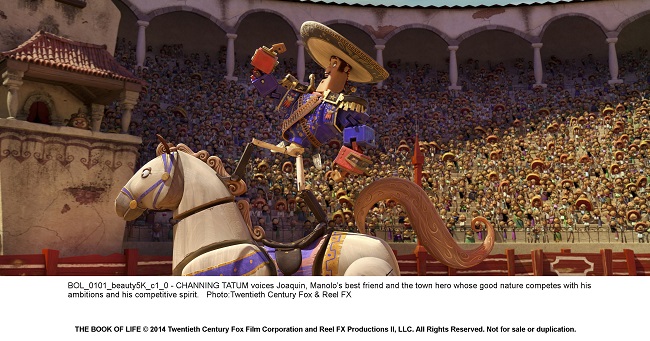 When María returns years later, she is just in time to attend Manolo's grand bullfight. Manolo, an artist at heart, cannot complete his task to kill the bull and disappoints his father and the whole town. With this loss, it looks like Joaquin has the upper hand in winning María's heart. That is until María realizes that Joaquin can't appreciate María for her intelligence and talent. Manolo decides to fight for her love and challenges Joaquin. However, María is not impressed with either young man. Their ways appear as if nothing has changed since she left.
With the threat of a takeover by Chakal, a monstrous villain, María's father convinces her that in order for Joaquin to stay and protect San Angel, she must marry him.
Before María agrees to marry Joaquin, Manolo woos María with a beautiful song and gorgeous candle-lit setting and she realizes Manolo is the one for her. Xilbalba quickly interferes! He tricks Manolo into thinking Maria has been killed by a snake and Manolo agrees to die to be with her.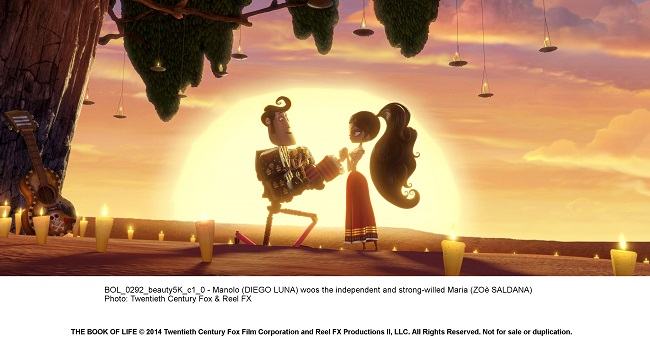 Because Manolo still has loved ones in the Land of the Living,  he is taken to glorious Land of the Remembered. While Manolo is happy to reunite with his family, including his own mother, he isn't content to stay put until he is reunited with María.  With the help of his family in the after-life, Manolo sets out once again to be with María.
Manolo meets the Candle Maker (Ice Cube), the keeper of The Book of Life – where everyone's story is written. Except, Manolo's pages are empty. He is writing his own story. Impressed with Manolo's resiliency and maybe out of curiosity, the Candle Maker makes some special arrangements to help Manolo get a chance to return to the Land of the Living but not without some challenges.
This is where the movie becomes even more magical. The movie take us through a version of story-telling that greatly describes the importance of the Día de los Muertos holiday and how it can impact our love and remembrance for those who have past. The story unfolds to reveal lessons of true love not just between Manolo and Maria but also amongst familia. In an unexpected twist, the movie shares a sweet story about the power of forgiveness.  Of course, lessons of undeniable friendship are also told in THE BOOK OF LIFE. All of this amidst action-fighting, song-singing, and joke-telling adventures! This movie really does have a little bit for everyone. Oh yeah, this movie is about death … and it's for kids. What is it with Mexican and death?!
I won't giveaway the whole enchilada. The lessons and story-line are obviously bigger than boy meets girl or an after-life experience. What is amazing about this movie is the way it portrays Mexican culture but with great universal themes that when you pay attention to the story, you might forget it was produced, directed and partly written by two Mexicans. Queridos, go see this movie and take your family with you!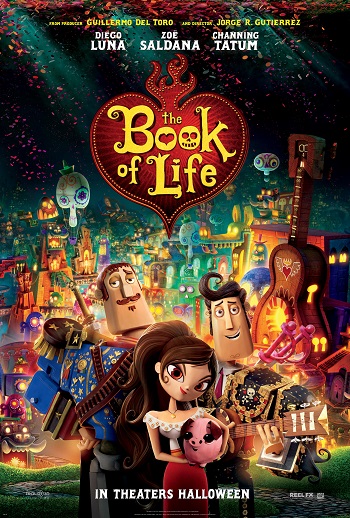 Mexican Culture on the Big Screen
Let's revisit the Mexican culture part, though. My first thoughts were 'Wow, I've never been so proud of a movie to show the world what Mexican culture is.' I admit that I'm always learning more about my Mexican heritage – I'm not an expert. THE BOOK OF LIFE is a great way to visit and even learn about it. If I were a little girl and had seen this movie, I'd been in love with Mexican culture a long time ago. As I was sitting in my seat watching this movie, I was almost in disbelief that my sons get to watch a well-crafted 3-D animated film with Mexican voices (not all but many) about Mexican culture – and they were loving it! As someone who has been wishing for characters – human and/or animated – who resembled even a little bit of familiarity of me or my heritage, watching the colorful celebration of Dia de los Muertos come to live on the big screen made me emotional. I am so happy this movie has been made.
All That This Review Leaves Out
La Musica: There's so much more. The music is amazing! It's pop-culture favorites from Radiohead, BizMarkie and Rod Stewart in a Mexican bolero and Norteño remix. Yeah! Listen up for 'Creep' and 'I Can't Help Falling In Love With You'. There's new, cool stuff too like 'The Apology Song' by our favorite La Santa Cecilia.
Purchase the The Book of Life (Original Motion Picture Soundtrack)
 MP3 Download today OR  you can pre-order Book Life Soundtrack
CD before its release on October 27th .
María: Oh, María! She's not your average princess. (She's not even technically a princess in the movie.) She's an equal to her counterparts. She's not waiting for someone to save her because she doesn't need saving. At one point, she is becomes the town's hero. I just love her!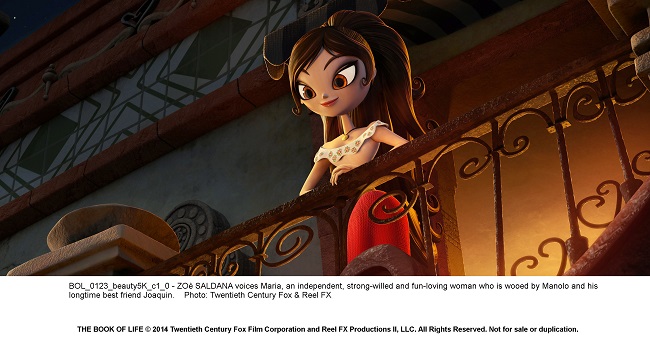 Cast, Director and Producer: Channing Tatum, Zoë Saldana, Diego Luna, Christina Applegate, Ice Cube, Kate del Castillo and Ron Perlman star in the film. Also joining the cast are Cheech Marin, Hector Elizondo and legendary tenor Placido Domingo, plus Ana de la Reguera (Nacho Libre, Eastbound and Down), Eugenio Derbez (Instructions Not Included), comedian Gabriel Iglesias (Stand-up Revolution), radio personality Ricardo ("El Mandril") Sanchez, and Danny Trejo (Machete).
THE BOOK OF LIFE is produced by acclaimed filmmaker Guillermo del Toro and directed by Jorge Gutierrez. Gutierrez also wrote the screenplay with Doug Langdale. It's in theaters everywhere October 17th.