This is a sponsored collaboration with Community First Health Plans. All opinions are my own. I'm not a health professional. 
Knowing WHAT to do is the best first step in moving towards living a healthier lifestyle. It's the HOW to do this that can get us stuck. I know this first hand. When I learned I had high blood pressure, I knew I needed to change my food habits and exercise more. It took some time and education to learn how to do that the right way.
The good news is that no one is alone in this. I invite you to learn the how-tos with your own community for support and accountability. Join me at the upcoming Community Garden Health and Wellness Event hosted by Community First Health Plans (CFHP), the only locally owned and managed, non-profit health plan in South Texas. Bring your friends and family to the onsite event at the San Antonio Food Bank or have them join you online.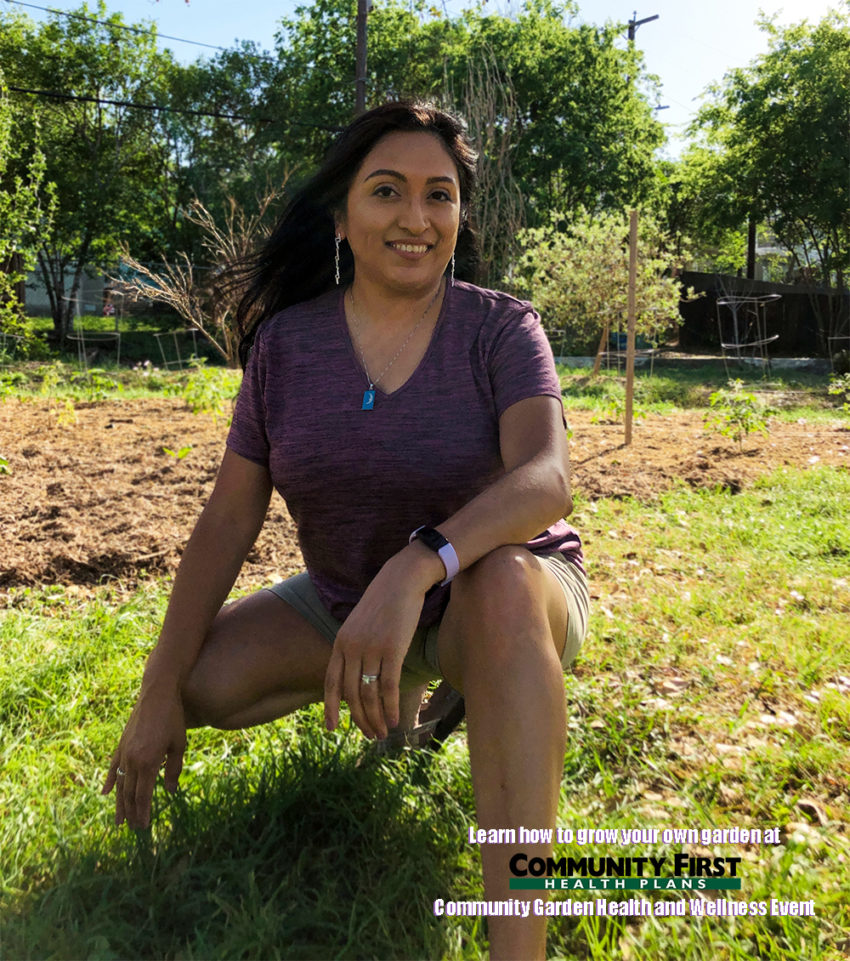 Activities To Live a Healthier Lifestyle
Here are simple activities to incorporate into your routine. You are likely familiar with some of these but make some small changes and it will lead to big improvements. Believe me, I've learned the hard way.
Get your health screenings. Some important screenings to check are cholesterol, blood pressure and blood sugar. Knowing these numbers will guide you to focus on your individual needs.(Necessary stats will vary on age and individual circumstances.)
Grow your own food. It's great to have a full garden in your yard but you can also start an indoor garden. Another option may be a local community garden. Vegetables that ripen in the garden have more nutrients than some store-bought vegetables that must be picked early.
Cook food at home. Learn to cook more nutritious meals and include fresh vegetables. Cooking at home allows you to choose how your food is prepared and control the fat, sugar and sodium intake. 
Move and stay active. CDC recommends 150 minutes of activity each week for adults to improve health–aerobic activity and muscle strengthening.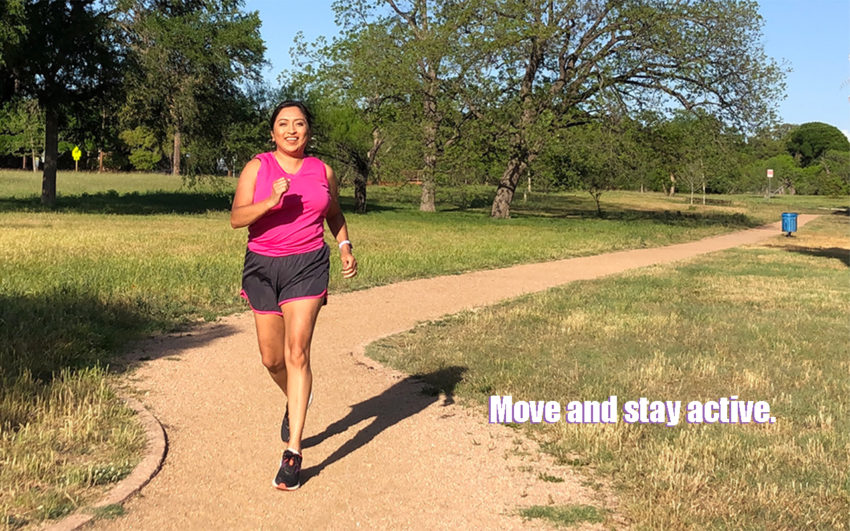 Learn Healthier Lifestyle Tips With Your Community
Now, HOW do we implement these activities into our lives? Thanks to CFHP, you can learn healthier lifestyle tips at the Community Garden Health and Wellness Event – onsite at the SA Food Bank or online from the comfort of your own home. There will be everything you need to learn and take action.
We could all use a little help when trying to live a healthier life. So we've partnered with the Food Bank to teach our community how to grow their own healthy food, how to prepare it, how to stay active, and how to live more healthily all around. We hope this helps our families to be healthy together.

Judy Razo, Director of Corporate Communications & Marketing, Community First Health Plans
Activities at the event will include testing for diabetes, Zumba classes, cooking demonstrations, and gardening demonstrations. Plus, there will be plenty of great giveaways including the supplies you need to start your own indoor garden, jump ropes to stay active and so much more.
JOIN US at the Community Garden Health & Wellness Event
Date and Time: Saturday, April 10, 2021, 9:00 am – 12:00 pm CST
Location (2): San Antonio Food Bank 5200 Enrique Barrera Pkwy San Antonio, Tx 78227 (onsite event) AND Online
Registration Required for Both Onsite and Online: https://www.cfhp.com/event/community-garden-health-wellness-event/
Cost: FREE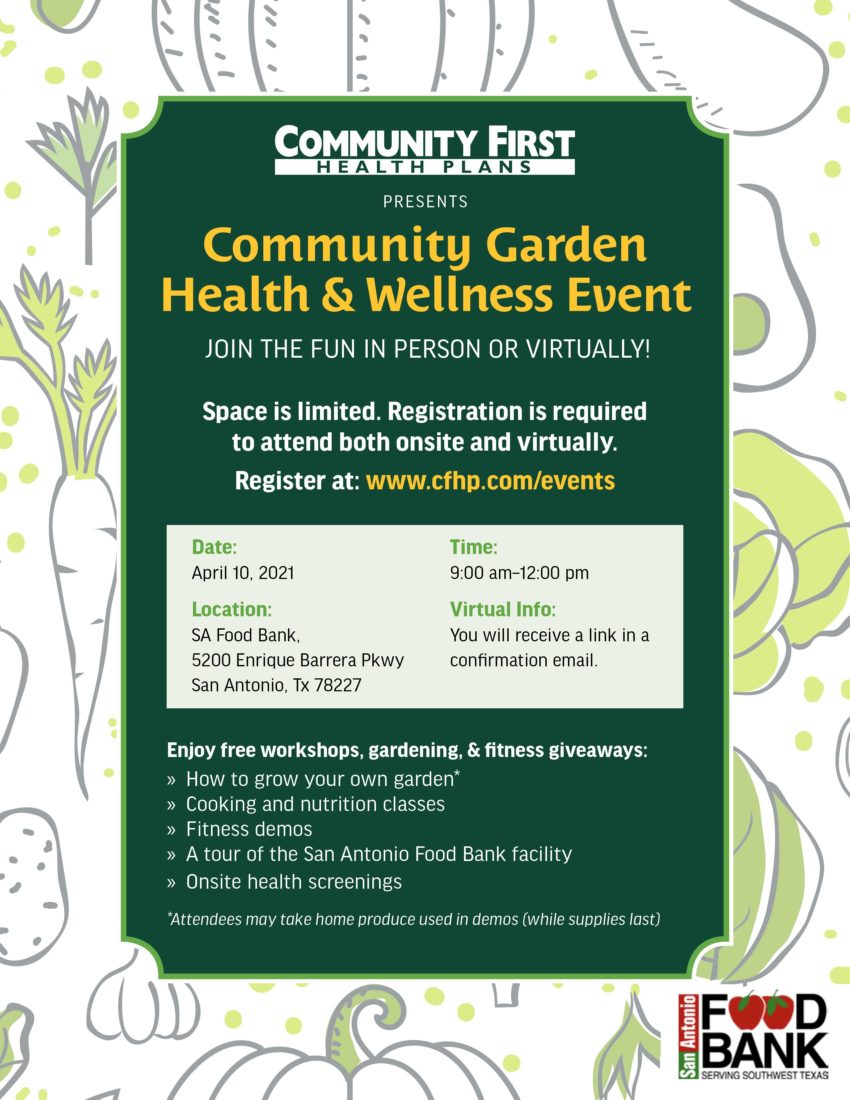 I will be there! So, if you are at the onsite event, please say hello and talk to me about what you learn. If you're joining us online, please tag @quemeanswhat and @cfhealthplans on any social media shares! You can find me in the How To Garden Workshops. I visited my community garden this week to see if that would be a fit for my family. Now, I just need to learn HOW!
Queridos, I can't stress enough how important your own health is. Like so many, you probably already know what to do but could use a little bit of encouragement on how to do it. Take advantage of this FREE resource available to you! It could be the start of your personal journey to a healthier lifestyle.
PIN IT for later!