UPDATED May 6, 2015:
Video from TelemundoIntlTV:
---
Original blog post:
April 24, 2015
We all learned a last week that Jennifer Lopez would be performing a Selena tribute at the Latin Billboard Awards on April 30, 2015. Very cool, JLo! It's great to see that she still has respect for the Queen of Tejano Music / La Reina del Tex-Mex.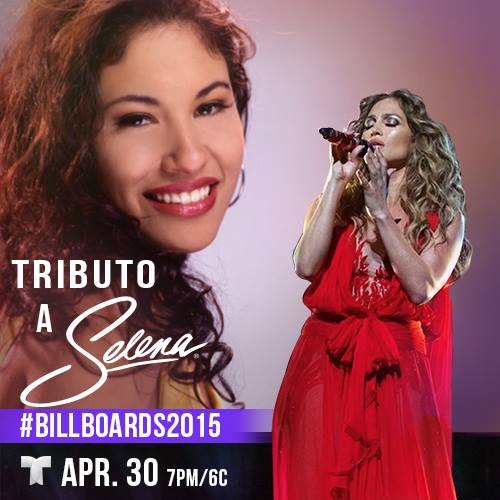 Just coming off the first-ever Fiesta de la Flor Festival in Corpus Christi, TX, it was even more thrilling to learn that some of Selena's original band members and family will be on stage with Jennifer Lopez. Formerly known as Los Dinos – AB Quintanilla (Selena's brother), Suzette Quintanilla (Selena's sister) and Chris Perez (Selena's husband) will also be performing live with JLo according to the YouTube video below.
A.B. Quintanilla Announces Los Dinos to Perform at Selena Tribute at Latin Billboard Awards
As a San Antonioan, I appreciate that A.B. made this announcement at our very own Tejano Explosion!
"… I think it's important that you hear this … hear it first. On April the 30th, history is going to happen again. History just happened in Corpus but it's going to happen again. On April the 30th, at the Billboard awards live from Miami, I'll be playing bass with J.Lo on stage … so will Suzette and so will Chris Perez, all three of us. We'll be playing with her. Y'all look out for that, it's gonna be amazing. JLo really does appreciate everything that Selena has done for her. We know that for a fact. So, when you hear people say she doesn't, she remembers, man, she knows where she came from. It's a good thing for La Raza, right? That we are still being remembered."
This video was posted on the Bobby Villela YouTube Channel of Bobby V Photography, San Antonio, TX. AB Quintanilla was performing at San Antonio's Tejano Explosion on Tuesday, April 21st when he made the live announcement on stage. Check out Bobby V's photos of other great Tejano artists on his Facebook Page.
Will you be tuning in on April 30th?! Check your local listings for Telemundo.
I'LL BE WATCHING!
Tweet me with your thoughts on the performance! @QueMeansWhat