Diego Luna is a voice for diversity and inclusion in entertainment, in movies, and in Hollywood. So, I'm not even going to try to pretend that he isn't about 90% of why I want to see Rogue One: A Star Wars Story. Yes, I'm a total Star Wars fan por vida. Pero like, it's DIEGO LUNA – and he's Mexican and he plays a hero!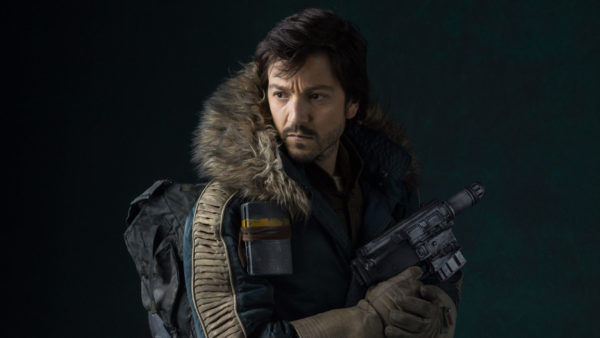 The call to action for increasing the diversity on the silver screen didn't begin with his role in Rogue One. Here's a powerful quote from him about how we, as audiences, have a big role in diversity in Hollywood (in an interview for Mr. Pig in January 2016):
"I think we have a responsibility as audiences; when we buy a ticket, we allow something to exist, we allow a voice to exist. … I think it's time for audiences to shape the industry we need and it's always asking for the stories we want to see portrayed in cinema."
ROGUE ONE Available on Blu-ray and Digital Download on Walmart.com
So, what about now that he has a leading role in the most diverse cast in a Star Wars film yet? The diversity of the cast seem to line up with the diversity of the rebel characters, and maybe, the message of the movie.
"It's a clear message what this rebel group sends… By leaving differences aside, we can be stronger. By celebrating our differences and understanding that those differences make us richer and stronger and more powerful we can do whatever we want, you know? There is no limits. It's a beautiful film about unity and celebration." –Diego Luna to Variety Magazine at Rogue One premiere.
ROGUE ONE Available on Blu-ray and Digital Download on Walmart.com
Unity and celebration? That kind of sounds like what this country needs as we wrap up 2016. Not just in terms of a intense election but remember, we started the year with #OscarsSoWhite. Audiences watch movies to escape reality. We want a good story, drama and action and still, we want the screen to represent a little bit of our reality – at least allow us to feel that we can see ourselves in the story somehow.
Star Wars has traditionally been filled with a good dose of escapism. It can give us a sound story of good versus evil when it's all said and done, too. At the Rogue One press conference held at Lucasfilm HQ, producer Kathleen Kennedy suggested Luna answer the question about whether or not there's more of a moral grey area compared to the traditional good versus evil of Star Wars. Diego Luna who plays Captain Cassian Andor, an Alliance Intelligence officer for the Rebel troops, had a lot to say.
"It's a modern approach to Star Wars. And we live in a different world today." He added, "if you revisit all the films, it's a a stamp of what was going on and a reflection of the world back then and our's has to do the same. We live in a diverse world where racial and cultural diversity is, in fact, making us richer and more interesting. It is a complex world we live in. Making the right choice many times looks horrible. These people are in war. When you mention Cassian doing someintng not heroic, I say no, Cassian is a true hero …  They are the heroes that we can be. Regualary people doing amazing thingNo special powers, no Jedis – just conviction and team work and that hope of actually being able to shape their reality we live in. That makes them great. But, yes, they have to make choices on the way. War is horrible. No one wants war to happen. None of these characters would choose war. But it's the last chance and they have to do it."
ROGUE ONE Available on Blu-ray and Digital Download on Walmart.com
What will this group of rebels accomplish together and what will be the overall message? I'm ready to find out. The Rogue One: A Star Wars Story cast consists of Felicity Jones as Jyn Erso; Diego Luna as Cassian Andor; Alan Tudyk as K-2SO; Donnie Yen as Chirrut Îmwe; Wen Jiang as Baze Malbus; Ben Mendelsohn as Orson Krennic; Forest Whitaker as Saw Gerrera; Riz Ahmed as Bodhi Rook; Mads Mikkelsen as Galen Erso; and Jimmy Smits as Bail Organa. It is directed by Gareth Edwards and rated PG-13.