Reyna Grande is a Latina author whose bestselling memoir The Distance Between Us touches the heart of any reader and provides a true glimpse of life of an undocumented immigrant and her family. I spoke with Grande about her writing and her latest novel, A Ballad of Love and Glory. In our conversation, we discussed why she is critical of her Mexican family and how learning about Texas, Mexican and American history that wasn't taught in school inspired a large part of her latest novel.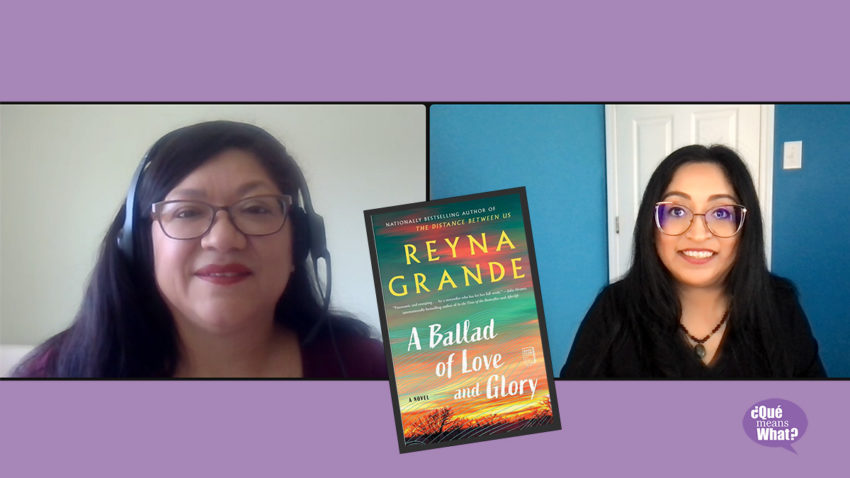 Meet Reyna Grande
Reyna uses the terms Latina and Mexican-American most when referring to her identity. She is cautious to not identify as Chicana because she was not born in the United States. That's a sentiment I've heard many times from Mexican immigrants who live in the U.S. and otherwise would identify as Chicana/o. She chooses not to use the term Mexicana because she hasn't lived in Mexico since the age of 9. Like many Latinas, her identity is complicated. 
Grande considers herself part of the 1.5 generation because her experiences as a child immigrant differ from her parents' experiences as adult immigrants and whose experience differs even more than their U.S. born siblings. "Adult immigrants don't lose their identity because once they get here as adults their identities have already been formed. They know exactly who they are. They don't have to compromise or sacrifice as much of their identity or language. Whereas child immigrants' identities are still being formed. When we arrive here, there is a lot of sacrifice we have to make in terms of our identity and also there's a lot of inner turmoil because we want to stay connected to our culture but we also want to blend in and be accepted into U.S. society," Grande shared. This causes a lot of inner conflict and trauma for the 1.5 generation.
When it comes to familial relationships, Grande's work is known for its critical lens of her family. In both her memoirs she explores her complicated relationship with her parents. "I do not romanticize the Mexican family in my books," Grande told me. "I tend to write about a broken Mexican home – which I grew up in full of violence and abuse; and parents who didn't know how to parent and made a lot of mistakes." However, Grande thoughtfully takes into context what her parent's upbringing looked like, in an effort to understand them as full human beings. She believes it's important for people who are critical of their parents to learn about their parent's trauma and why they are broken, too.
A Ballad of Love and Glory
In her latest novel, A Ballad of Love and Glory, Grande uses a love story to share a lesser-known version of Texas, Mexican and American history. While on a book tour for her book The Distance Between Us, she was introduced to the St. Patrick's Battalion and it was suggested to her to write about it. After researching who and what the battalion was, Grande realized that she didn't know a lot about the Mexican-American War and out of her desire to learn more about this history that wasn't taught to her in school, she began writing – and learning.
"I realized there's not a lot written about the Mexican-American War, especially in fiction. As a novelist it appealed to me – being able to write about a time period that has not been written much about."
She also found herself not just wanting to shed some light on it but also to reclaim our history. Researching for the book, she connected the dots on how the Mexican-American War is connected to the Civil War but more glaring was how the Texas rebellion led to war. Grande recognized that the Tejano story must be included. 
In A Ballad of Love and Glory, the female protagonist, Ximena, is a Tejana from San Antonio whose family's choice to fight against Mexico haunts her. Ximena meets John Riley who is based on Grande's research about the St. Patrick's Battalion. Grande learned of a rumor that the real John Riley fell in love with a Mexican widow. In her book, that's Ximena – who is named after John Greenleaf Whittier's poem The Angels of Buena Vista. Grande uses their love story to move us through this Texas-Mexican-American history lesson in her novel.
I appreciate Grande's inclusion of Tejanos' stories in the Mexican-American War and their struggles. It's something that I often wonder about my own family – if we were here, whose side were we fighting on? What we do know is that even the Texan-Mexicans who fought for Texas were often run off back to Mexico after the Texas Revolution.
While Grande admits this novel is not a history book, she does have hopes for the readers. "I really hope that the Mexican-American community, the Tejano community feel empowered when they read the book because this is a book that aims to reclaim our history. It tells the history from our point of view. Our point of view has been neglected. It offers a corrective view of history."
##
Reyna Grande will be in San Antonio at the Guadalupe Cultural Arts Center – The Latino Bookstore on Friday, April 1, 2022. Visit her website at http://reynagrande.com/ for her full book tour dates. 
Visit https://guadalupeculturalarts.org/ for information about The Texas Author Series at The Latino Bookstore.
*This post contains affiliate links which means if you shop using those links, QMW may receive poquito dinero.