Attending a San Antonio Symphony concert at The Majestic Theatre should be on all music lovers list. The Symphony is an esteemed cultural institute in San Antonio. We've been to a few but as a family, we've only experienced one concert all together. That was the 2014 Fiesta POPs Concert which featured the symphony, Mariachi Campanas de America, The Guadalupe Dance Company Folklorico Group  and Tejano legend Little Joe.
Taking my boys to this unique Tejano culture celebration was the highlight of our 2014 FIESTA in San Antonio. It was a magical night of Mexican-American culture of music and dancing. Plus, we got to hear Little Joe y La Familia perform "Las Nubes" in The Majestic Theatre. A true moment of Tejano pride!
I had the chance to talk with San Antonio Symphony's Associate Conductor Akiko Fujimoto about this unique concert.
Why is FIESTA POPs an important event for the Symphony?
This is important annual event to connect the community to culture. It's our way of celebrating Fiesta. We are happy to be an official Fiesta event. This is really an annual party.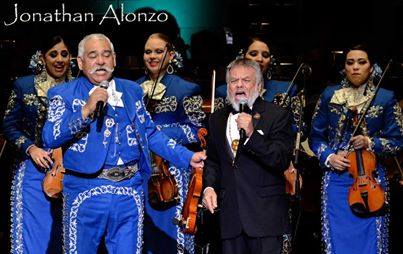 Who came up with the idea to feature Little Joe y La Familia?
It was an idea that had been floating around. We knew he was a good friend of Campanas de America leader, Juan Ortiz. When I heard the idea, I jumped on it. Little Joe is a legend in Tejano music but we didn't know the level of enthusiasm that he would bring to the audience. This was truly a special discovery. 
At the end Saturday night's concert, an emotional Little Joe mentioned that he believed performing with SA Symphony was a mark that he 'made it to the top.' What did that mean to you?
It was the finest compliment we could receive. He revealed that he had so much respect what we do (and we have so much respect for him). It was the highest honor. I'd love to work with Little Joe again in the future. He is somebody who is loved by San Antonio and that's very special. 
How do you choose the music for an event like Fiesta POPs? 
The music chose me. It's a very unique concert to San Antonio. There are classic pieces that are a must when celebrating Latin culture. The symphony knows them and plays them well.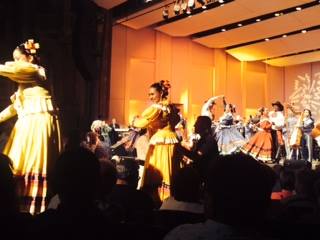 This is Fujimoto's second year as the associate conductor and before Fiesta POPs, she had never performed with mariachis.
The rhythm of the melodic material is challenging. I reached out to Juan Ortiz and asked him for help. Music on paper doesn't tell everything. You  have to feel it; it's tradition. I'm mindful of that when performing Latin American classical pieces. 
For future Fiesta POPs concerts, we can expect more mariachis and dancing along with the Latin American pieces from the San Antonio symphony. Thanks for the memories SA Symphony! My family is looking forward to more concerts.
The Giveaway
Thanks to our friends at San Antonio Symphony, one lucky Que Means What reader will win a pair of tickets to the 75th Anniversary Classical Concert on June 14, 8pm  at the Majestic Theatre. The concert will feature international violin sensation Joshua Bell.
To enter the giveaway, leave a comment on this blog post below: You can share why you love the symphony or why you want to go to the classical concert. One winner will be chosen on Wednesday, June 11, 2014 at 11:59 pm CST.
For extra an entry Click to Tweet below:
More festivities will unfold after the concert in the lobby of the St. Anthony Hotel, which will have just completed a multi-million dollar renovation. Champagne, flaming desserts, 1930s jazz, a full bar and valet parking are included in the $75 price. VIP tickets to the concert also are $75. Both may be purchased at the San Antonio Symphony Box Office, (210) 223-8624 or www.sasymphony.org. For groups of 10 or more, call (210) 554-1066.  Special room rates are also available at the St. Anthony Hotel, click HERE for more information. *Festivities at St. Antony Hotel are not included in the giveaway.