Have you ever danced in the snow?! You will get your chance at SA Current's SNOWBALL WINTER BASH this year! That's right, y'all. They are going to make it snow! Let it snow, let is snow, let it snow … 

This will be one of San Antonio's coolest winter events, the first-ever SnowBall winter bash on Saturday, December 28, from 8 p.m. – midnight, at La Villita Historic Arts Village (located at 418 Villita Street). 
Get ready to dance! I've been checking out these artists (mama was more excited about the snow!) and the lineup makes me wanna dance. The music will be rockin' the drinks will be cold … This will be a great event to discover new music and hang out with old and new friends! 2013 has been a crazy year, let's celebrate dancin' in the snow! 
Confirmed lineup includes:

Big Freedia, Neon Indian, Glitoris, DJ Mel, Leonard Trujillo, Extended Play and DJ Pulp & Adam Madrigal.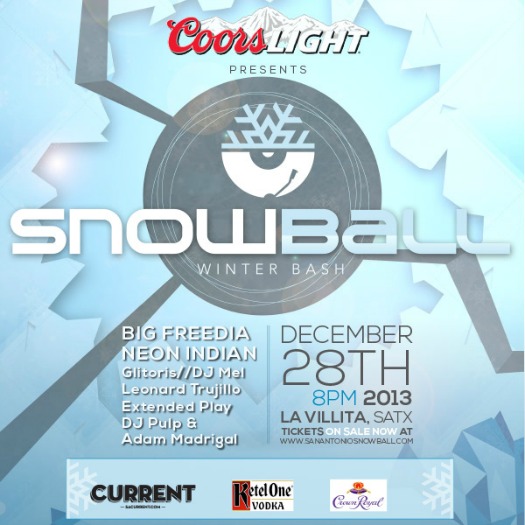 Tickets to SnowBall are $20 in advance, with concessions for purchase, ages 18+.  A limited number of VIP tickets are available for $50 and include swag bags, food and complimentary cocktails as well as entry into the Ketel One VIP Ice Lounge, ages 21+. To purchase tickets, visit www.SanAntonioSnowBall.com or the SA Current office at 915 Dallas St.
Enter for a chance to Win TWO VIP TICKETS

Thanks to our friends at SACurrent, Que Means What readers have a chance to win TWO VIP Tickets! **Must be 21 to enter. Must be 21 to enter VIP area. Enter below and GOOD LUCK!
About the San Antonio Current: The San Antonio Current has served as the city's premiere multimedia source of alternative news, events and culture since 1986. For more information, visit www.SACurrent.com.
The San Antonio SnowBall is generously supported by Coors Light, Ketel One Vodka, Crown Royal, TrafficKing Events and the San Antonio Current.