Disclaimer: Products shown were provided to Que Means What. All opinions are my own.
In our house every opportunity is a learning opportunity. That includes our favorite movies, too. I'm totally okay with my kids falling in love a movie or movie franchise. Why? Because I know that my kids' favorite movie characters make great teachers. Here are a few lesson I've learned how to make it work for us.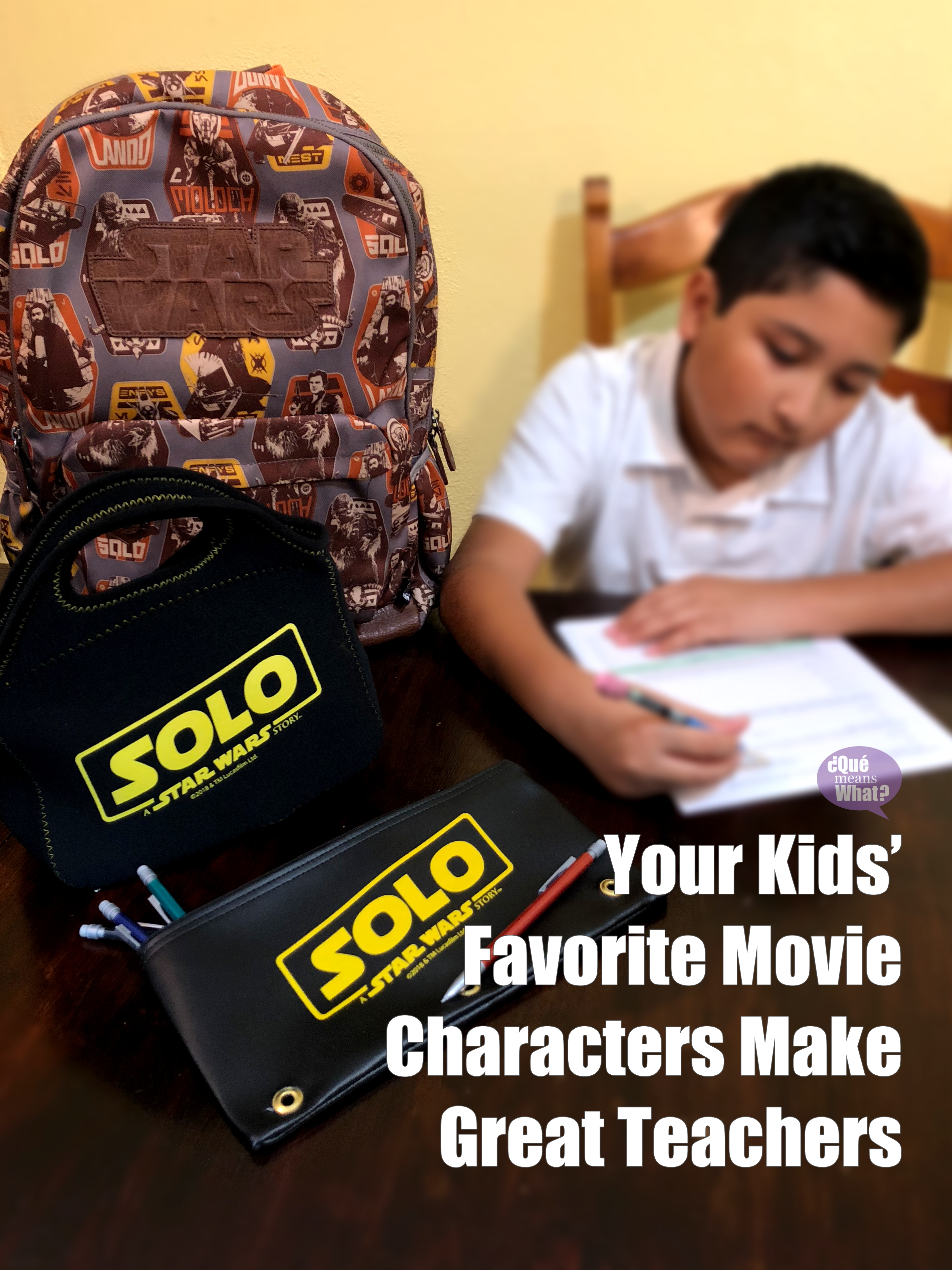 Subject Matter Matters
When I taught my boys how to read, it took a few tries but I learned that it was easier to teach them how to read if they were excited about the subject matter. So, they learned how to read by using books about their favorite superheroes and space exploration. It's just what they were in to! They kind of still are. Today, I still use their favorite characters to my advantage as a teacher. To keep them excited about every day stuff, I look for backpacks, lunch bags, etc. with their favorite characters. My son is a super Star Wars fan so these SOLO supplies were perfect for him!
Play Games
Another lesson I've learned to keep my kids engaged in learning is to play games! Often, I make up my own games but it's a bonus when I find games with the boys' favorite movie characters. This STAR WARS: HAN SOLO Card Game is the perfect example. To play, you have to use math and strategy in order to win. But because it's about Star Wars, my boys will hardly notice they are strengthening their critical thinking skills as they play.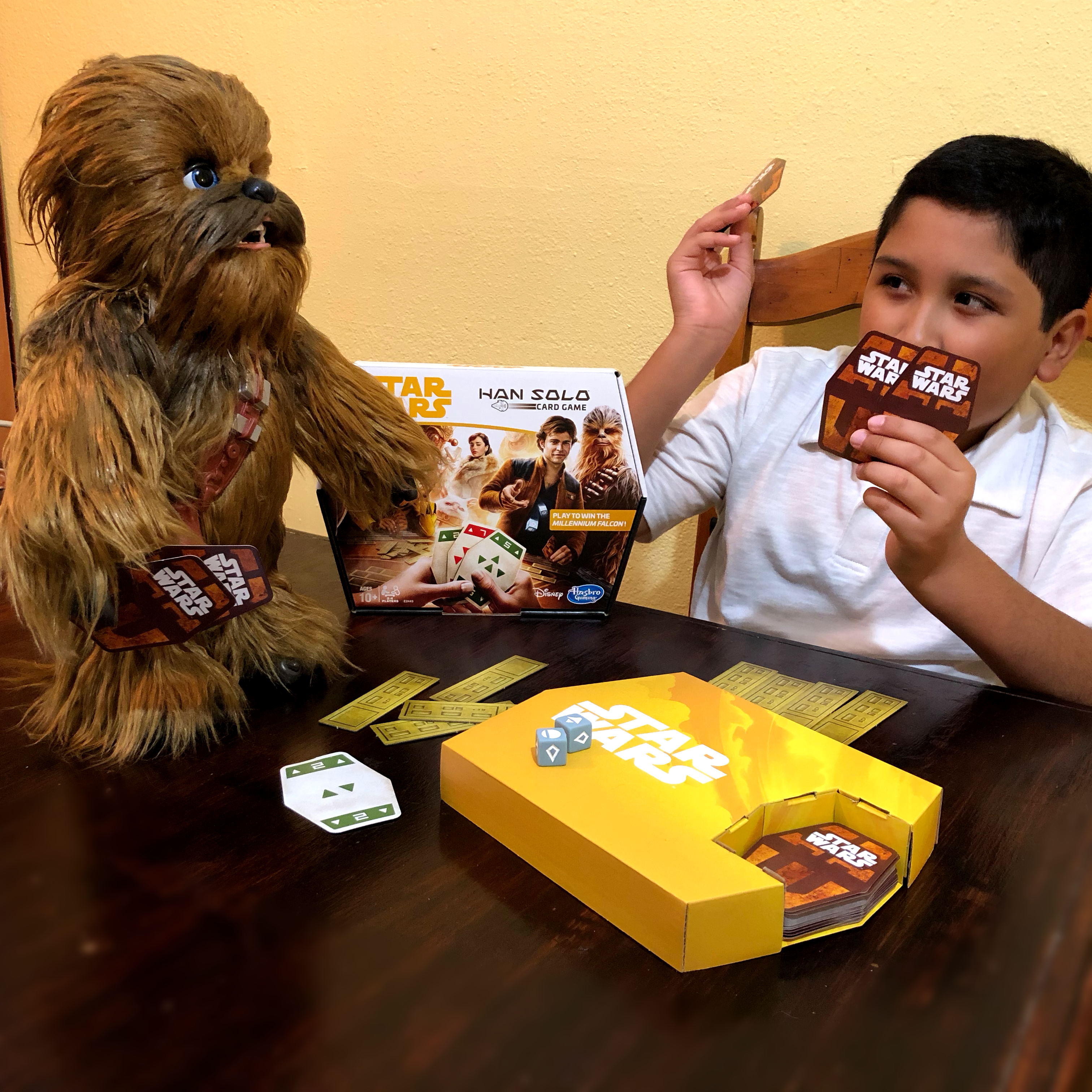 Shop for your HAN SOLO CARD GAME at Walmart.com*

Rewrite The Story
Use familiar story lines to help create new ones! Does your kid ever talk about a movie over and over? They usually do so because they just enjoyed it so much. I use that to my advantage as a creative writer teacher. (I'm a homeschooler so I'm an every-subject-teacher.) Since we already know who the movie characters are, we can discuss alternate endings. This becomes my sons writing assignment. I add a few grammar requirements depending on what we are studying and he's so happy about he subject matter, he hardly notices he's practicing writing and grammar.
Watch That Movie … Again
After a long day of school and learning, students' minds need to decompress. Use the same thing that excites them to be the think that helps them relax. Give them some movie time. Since they probably already know the movie scene by scene, you know when to start and stop so they don't watch the entire movie at once. It is a school night after all!
 Shop for your Star Wars: Ultimate Co-pilot Chewie at Walmart.com*

---
GIVEAWAY SOLO: A STAR WARS STORY
Get your students excited with SOLO: A STAR WARS STORY at home! I'm giving away TWO Blu-Rays with Digital Codes. Leave a comment below telling me either:
1. How you encourage your student at home.
2. What was your favorite SOLO scene.
Good Luck, Queridos!
Shop for your copy at Walmart.com:
Solo: A Star Wars Story (Ultimate Collector's Edition) (4K Ultra HD + Blu-ray + Digital Code)*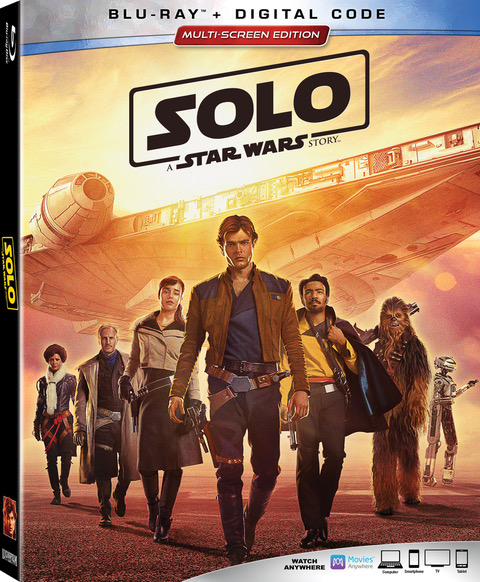 "Solo: A Star Wars Story" bonus content takes fans behind the scenes to experience compelling discussions with the star-studded cast and screenwriters Jonathan Kasdan & Lawrence Kasdan (writer of Star Wars: The Empire Strikes Back and Star Wars: Return of the Jedi); a revealing feature on Chewie and his enduring friendship with Han; a close-up look at the original version of the Millennium Falcon and Han's first time piloting the infamous ship; the creation of the film's otherworldly settings and pulse-pounding action sequences; and eight never-before-seen deleted and extended scenes.
DIGITAL AND BLU-RAY BONUS MATERIAL (may vary by retailer):
Solo: The Director & Cast Roundtable
Sit down with director Ron Howard and the stars for an intimate and entertaining discussion of the film's making.   
See what it takes to bring your favorite Wookiee to life in this lighthearted look behind the scenes.  
Kasdan on Kasdan


Iconic

Star Wars

screenwriter Lawrence Kasdan and son Jonathan share what it was like to write the movie's script together.  

Remaking the Millennium Falcon


Track the transformation of the most famous ship in the galaxy, from Lando's swank and impeccable pride and joy to Han's stripped-down hot-rod freighter with "special modifications."  

Escape from Corellia
Get behind the wheel for the making of this high-octane chase through the streets of Corellia.  
Explore the challenges and thrills of creating this action-packed sequence, including its remote location and spectacular effects.  
Meet the newest droid—and the talented actor who helps bring her to life.  
Scoundrels, Droids, Creatures and Cards: Welcome to Fort Ypso
Take an in-depth tour of the rough-and-tumble bar where strangers mix and gamblers risk all in the legendary card game, Sabaac.  
Into the Maelstrom: The Kessel Run
Join Han and Chewie at the controls of the Millennium Falcon to see how this legendary moment in Star Wars history unfolds.
Deleted Scenes

Proxima's Den

Corellian Foot Chase

Han Solo: Imperial Cadet

The Battle of Mimban: Extended

Han Versus Chewie: Extended

Snowball Fight!

Meet Dryden: Extended

Coaxium Double-Cross
The Millenium Falcon: From Page to Park

– An exclusive look at the history of the most famous ship in the galaxy, its origin and development, and how it will translate in one of the most anticipated expansions in Disneyland's history.
---
*This post does contain affiliate links which means QMW may receive poquito dinero for any purchases made via those links.