Just in time for Valentine's Day, Micky Mouse Club has released POP STAR MINNIE on DVD! Which kid doesn't have dreams of singing their favorite songs on stage? My son recently discovered one of those singing competitions and he I saw the twinkle in his eyes. ¡Ay dios!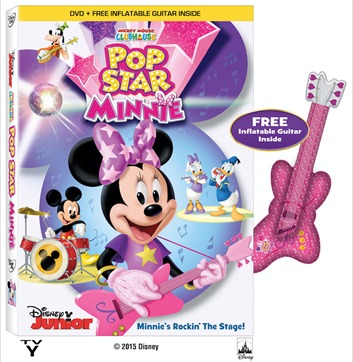 In POP STAR MINNIE, Minnie's dream of singing onstage is about to come true — until her Clubhouse back-up band pals discover that their musical instruments are gone! Now, the race is on to track them down and reach Melody Mountain by sunset. But, even if they find the missing instruments in time, should Minnie sing the blues, croon a country tune or boogie to a disco beat? It's going to take help from YOU – plus a few Mouseketools – to get Minnie in the right groove to totally rock out! Bursting with fun, surprises, and four more exciting adventures, Pop Star Minnie is simply song-sational!
Voice Cast:
Bret Iwan as Mickey Mouse
Russi Tayloras Minnie Mouse
Bill Farmer as Goofy and Pluto
Tony Anselmoas Donald Duck
Shop for Mickey Mouse Clubhouse: Pop Star Minnie
 DVD on Amazon today!
POP STAR MINNIE DVD GIVEAWAY
Thanks to our friends at Disney, we have 3 DVD's to giveaway!
Each prize includes POP STAR MINNIE Episode Plus 4 Additional Music Themed Episodes for over 2 Hours of Fun and an Exclusive FREE Inflatable Guitar!
Official Entry: Leave a comment and tell us about the special person you'd watch this DVD with!
Additional Entries:
Tweet this: 
Visit QueMeansWhat on Facebook and tag a friend to check out this giveaway!
*Contest closes on February 10, 2016 at 11:59 p.m. CST. Winners will be notified via email used to leave a comment. Prizes were provided to QueMeansWhat.com. This contest is in no way affiliated with Twitter, Facebook, or Instagram.