Earlier this month, I sat down with actress, director, producer and activist, Eva Longoria during a visit to San Antonio for a meet and greet with fans during the day at JCPenney and her annual Eva's Heroes Celebrity and Casino Night. Fellow Tejana blogger Marissa Rodriguez of ModernTejana.com and I talked to Eva about her inspiration for Eva Longoria Home ™ collection and the importance of celebrating Hispanic culture in everyday life.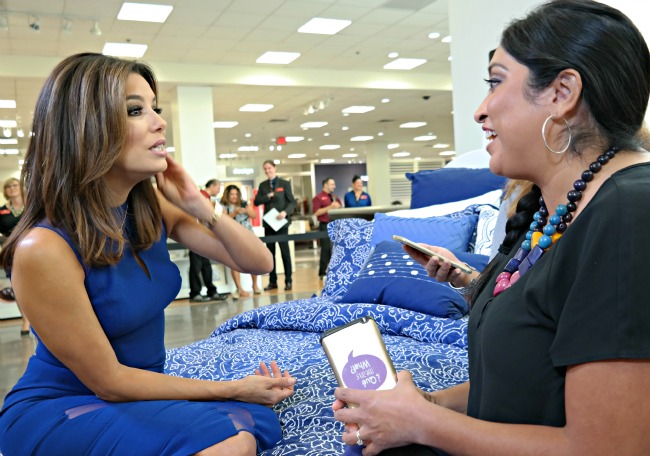 One aspect of Eva's interviews is that she often mentions her familia. Family is kind of a big deal on QueMeansWhat.com and we made this event a family affair when my son joined me as my official photographer. He did a great job capturing our time at JCPenney. We began the conversation as Marissa inquired about Eva's creative space and in turn, Eva shared with us how her tía played a large role in her home décor.
"I had an aunt, my aunt Elsa, who would always tell us, 'You have to make a house a home.' You have to own it. I had crappy apartment after crappy apartment in Hollywood when I was an aspiring actor and she would always tell me, 'I don't care how much you are paying, you better make it nice.'
What she meant by that was make it your own and own it. She would always get mad if I didn't have curtains up, if I didn't have throw  pillows, so I would go to the discount fabric stores because the only thing I could sew at the time were straight lines and pillows have these straight lines. I would make my own comforters and duvets and I'd make my own curtains from all this discount material and I was so creative with it," Eva said.
Family wasn't the only thing that inspired Eva Longoria Home™, an exclusive new bedding collection available in over 100 JCPenney stores and on jcpenney.com. She shared with us that as a Latina, she gravitates to color.
"You'll see a lot of color in my line. I also get inspired by my travels. I'm always inspired when I go to another country by their textiles or their fabrics, their colors or their color use, or their embellishments. So, I'm always inspired and that's what I wanted to do bring all of that – those world travels – and curate it to one collection so it's accessible to everybody."
I, personally, get inspired by my own Mexican-American culture and those who are great examples of living examples of celebrating our culture like Eva. So, I had to know what advice would she give people in order to celebrate their culture in their everyday life.
"I think culture has to do with so much. It has to do with language and food and music and traditions. So, there's so many ways you can celebrate it," she said.
"One way that I'm trying to teach young Latinas, especially Tejanos, is hold on to the language. You know, I didn't grow up speaking Spanish, I learned it later because I felt like 'This is so horrible that I don't speak Spanish. I should be able to speak Spanish.' Once I did, I felt like a door opened into a culture that I stood on the sidelines of – that I stood a little bit outside of. I loved it and I held on to it. At the same time I thought, 'You know what? I want to dig more into that historical past and I want to hold on to it and I want to pass it on.' So, that's one way we can do it as Latinos is hold on to the language.  Being bilingual is always better than being monolingual."
"In a time in which our culture is being attacked and Hispanic and Latino is being synonymous with being an immigrant or illegal, we have to be able to show them who we are and what we are and celebrate it and applaud it," Eva stated.
I couldn't agree more.
In the end, not only was I grateful that my son has some photography skills but I'm happier that he heard what Eva had to say about taking pride in our own home and celebrating our Mexican-American culture. He and his brother are the reasons that I have dug in to my heritage to learn more and to improve on my own Spanish-language skills.
Thanks to JCPenney, I received an Eva Longoria Home bedding ensemble. I'm going to be very honest here – didn't know that I was in dire need of it. When I listened to her talk about making your home your own, my heart was convicted. Queridos, I am far from Suzie Homemaker. Finishing home décor touches never seemed that important to me. After reflecting on how valuable it is to create my home into a space that reflects me, my family and our culture, I am ready to make some changes. I began in the bedroom. Check out my before and after photos.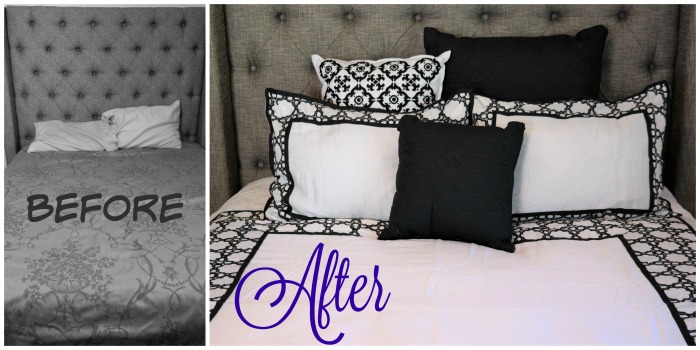 ¿Más mejor, no? One lucky QueMeansWhat.com reader and Eva Longoria fan will win their own Eva Longoria Home™ Mireles 4pc. Comforter Set (partially pictured below). Prize includes comforter, 2 shams, bedskirt with 15″ drop.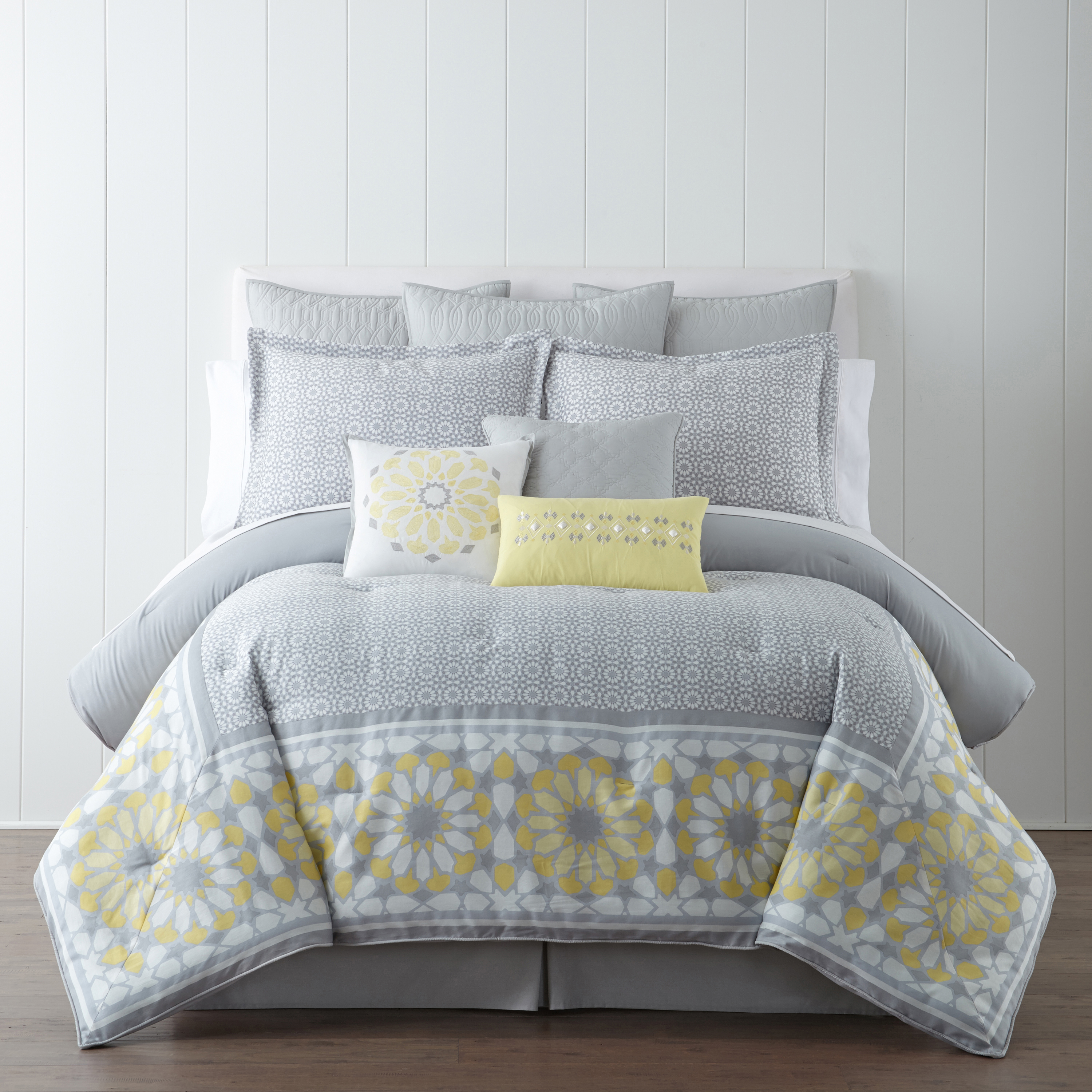 Enter the giveaway below and good luck, queridos!