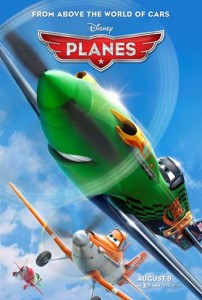 Disney's PLANES is an action-packed 3D animated comedy adventure featuring Dusty (voice of Dane Cook), a plane with dreams of competing as a high-flying air racer. But Dusty's not exactly built for racing—and he happens to be afraid of heights. So he turns to a seasoned naval aviator who helps Dusty qualify to take on the defending champ of the race circuit. Dusty's courage is put to the ultimate test as he aims to reach heights he never dreamed possible, giving a spellbound world the inspiration to soar. (Disney)
We were really looking forward to this movie. Hello? It's like CARS but it's PLANES. My boys were excited to see the movie. They were counting down the days. So, what did we think of the movie?
Well, we liked it. My oldest son (6) said his favorite part was the racing in the movie. Dusty is now his favorite plane! My youngest (3) actually watched the entire movie! (It was shorter than expected.)
Here's the truth. It was slow in the beginning. There were a few light laughters but not a noticeable reaction from the audience for a good part of the beginning of the movie. It seemed to take it's time to tell you about Dusty and that seemed slow but then he gets to the race. That's where the movie picks up. The action 'in the air' makes up for the delayed start. Not to mention the comedy is fun!
I won't spill the beans on the plot. You can probably take a good guess about what happens. You will be very close. I didn't find any real big twists or turns. So, why did I like PLANES? The characters are diverse. The movie is short. The story is sweet.
And if your read my previous post, the interview with Carlos Alazraqui (voice of El Chu), you know there will be a sequel next summer. Yes, PLANES 2: Fire and Rescue is set to hit theaters on July 18, 2014.
Well, this all seems odd coming from a summer release from Disney, doesn't it? That may be  because this movie is produced by Disneytoon Studios, not Pixar. Disneytoon is one of Disney's three animation studios (along with Pixar Animation Studios and Walt Disney Animation Studios) and it produced the successful TinkerBell series of films including SECRET OF THE WINGS, its first film released in 3D. What do you think of this change? 
Disney's PLANES takes off in theaters on Aug. 9, 2013.
The voice cast includes:  Dane Cook, Stacy Keach, Brad Garrett, Teri Hatcher, Julia Louis-Dreyfus, Priyanka Chopra, John Cleese, Cedric the Entertainer, Carlos Alazraqui, Roger Craig Smith, Anthony Edwards, Val Kilmer, Sinbad, Gabriel Iglesias, Brent Musburger, Colin Cowherd, Danny Mann, Oliver Kalkofe, John Ratzenberger. The movie is directed by Klay Hall and produced by Traci Balthazor-Flynn.