This past week, I attended the Latinos in Social Media (LATISM) Conference in Chicago. I went because I am a fan of social media, I am always willing to learn and I wanted to meet the people I've been chatting with on Twitter.
The non-profit organization began with one tweet from founder Ana Roca Castro asking if there were any Latino bloggers out there.  And now has become an entire community of social media enthusiasts with over 140,000 members who support each other, share ideas and information, and want to empower all Latinos.  So it was no surprise when legendary Latino Civil Rights Leader Dolores Huerta took the stage as a keynote speaker.  Her message was powerful:  We are one human family. End racism. Be courageous. We (in social media) are ahead of the game. We, the people, are coming together to fight for justice. Our Latino community is a force for good, peace, and justice.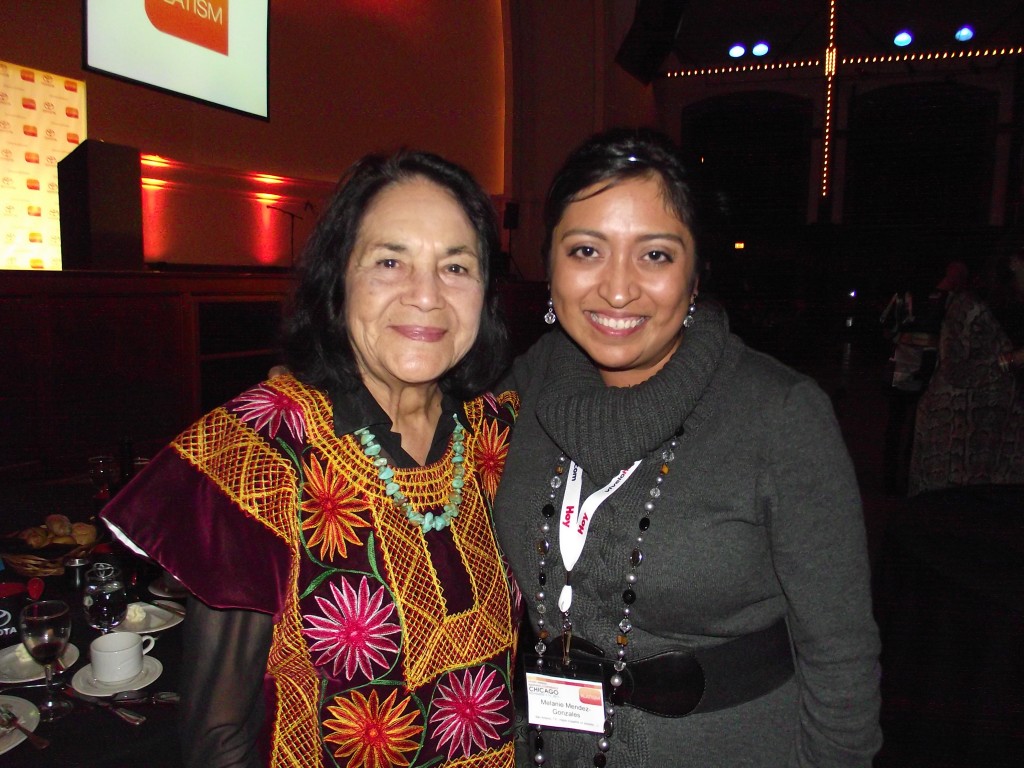 Of course, at the end of the night a friend and I raced over to meet her and have a picture taken with her as we thought, wow! we may not have this chance again.  Well, normally, we wouldn't.  This was no normal conference though.  Later that night, as a few new friends and I were deciding to have a drink at the hotel bar before turning in, we saw several conference leaders walk in with Dolores Huerta.  We greeted them and they were gracious enough to allow us to join them at their table at a wine bar.  Yes, I was honored to drink wine (made of grapes) with Dolores Huerta.
A journalist, not on assignment, was in our small group.  He asked some amazing questions and Dolores candidly opened up.  She shared about personal experiences with César E. Chávez.  She shared about boycotting grapes and what it took to do that.  She shared that it is important for our local communities to have leaders who make a difference, lead and take action.  She encouraged the young generation to work for justice not for material things in life. "You don't see a hearse with a U-haul attached. You can't take the stuff with you."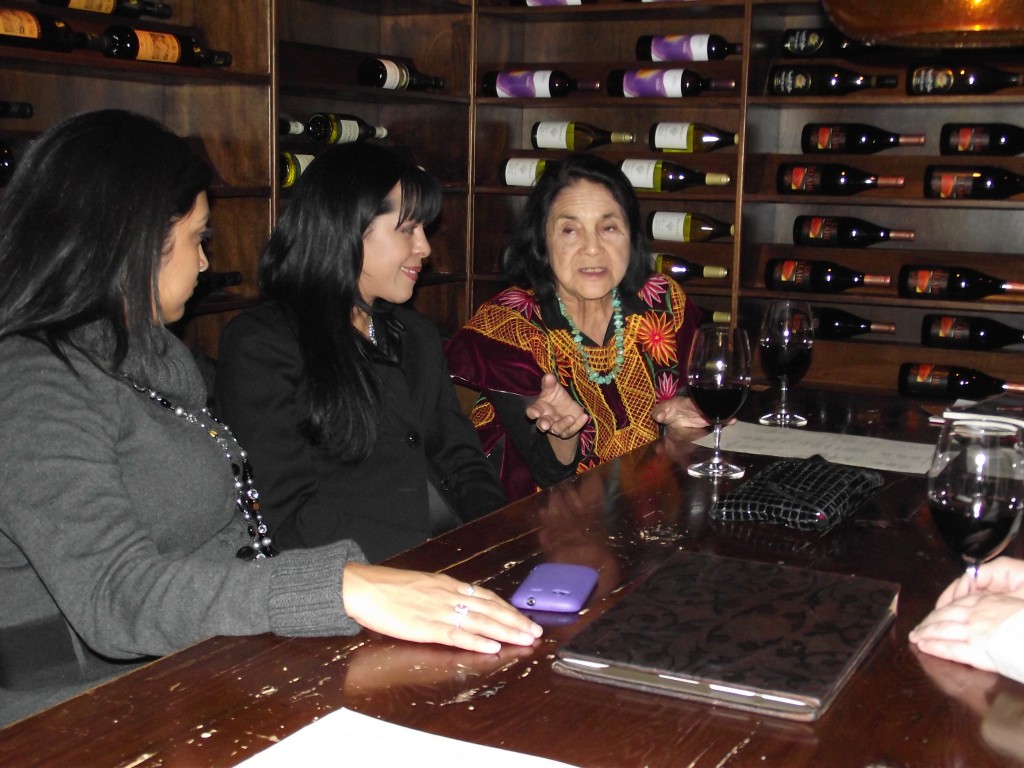 I personally had questions of my own.  I wanted to know if she felt like she was ever in César's shadow.  She replied that at the time she wasn't concerned about that, she was fighting for 'la raza'. She was occupied with talking about grapes, not women's rights.  Not until later did she face that dilemma. And she dealt with it.  She had become friends with Gloria Steinem after all.
She had shared that she was in her mid 30's when she started working with César.  Me being in my mid 30's I had to ask, how can my life and work honor her work.  She answered simply:  Work for justice.
The conversation with Dolores Huerta was a once in a lifetime experience for me.  I didn't in a million years expect to meet her in person, much less get to spend almost 2 hours talking about her life experiences.  She grabbed and held my hand as we walked out and shared another story.  It was like listening to a great Tía tell you family stories.
I am inspired by this woman who spoke gently about work that has changed this country.  Sharing came easily to her and the simplicity of what she said amazed me.
I returned home and replay the conversation in my mind.  It would have been rude to take notes at the table (even though that's what I really wanted to do.)  And I ask myself, what work will I do in my community that will be for justice?  I don't know the answer right now but I do know that not doing any work, will not honor what César and Dolores have done for the Latino community.
I am humbled and blessed by this experience.  Thank you, Latism! Thank you, God!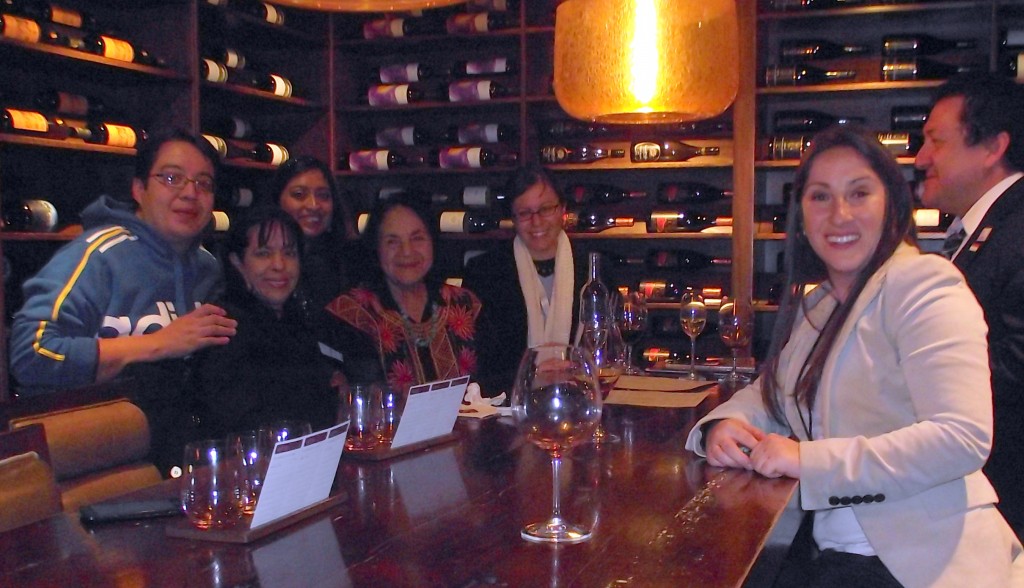 You can follow Latinos in Social Media on Twitter using the hashtag #LATISM. Find out more here.
Visit www.doloreshuerta.org to find out more about the difference Dolores Huerta is making today.