Disclosure: Que Means What did receive a complimentary book to review as reviewing this book as part of a
Condor Book Tour
. No other compensation was received. All opinions are my own.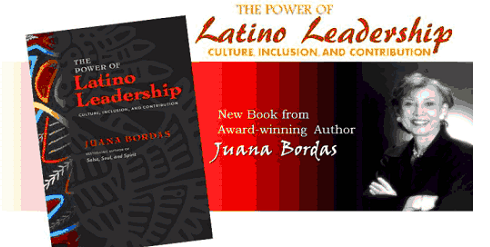 Bestselling author Juana Bordas has written a new book entitled The Power of Latino Leadership: Culture, Inclusion and Contribution and it is utterly timely. With a rapidly growing Hispanic population, one critical component is to develop strong leaders within the community. One might say, to develop Latino leaders. Bordas' book serves as a solid resource for today's and tomorrow's leaders. Its teachings will help to develop strong leaders of the Latino community who will not only move forward but move forward while keeping culture at the center and bringing others along.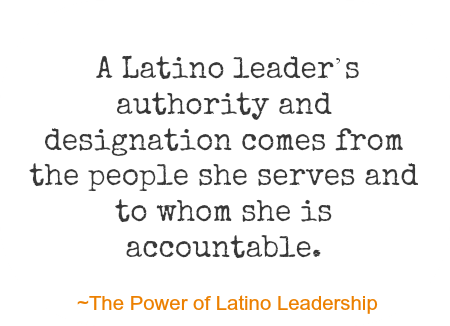 Bordas reminds us about the importance of knowing where we (today's Latino-Americans) came from with a brief history going all the way back to 200B.C. If you did not take any Latino studies classes in high school or college, you will be in for a pleasant history recap from a Latina leader as opposed to a standard history text book found in the American classroom. She quickly brings the reader from the Roman occupation of Spain to the Spanish conquest in Mexico and finally to today's Latino cultural infusion in America. The author doesn't leave the history lessons in the first chapter. She weaves them in throughout the book.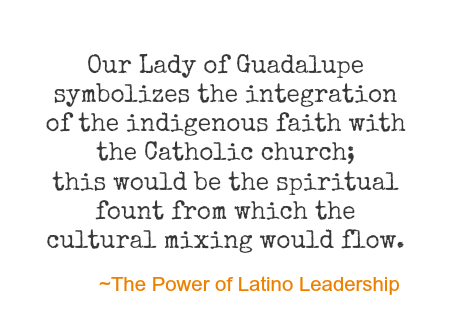 Personally, a favorite part of the book is 'Part II: Preparing to Lead: A Latino Perspective.' If you have had any sort of cultural identity crisis (as I lovingly call it) you may want to spend some time here. The reader is introduced to three concepts of Latino leadership which reflect on the leader themselves. Personalismo concerns the character of the leader. Concinecia digs in to knowing oneself, cultural acceptance and addressing exclusion. Finally, Destino asks readers to look in to what their own personal and unique purpose is.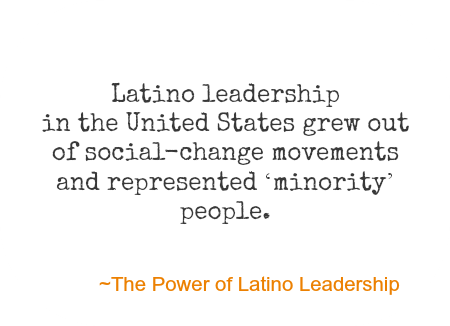 Through the exploration of what role culture really plays in leadership, Bordas points out a set of values Latino leaders that shape the community or Latino familia.  The familia values are: Simpático – Being Congenial; Generosity and Sharing; Respeto – Showing Respect; Ser Honesto – Being Honest; Trabajar – Contributing Through Work; Serving and Helping Others.
The latter part of the book addresses the actions that leaders have taken to propel their communities forward. Bordas shares real examples of Latino leaders who are leading because they saw a need to make a change for others. The key word being 'leaders.' Bordas interviewed several Latino leaders for this book and each one points to the collective and community.
I, personally, have had conversations about the search for the one leader who will lead the American-Latino community. What's refreshing about this book is the idea of LEADERSHIP BY THE MANY. Arturo Vargas, Executive Director, National Association of Latino Elected and Appointed Officials, says, "We're not going to have this one charismatic leader who's going to have this one charismatic leader who's going to bring everybody together. It's thousands of leaders. It's thousands of movements in thousands of communities across the country."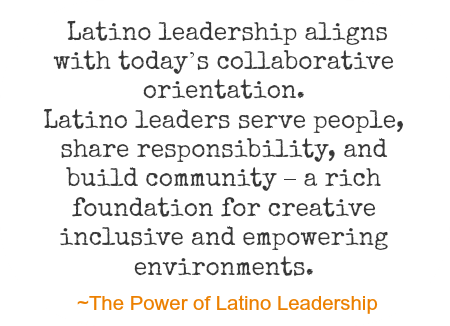 Juana Bordas encourages and emphasizes the necessity of building partnerships and coalitions internally and externally. Within her own experience of building National Hispana Leadership Institute, she partnered with the Center for Creative Leadership and with Harvard University. Those partnerships are still strong today.
Bordas touches on the roles of vitality, faith and hope in Latino leadership. She lays out a 10 point strategy to actualize the Latino Destino which I understand to be to build a diverse and humanistic society.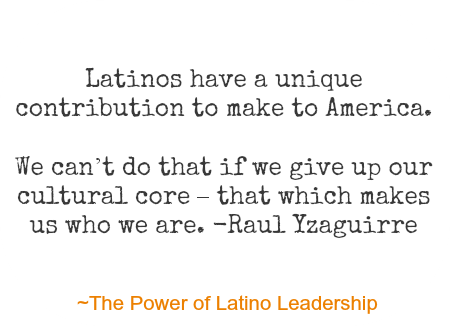 What I like about the book:
The direction. Bordas is very clear about what she writes before and after she writes it. Each section is introduced, written and summarized. It is easy to follow the thread that connects all of the information.
The use of relevant examples. Bordas incorporates quotes from personal interviews from today's Latino leaders such as: Anna Escobedo Cabral, former Treasurer of the United States; Julián Castro, Mayor of San Antonio, TX; Janet Murguía, President and CEO of the National Council of La Raza; Raul Yzaguirre, Founder of the Hispanic Association for Corporate Responsibility; and more.
The use of personal experiences. Bordas lets the readers in about her personal upbringing as well as professional experience. This helps the reader connect to her at any level of leadership they may currently hold.
The correlation to other respected leadership teachings. Bordas appropriately refers to other leadership books such as "The 7 Habits of Highly Effective People" by Stephen Covey and "The Servant as Leader" by Robert K. Greenleaf.
Who Should Read This Latino Leadership Book:
Any future or current leader (Latino or not) in any organization concerning the Latino community.
Latino/Hispanic-American leaders who may be searching for that piece of cultural identity in their leadership role.
Juana Bordas is president of Mestiza Leadership International in Denver and vice president of the board of the Greenleaf Center for Servant Leadership. A former faculty member for the Center for Creative Leadership, she taught in the Leadership Development Program (LDP) – the most highly utilized executive program in the world.
Juana is a founder of Mi Casa Women's Center and served as executive director. Today, Mi Casa is recognized as a national model for women's empowerment. She is founding president/CEO of the National Hispana Leadership Institute, the only program in America that prepares Latinas for national leadership.
To learn more about Juana Bordas and her work, visit Mestiza Leadership International.