This is a sponsored post in collaboration with Boost Mobile. All opinions are my own.
Organizing our apps and data on smart phones is not only smart but necessary for us to get the most out of how these small computers can enhance our daily living. One key piece of my personal and professional lifestyle is entertainment. I keep up with celebrity and entertainment news, listen to my favorite music, watch  music videos, watch TV shows and even catch a sports on-the-go on my mobile device. This allows me to be flexible on where my work space may be for the day. Working from a mobile device is something that I've been doing for years.
It's no fun to have to download each app and re-login to each one when you are switching mobile devices, though. In my video below, I share a few of my favorite entertainment on-the-go apps and how easy I transferred those apps and more from one device to the other with the Samsung Smart Switch Mobile. It is convenient way to transfer data if you must use more than one mobile device or it's just time to upgrade to a new device.
From AP news to celebrity updates, boostTV™ keeps me informed. Plus, I get all of my favorite music at my fingertips with VEVO. For only $10 per month, the boostTV™ Live Sports add-on* would be a bonus for sports fans anywhere to not have to miss another game on on beIN SPORTS!
Entertainment apps aren't the only ones that I have on my Samsung, I am a blogger and social media addict after all. So, of course, you can find Instagram, Facebook, Twitter, Vine, Periscope and more on my mobile device at any given time. I was very pleased that I finally was able to have a few successful Periscope broadcasts with this Samsung Galaxy Prevail from Boost Mobile. In fact, I was a guest scoper for Latina Bloggers Connect last month for How to Use Social Media to Unite Our Voices. I had several devices on hand that day because I wanted to be sure I had a back up. I needed it! Right before the broadcast, everything seemed to go wrong. This Samsung Prevail and Boost Mobile actually saved my day. Thankfully, the broadcast was a success!
$100 Gift card Giveaway #SamsungYBoostSmartsChallenge
As you can see, social media and entertainment are what I do with my Samsung. What do you do with your's?
Tweet?
Google Hangout?
Perisocpe?
Watch live TV?
For a chance to win $100 Giftcard, tell us all about it! Enter the giveaway below. A winner will be chosen on October 26, 2015.
a Rafflecopter giveaway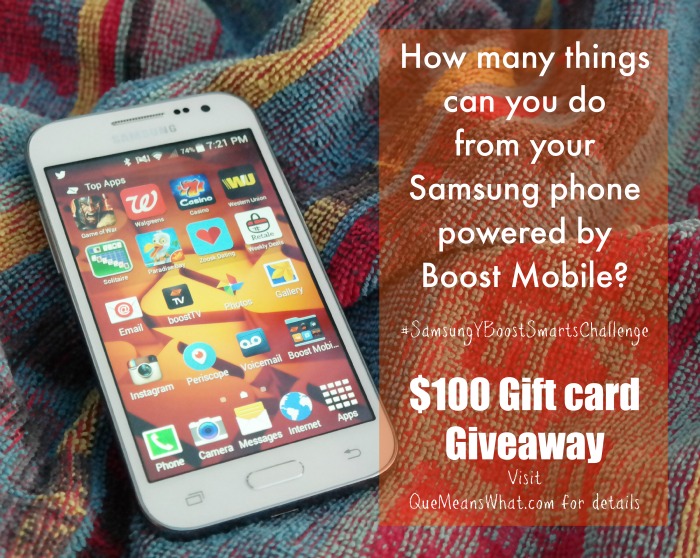 *$10 boostTV add-on available for monthly plans & select devices only. boostTV usage counts against plan's applicable monthly data allotment. After allotment reached, data speeds reduced to 2G speeds for remainder of plan cycle. Using boostTV over Wi-Fi does not count against plan's monthly data. Other terms: State & local sales taxes/fees may apply when adding funds to accounts. Coverage not available everywhere. Offer, network use rules & other restrictions apply. See boostmobile.com or in-store materials for details. ©2015 Boost Worldwide, Inc. All rights reserved. ©2015 Samsung Electronics America, Inc. and Samsung, Galaxy S trademarks of Samsung Electronics Co., Ltd. Screen images simulated. Appearance of device may vary. Other marks are the property of their respective owners.