Disclaimer: This is a sponsored post in collaboration with P & G. All opinions are my own. 
As the leading voice for Hispanic oral health, the Hispanic Dental Association recently celebrated its 25th Annual Conference in San Antonio, Texas, and hosted a reception on Aug. 14 to honor the winners of its 2015 Orgullo Program, an annual competition for oral health students, members of the HDA, sponsored by Crest and Oral-B.
I attended Orgullo reception to hear firsthand about the HDA's new and exclusive partnership with Crest and Oral-B, meet the Orgullo winners and speak with oral care professional Dr. Iván Lugo about how P&G's oral care brands will work together with the HDA to improve the oral health of the growing U.S. Hispanic population.
The winners of its 2015 Orgullo Program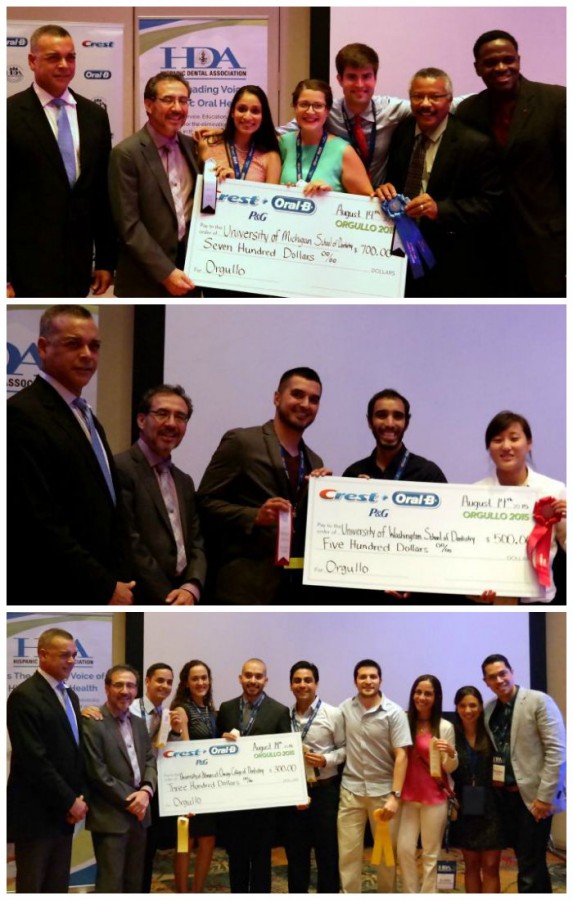 Hispanic Dental Student Associations from 19 different schools participated in this HDA Student Chapter program and competition. According to the Hispanic Dental Association website, the Orgullo Program is designed to accomplish two important goals: Outreach and Recruitment. In order to participate, each Student Chapter must accomplish a minimum of two activities.
1. Crest Oral-B Community Outreach Program: The outreach program can be geared toward any age group, from pre-elementary to senior citizen. The outreach portion of the competition is designed to be a delivery of services such as oral screenings and oral health education (for example, providing patient education services at a community health fair).
2. Hispanic Dental Association Recruitment Program: The recruitment portion of the competition is recommended for middle school or high school students. The object of this program is to encourage young Hispanics to strive for a career in dentistry. This can be accomplished during the same outreach programs discussed above or at specific events such as high school career days.
At the reception, I caught up with the 2nd Place winner HSDA – University of Washington School of Dentistry and their Faculty Advisor Beatrice Gandara after they received their award.
Carlos Valdez, former HSDA UWSOD President, shared with me that his organization were first time participants of the Orgullo Program. HSDA UWSOD hosted pipeline events which consisted of a dental day camp for high school students from migrant backgrounds. The high school students were invited to the University's dental lab where they took impressions, able to pour in stone and take home, etc. The organization was able to teach the high school students about dentistry and encourage them to attend the school.
Other HSDA UWSOD-hosted events consisted of a Migrant Farm Camp event where the organization teamed up with Medical Teams International and went to migrant camps in the rural community of Seattle and provided free dental care. They also set up the Orgullo table where they provided patient education, provide toothbrushes and toothpaste and oral hygiene instruction.
When I asked faculty advisor Beatrice Gandara why she thought HSDA UWSOD did so well for their first time, she said, "They work really hard on serving the community."
The final part of the Orgullo Program was to create a video to campaign for the program. Valdez said they had a lot of fun creating this video and everyone was able to be involved.
Dr. Iván Lugo, Manager for NA and Puerto Rico, Professional and Public Sector Innovation, Professional Oral Health, P&G, said, "Two years ago we said 'Why don't we try video?' So they began campaigning with videos and it was so, so exciting. This year they've stepped it up a notch. We hope to continue that. I'm looking at some of these and some of these are looking like PSA's or things we could put in waiting rooms for moms to listen to."
"We have to find ways to engage new generations and this is one way that we think has been very effective over the last 6-7 years," Dr. Lugo said about the Orgullo Program
---
Educating the Hispanic Community About Oral Health Fitness with Dr. Iván Lugo
After the presentation of the winners, we continued our conversation with Dr. Lugo.
Why do you think the Hispanic community is less educated about dentistry than other communities?
Dr. Lugo: I think it's the generational myth that we continue to pass on. So (for example), putting the baby to sleep with sugar drinks. Nobody has really said 'why don't you try water? Why don't you try something else at bedtime because this is what happens, mom.' And (explain how) the sugar destroys the teeth. 
Many times we take the mouth for granted. If it was a finger that was bleeding, we would not let it go but a tooth is bleeding or we spit and see blood, it's not the same kind of attention-grabber when you see blood when you spit. It's just as bad as when you see something bleeding but we don't put it to that level of "There's something wrong. I have an inflammation, I have an infection in my mouth. It's serious and I need to take it to get taken care of." 
Those are physical signs that we can start letting people know – if you see this, it's not good. And then, create that consciousness that if you see blood, it's something that needs medical attention. And I think Those are the things we can get out to the public. It's small things but it's significant because that will make them reach out for credible information and education.
Pediatric dentists are not in every community so a lot of our community don't have access to pediatric dentists. General dentists might not be willing to see them, to see children. So, there's a lot of different things but I think what we are trying to do with creating an exclusive alignment with the HDA is to start looking at what are the top priorities that we need and how do we get that message out so that our community understands it.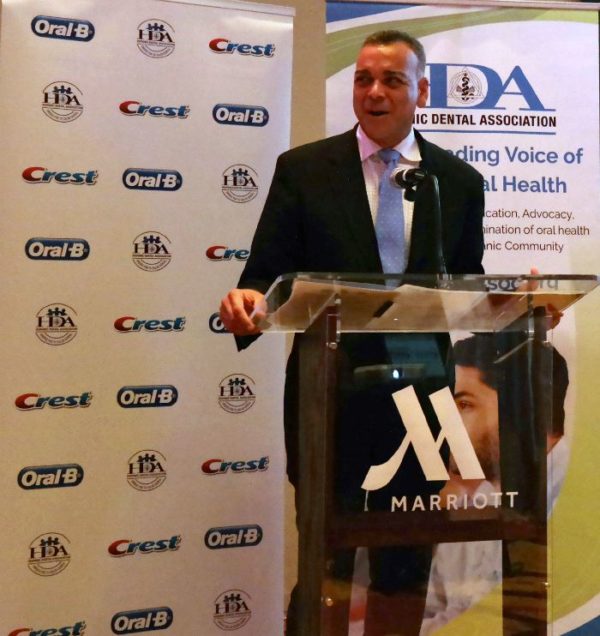 Dr. Lugo makes a point to remind that gum disease is preventable. A great example of his is about two twin 78 year-old sisters whom he saw when he was in dental school. One sister had all her teeth. Her sister had dentures. The sister with all her teeth flossed from an early age.
While the brush can cover the outside and inside the teeth, to remove all the bacteria between the teeth requires flossing. Dr. Lugo admits it is tedious. If you want to keep your teeth healthy for life, flossing is a must-do.
People take the mouth for granted and don't think about keeping it fit in the same way we think about keeping our body fit.
To learn to appreciate our mouths, Dr. Lugo suggests to hold your breath for a minute or two and you will begin to realize how important our mouth is to our body. Without it, you can't breathe, you can't eat, you can't talk.
In a community like San Antonio, home of festivals like the Big Red and Barbacoa Festival, what can we do about our teeth?
You can't take a culture over night. The things that you can do is to start making people conscious that after you eat this much sugar, you might want to cleanse your mouth with water. 
At festivals, begin to pass out things to educate people to say: We celebrate our culture. We celebrate our food but this is how our food is affecting our children and it's affecting our health.
I think that particular piece will be probably one of the first steps in building a consciousness around keeping your mouth clean and healthy particularly when you wake up and when you go to bed. Those are critical things. 
Perhaps find ways that the community can embrace rather than say, "You know what? I'm not going to stop eating this."
We know you're going to eat it! Once you eat it, think about drinking a little bit of water. Swishing so that you can remove that sugar and then you can continue on. If you can brush, that's great. If you can swish with water at least to remove the sugar, that's probably number one in creating a consciousness around not having sugar stay in your mouth so that it destroys your teeth. 
What happens – just quickly – when there's carbohydrates (sugar) that remain in your mouth and then there's the bacteria that's accumulating, the bacteria will eat the carbohydrates and then they will secrete an acid that will eat your enamel. That's why it's critical to remove that bacteria so that if there's sugar, there's not bacteria there to eat it and create an acid that will eat away your teeth. 
Then if it gets under the gums, you get gingivitis and that can lead to periodontitis where you begin to lose the bone. 
For our community where we have a lot of hypertension and diabetes which affects the immune system. You have to make sure that a diabetic person has good eating habits but also has good oral health fitness so they can remove the bacteria because their immune system is not going to be able to fight the infection or inflammation in the mouth as well as somebody who has an intact immune system. 
If you are diabetic, go to the dentist more often. Get cleanings every three months. Get a check up every three months to make sure you don't let it accumulate. You need more check ups if you are diabetic. 
Is it ever too late to begin to take care of your teeth?
It's never too late.
What do you say to adults that feel shameful because they didn't take care of their teeth?
Working with your dental health professional, you can age yourself into health. There are ways to restore the ground you have lost. It all requires good cleaning and prevention to not get there. 
For our community, we don't have extra money to be going to the dentist to get the teeth fixed. So why not build some prevention in your daily routine and save a lot of money later on throughout life. 
---
Queridos, while the reception was lively and the dance floor was always full, the two biggest takeaways for me was to not take my mouth for granted and as a mother, be sure to pass on oral health fitness to my kids. My third takeaway is the impact that the students of HDSA have by volunteering their time for this project. The Orgullo Program sets an example to not only improve oral health care but to also give back to our communities.
How will you make an impact on the oral health of your familia? Leave a comment below to let me know. Please share this blog post with anyone you love and know who will find this information valuable.