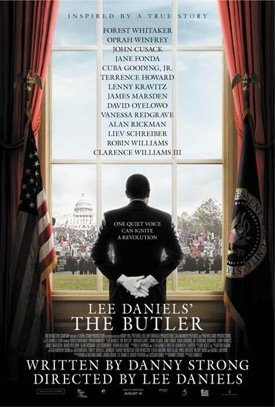 Although Lee Daniels' THE BUTLER is about a story throughout American history, the themes of this movie are extremely relevant and important for today. Aren't all great history movies, though?
Synopsis: Set against the tumultuous political backdrop of 20th century America, Academy Award® nominated director Lee Daniels' (PRECIOUS) historical epic LEE DANIELS' THE BUTLER tells the story of White House butler Cecil Gaines (Forest Whitaker), who serves during seven presidential administrations between 1957 and 1986.
Inspired by Wil Haygood's 2008 Washington Post article "A Butler Well Served by This Election" about the real life of former butler Eugene Allen, the film begins in 1924 with a young Cecil living in the fiercely segregated South and facing the tyranny of the region's prejudices. After years spent working in a hotel, Cecil is discovered by a White House employee, which leads to landing the opportunity of a lifetime: a job as a server at 1600 Pennsylvania Avenue. There, Cecil becomes a firsthand witness to history and the inner workings of the Oval Office as the civil rights movement unfolds. At the same time, he and his volatile but loving wife (Oprah Winfrey) must grapple with the rebellious spirit of their son Louis (David Oyelowo) whose tenacious hunger for activism and equal rights often puts him in dangerous situations – and at perpetual odds with his father. While Cecil remains fiercely committed to his duties at the White House and to providing for his family, his determination leads to increasing tensions between him and his anti-establishment son.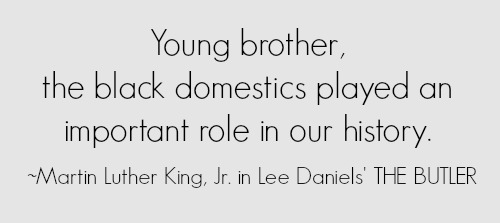 Through the eyes and emotions of the Gaines family, Daniels' film follows the changing tides of American politics and race relations; from the assassinations of John F. Kennedy and Martin Luther King Jr., to the Freedom Riders and Black Panther movements, to the war in Vietnam and the Watergate scandal, Cecil experiences the effects of these events as both an insider and a family man.
With an incredible supporting cast that includes John Cusack, Jane Fonda, Cuba Gooding Jr, Terrence Howard, Lenny Kravitz, James Marsden, Alex Pettyfer, Vanessa Redgrave, Alan Rickman, Liev Schreiber and Robin Williams, LEE DANIELS' THE BUTLER is a story about the resilience of one man, the growth of a nation, and the power of family. (The Weinstein Company)
The Acting:
With a line up like the one listed above, one should expect spectacular acting. There were a few characters who stood out for me, although I was pleased with them all. Oprah Winfery's acting was superb. There were moments in the movie that you could forget she's 'Oprah'.  I have never seen Lenny Kravitz play a role in which I thought to myself "This role was made for him." That's probably because I wouldn't have casted him as a butler but I'm glad someone did. And of course, Forrest Whitaker was outstanding. I have been a true fan of his work since THE LAST KING OF SCOTLAND, in which he took home the Oscar for Leading Actor. However, I believe he will be remembered most for the role of Cecil Gaines.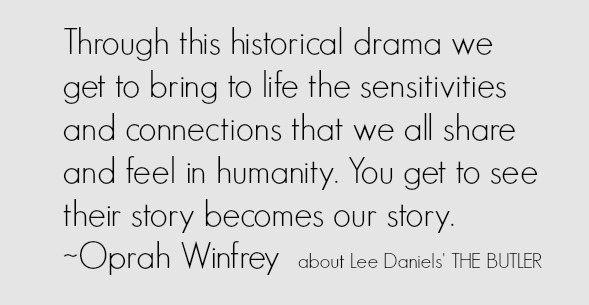 It's not easy for me to write THE BUTLER movie review because so many different parts of the story and dynamics moved me for different reasons. The civil rights history lessons were the reason for the movie but there were several other extremely important storylines. There was the story of a family's victories and heartaches over generations; the ever-changing relationships between parents and children who become their adult children; the love story of a marriage tested over many years; the story of real friendships; the story of hope in a time when hope was scarce; and the story of learning one's self value.
Watch the preview below. It gives you a good understanding of why this movie is so important for all Americans to watch. I encourage you, your family, your children's teachers, your city and state leaders and our national leaders to watch this movie.
UPDATE: Lee Daniels' THE BUTLER is available on DVD January 14th. You can purchase the DVD, Soundtrack or book from my Amazon Affliated Links. Disclaimer: That means mama gets poquito dinero with each purchase form the following links. Gracias.