From the Academy Award-winning director of SHREK, Aron Warner, and Horton Hears a Who! director, Jimmy Hayward, comes a Thanksgiving-themed 3D animated comedy for audiences of all ages. In FREE BIRDS, Two turkeys – Reggie (Owen Wilson) and Jake (Woody Harrelson) – travel back in time  to the year 1621, just days before the first Thanksgiving in attempt to save all turkeys from becoming Thanksgiving dinner for good. Don't want to miss it? We have a FREE BIRDS movie ticket giveaway for you!

Reggie is plucked from living the plush life as being the pardoned turkey by Jake (Woody Harrelson), the relentless founder– and only member–of the "Turkey Freedom Front." Jake has only one mission: to change history forever and save all of turkey-kind. As they travel back in time, they find themselves in trouble. Before Reggie and Jake become a main course at the first Thanksgiving dinner, they are rescued by Jenny (Amy Poehler), the beautiful and fierce daughter of the Wild Turkeys' Chief Broadbeak (Keith David).
Jake must teach the wild flock about the future and rally support for his mission to change history, but Reggie is apparently on a mission of the heart: falling beak-over-tail for Jenny. Can the two of them stay focused and join forces long enough to complete the mission? You will have to watch to find out!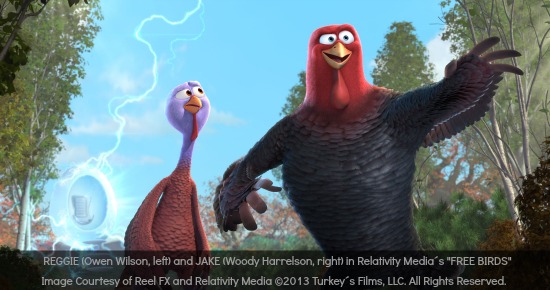 The GIVEAWAY

Thanks to Relativity Films, Que Means What readers have a chance to attend the screening before FREE BIRDS movie hits the theaters on November 1st. Winners must be able to attend the San Antonio Screening of FREE BIRDS on Saturday, October 26, 2013 at 11:00AM; Santikos Embassy Oaks 14, 13707 Embassy Row, San Antonio, TX 78216. Enter below and good luck!
Follow FREE BIRDS movie on Facebook and Twitter for more turkey updates!