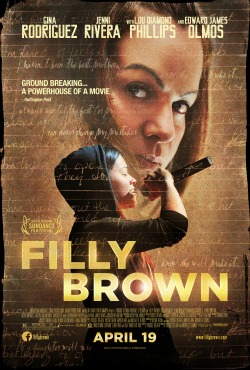 FILLY BROWN is a love story about family love in a way in which no one else talks about family (often). Without giving the plot away, Majo Tenorio (Gina Rodriguez) a.k.a. Filly Brown is a young Latina with a mother in prison who is left to care for her dad and younger sister. She is working in her uncle's tattoo shop when an incredible opportunity to begin a career in the rap/hip-hop industry when a music producer discovers her talent. Timing is of the essence as she is hustling to raise money for what she thinks will be her mom's ticket out of prison.
As the story develops, the audience learns that the mom, even though in prison, has begun using drugs again. We understand that this is not the first time and is actually why her mom is landed herself behind bars. Majo's father, Jose Tonorio, (Lou Diamond Phillips) and uncle have all but turned their backs on her mother. They've grown weary of her mother's antics. However, Majo has not. She seeks out legal advice form Leandro Chaves (Edward James Olmos). His message to her is that the only way her mom can be saved is if the family comes together in a way they never have before. This is a challenge as Jose refuses to help, her sister is too young and Majo is the only who believes her mom is deserving of any assistance.
FILLY BROWN is an emotional story for anyone who values family will appreciate. It brings awareness to how a family who lives in the same house deals with a family member who has an addiction to drugs. The writers take you through the anger, shame, denial, and sadness the characters feel and they do it in a way that is relevant.
What spoke to me the most about this movie was how Mara Jose "Majo" Tonorio aka Filly Brown (Gina Rodriguez) has to choose who she will be after she learns the truth about her mom and the reality of their situation. This is a universal issue people face. You live your life one way because that is what you know. And then, one day, you learn 'the truth' and maybe you knew it all along but you discover it's time to face it. One must answer: Who will I be in the face of this knowledge? Majo answers that question for the audience in her final rap at the end of the movie. And that performance, for me, was worth the entire movie.
FILLY BROWN is directed by Youssef Delara and Michael D. Olmos; Written by Youssef Delara and stars Gina Rodriguez, Jenni Rivera, Edward James Olmos, and Lou Diamond Phillips. Edward James Olmos and Lou Diamond Phillips' careers precede their performances. (Hello? Stand and Deliver.)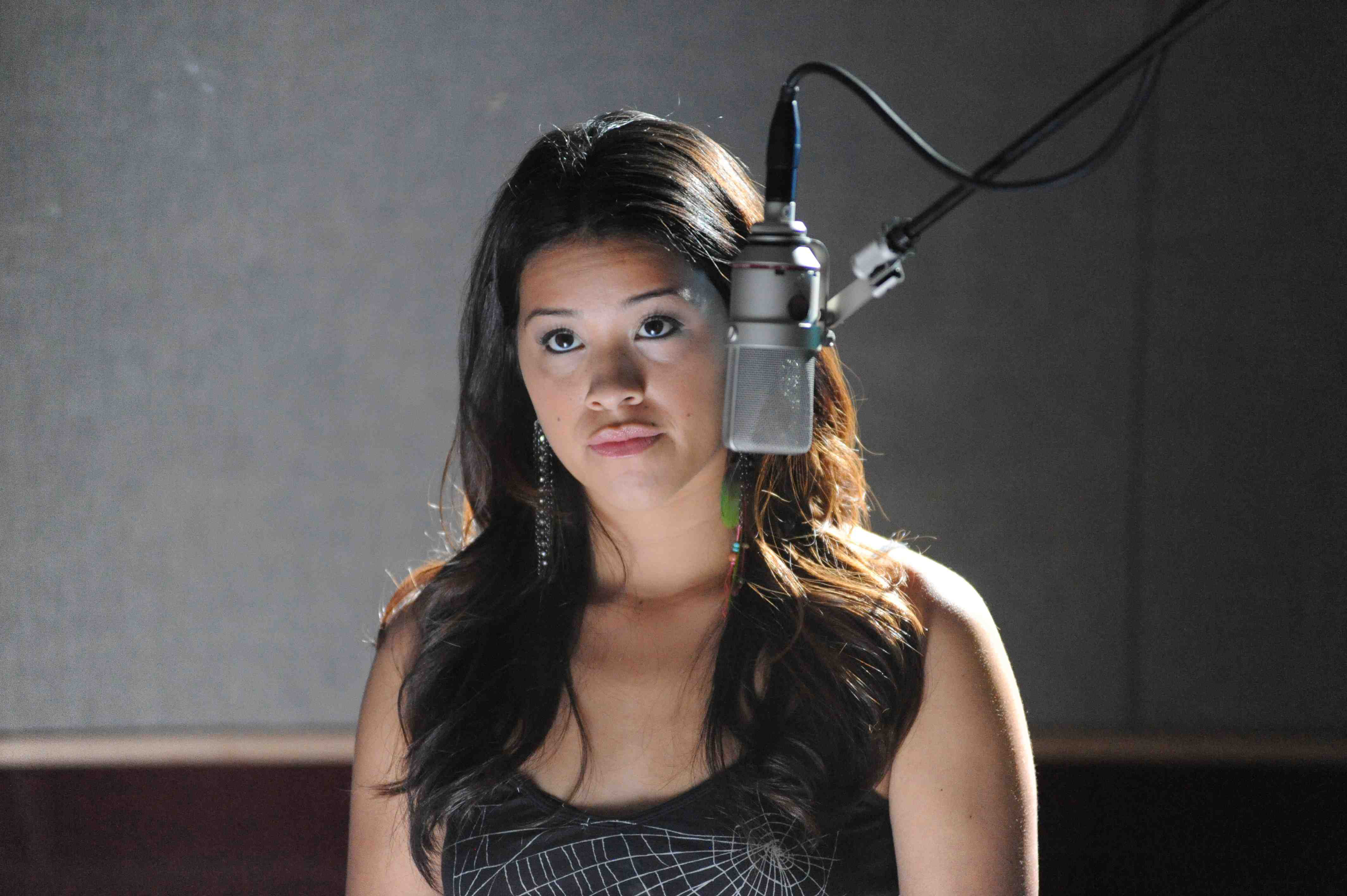 I had the pleasure of meeting Gina at Hispanicize in 2012. It was also the first time I had learned of FILLY BROWN. What I loved about Gina was that she said her work was important to her because of all the little brown babies in the world. If she (and other Latina actresses) is on the big screen, those little brown babies will grow up watching their reflections on that big screen. Something she (nor many of us Latinas) had the chance to see growing up.
Gina did all her own rapping in the movie. She kills it y'all! The directors said once they heard her, they knew she was Filly. During the Q & A at Hispanicize, Edward James Olmos admitted that after reading FILLY BROWN, he told the directors, 'This sounds great. It will only work if you find the right person for the lead.' He couldn't imagine who they would come up with and was amazed with Gina's performance.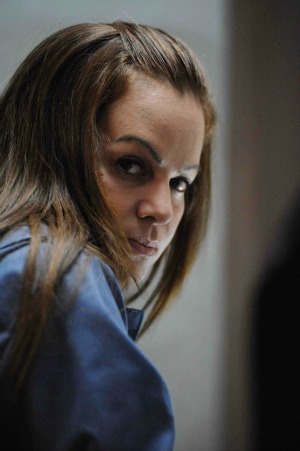 JENNI RIVERA
As a Mexican-American woman, watching Jenni Rivera, the Mexican-American Banda artist and entrepreneur, on the big screen is heart-aching and heart-warming all at the same time. Last year, learning that a Mexican-American artist would be playing the mother in FILLY BROWN was exciting news to me. Why? Because I don't believe there are enough Latinas on the silverscreen. Tragically, Jenni, La Banda Diva, died in a plane crash in December 2012. While we celebrate her work, she is not here to celebrate with us. It is as if this role is her final good-bye to all of us. Don't miss it. It is a powerful and necessary performance. We <3 you Jenni!
Here is a short recording I took of Edward James Olmos (at Hispanicize/Miami Film Festival) during Q & A after the movie preview when he spoke of Jenni who she was.
CHINGO BLING
This Tejana would be remiss if she didn't mention the comedic performance of Pete "Chingo Bling" Herrera, III. Originally from Houston, TX, Chingo Bling is an artist known for his mixtapes (yes, mixtapes) and his signature sunglasses and cowboy hat combo. It is his first role in any film and he doesn't disappoint. His comic relief is welcomed in this drama. He plays the role of Rayborn Esparza, the fast talking producer who gives Filly her first taste of stardom.
Gente, go see this movie! Not just because of the story line. Go see it to support Latinos in films! Supporting movies like this will help ensure our little brown babies will continue to see their reflections on the big screen in a positive way. The movie opens in theaters nationwide April 19, 2013.