This one is for the mamas and those who love them!
"Women, especially mothers, tend to forget that the most important thing is to take care of themselves," Fashion Expert Rodner Figueroa "El Fashionista" shared with me at Target's Fall Style Showcase at the People en Español's Festival.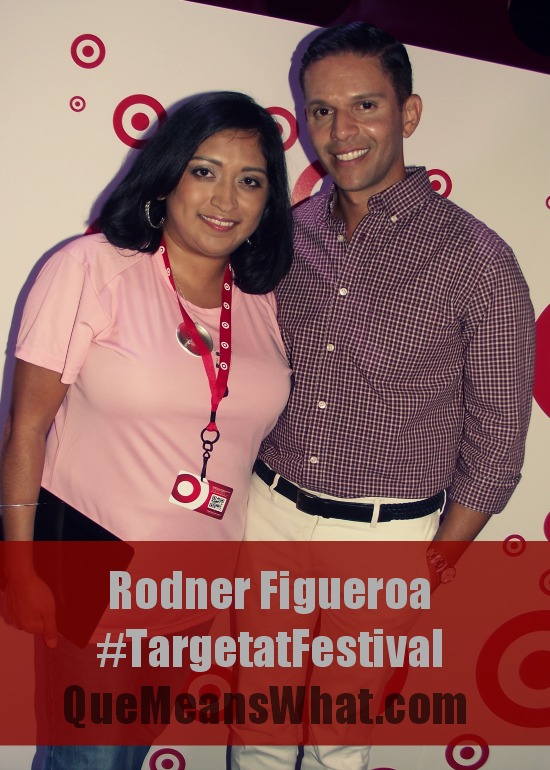 Rodner shared with me the advice he gave to his sister-in-law after his lovely niece was born. He noticed that she had neglected her own style and wanted to encourage her. This advice rings true for many mothers. 
Before you were a mother, you were a wife. Before you were a wife, you were a single, young lady. Don't ever forget that. 

Yes, your most important role in life is to be a mother but your kids are going to grow up … get their own life and you are going to be stuck with the left over.

Make sure you take time for yourself … to look good, to keep your husband interested, to look beautiful and to set an example for your daughter. 
Watch this short video to hear more from Rodner when he reminded me there is time, as long as I make the time:
Just a short time ago, I was having a conversation with my mom and my grandma about this exact topic. With good intentions, my grandma lovingly reminded me to wear my makeup and dress nicely every time I leave the house. En serio, mujeres, how many times have you heard this? ¿Y sabes que? They are right. It is important for us to take a few moments to make ourselves look great. Now, looking 'great' means different things to different mamas and that's okay. The most important thing is you look YOUR best in a way that makes YOU feel great. 
So, I asked Rodner what should I look for to update my style for the fall to look great.  Here are a few tips he gave me:
Wear a blazer with jeans and white shirt for a more sophisticated look. Be sure the jeans are fitted and the shirt is crisp. Accessorize the look!
Look for various trends of blacks & white with a pop of color.
Colors hot this Fall are yellow, orange and maroon. look for leaves changing colors for inspiration.
Combine different blues and greens with animal print.
Pair of shoes? Bootie is must!
To learn more suggestions from Rodner, visit Style Struck: We Chat Fall Trends with Rodner Figueroa.
I went online to find an inspired style and found Pursuit of Shoes' #TargetStyle Instagram and Pinterest photos. Here's a look Rodner described! 
Now that the weather is actually changing in Texas, it's time to update the wardrobe and these booties from Target just might do the trick! From the many I've seen, these booties are more my style.
So, come on mamas. Let's take an extra few minutes for ourselves! We deserve it!
If you are in the market for updating your fall wardrobe, visit Fall '13 Target Look Book.
Known as "The Fashionista," Rodner Figueroa hosts "Sal y Pimienta" on Univision and is also the star of Univision's red carpet events, such as the Latin GRAMMY® Awards, "Premio Lo Nuestro®" Latin Music Awards and the "Premios Juventud". This beloved fashion guru, with his fashion-savvy critiques, is often regarded as the most anticipated part of the red carpet. His interviews with top-notch stars and fashion designers have made him a huge hit in both the United States and Latin America. Figueroa's credibility, along with his unique sense of humor and charm has captivated a loyal audience following his every move and eagerly awaiting his next fashion "do's" and "don'ts." (latinwe.com)