Oh Chrysler Pacifica how mi familia y yo love thee, let us count the ways …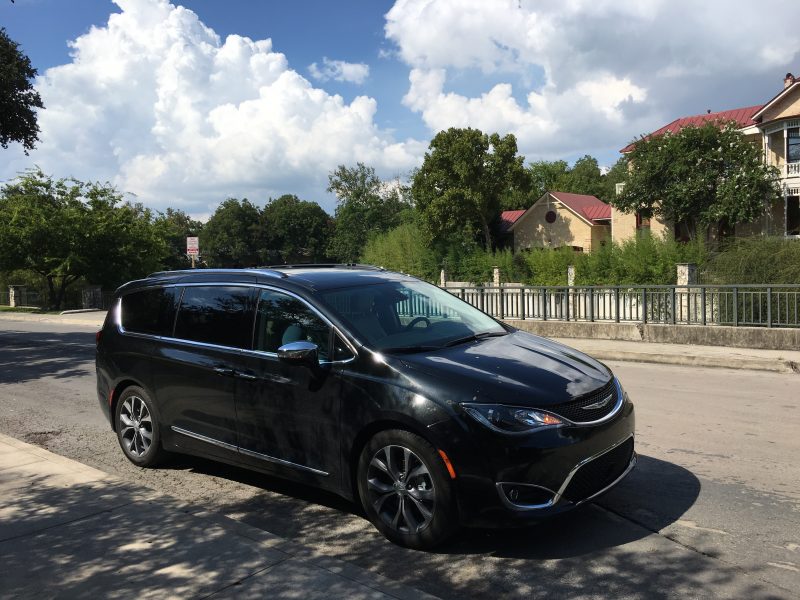 Sunroofs from front seat all the way through to the back seat. Who doesn't enjoy looking up at the sky on a sunny day or at the stars on a clear night?
KEYSENSE. My kids aren't old enough to drive yet. When they are, technology like KEYSENSE will make it easier to hand over the keys. It allows you to control speed, volume, and set safety and security settings.
One-touch button stow away third row seating. With a mini van, chances are that you will need to make seating adjustments and with the touch of a button, you can transform the Chrysler Pacifica into what you need.
Super easy second row stow away seating.  Again, seating adjustments are needed.
Ventilated and heated seats. It's hot in Texas. I appreciate that I can cool my seat inside. En serio, that's a big deal!
Remote start with key fob. Again, it's hot in Texas. Gone should be the days that we have to wait for cars to be cool enough to be inside.
Surround-view camera. All these cameras make it easier to park and move in reverse. I wish I had them when I was learning to drive.
Hands-Free Sliding Doors and Liftgate. What a time saver! When our hands are full, we don't have to yell at the kids for help or drop everything to only pick it back up after we open the doors.
ParkSense Front/Rear Park Assist with Stop. WATCH our video on this one! I tried it two times before what you see on the video because I was too nervous to let the Chrysler Pacifica park itself. I don't know if I'm ready for self-driving cars. At least I wasn't sure before this review!
SO MUCH ROOM inside. I pretty much became the

chauffeur

 because all three of my boys insisted on riding and relaxing in the back because the Chrysler Pacifica is so roomy and comfy. 
We all enjoyed our trial with the Pacifica courtesy of our friends at Chrysler. These features weren't all we loved. It has power. Your family can ride in style and with speed in the Pacifica. We even took it on date night! I'd like to drive it to Colorado up in the mountains for another vacation. Oh, we miss you, Pacifica!
WATCH our video love letter to the Chrysler Pacifica.