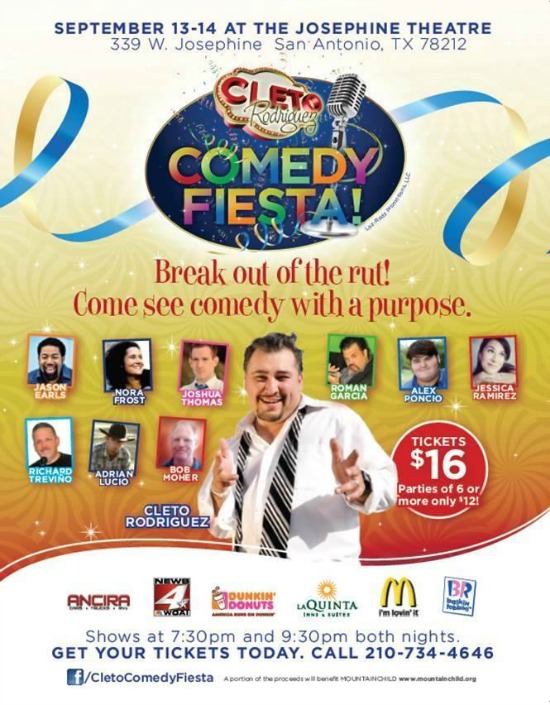 It's time again for the Cleto Rodriguez Comedy Fiesta! This year's headliners are Jason Earls from Dallas on Friday night and Cleto Rodriguez on Saturday night.
I have seen most of these comedians and had many laughs at .. uh, with. I laugh with them. However, there is one special lady on stage this year, a wonderful and funny friend, Jessica Ramirez from Christian Comedy Chicks. So, I reached out to Jessica to find out more about why she is joining the Fiesta and what to expect! Here's what she said:
This event is a showcase of great local talent and I'm honored that Cleto would invite me, a little no name SA mom, to perform. It's not easy for a MOMedian to pursue a dream and balance a home. So much is expected and some days I take trips to crazy town, but God is good and allows me time to do stand up comedy! You can expect family-friendly, funny comedy in an old school atmosphere at the Josephine. It's nothing Netflix could offer and a night you'll be laughing about for years to come.
Oooo … did you hear that Netflix?! … okay, I'm not the comedian but they ARE so go watch them and have some laughs!
FRIDAY, September 13 and SATURDAY, September 14 at the Josephine St. Theater. Showtimes are 7:30pm and 9:30pm. For tickets, call 210-734-4646. Tickets are $16 or $12 for groups of 6 or more. A portion of the proceeds will benefit MountainChild.org For more information, visit cletorodriguez.com