Like a good magician, Now You See Me kept audiences on their toes with misdirection and slight-of-hand. There was no doubt in my mind that Now You See Me 2(NYSM2) would produce the same sense of exhilaration and bewilderment as its predecessor, and it did not disappoint!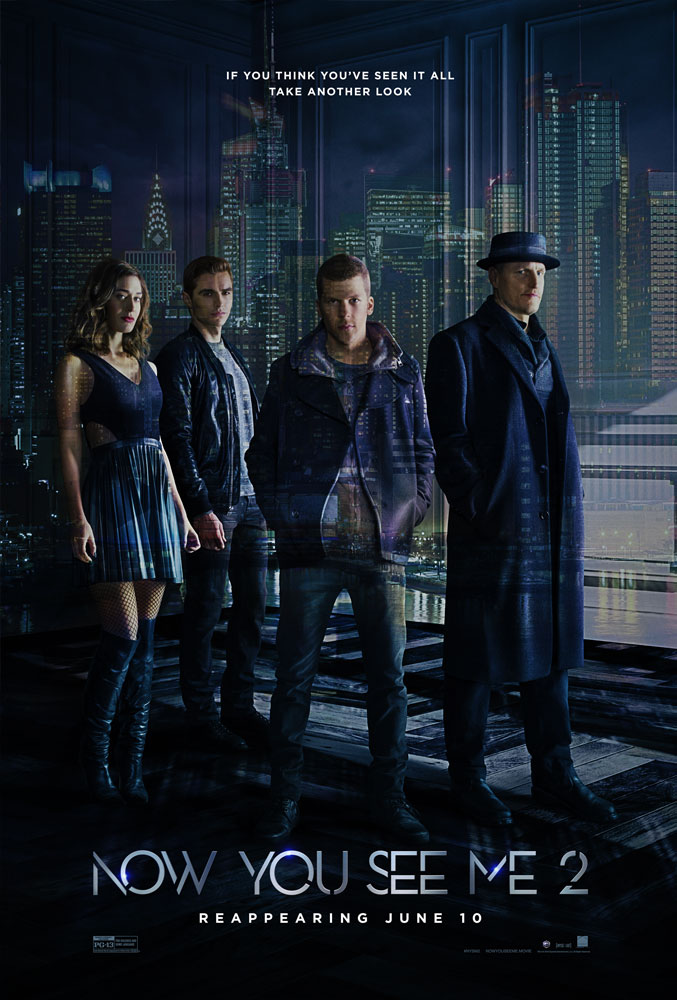 In NYSM2, THE FOUR HORSEMEN [Jesse Eisenberg, Woody Harrelson, Dave Franco, Lizzy Caplan] return for a second mind-bending adventure, elevating the limits of stage illusion to new heights and taking them around the globe. One year after outwitting the FBI and winning the public's adulation with their Robin Hood-style magic spectacles, the illusionists resurface for a comeback performance in hopes of exposing the unethical practices of a tech magnate. The man behind their vanishing act is none other than WALTER MABRY [Daniel Radcliffe], a tech prodigy who threatens the Horsemen into pulling off their most impossible heist yet. Their only hope is to perform one last unprecedented stunt to clear their names and reveal the mastermind behind it all.
Get movie tickets in minutes on Fandango.
The entire NYSM2 crew upped the stakes with dazzling illusions and suspenseful set pieces. A mid-movie scene in a high–tech vault is especially exhilarating as the camera work makes you feel as if you are in on the action. And although the special effects and illusions are top-notch, it would feel empty without a human touch. All the actors, but especially Mark Ruffalo, Jesse Eisenberg, and Woody Harrelson, make you care about these situations that our heroic magicians find themselves in.
All that being said, the plot isn't without its faults. The involvement of some major characters appears downright coincidental and tacked on at best. But while some of the cameos and twists feel forced, seeing screen legends like Morgan Freeman and Michael Cane is always a treat, and it's easy to forgive minor faults in the writing, based on their screen presence alone.
On the surface, NYSM2 is pure entertainment, a popcorn flick. And if that's what you leave the theatre with, you probably had a pretty enjoyable evening. But if you look deeper, it's more than that. NYSM2 wants to remind viewers of the good that can be done when individuals work together toward a common goal. And in a summer of heroes and mutants at the box office, it's nice to be reminded of the magic an ordinary person can hold in the palm of their hand.
Genre: Action, Comedy, Thriller
Directed by: John M. Chu
Starring: Jesse Eisenberg, Mark Ruffalo, Woody Harrelson, Dave Franco, Daniel Radcliffe, Lizzy Caplan, Jay Chou, Sanaa Lathan, David Warshofsky, Tsai Chin with Michael Caine and Morgan Freeman
Rating: PG-13
Run time: 129 minutes
Release date: June 10, 2016