Vanessa Guillen's disappearance and death devastated our communities. She was a soldier stationed at Ft.Hood in Texas. She was Mexican-American. She was from Houston, TX. Vanessa was one of us. Mujeres across the country were angry, sad and outraged. More importantly, we knew we had to take action.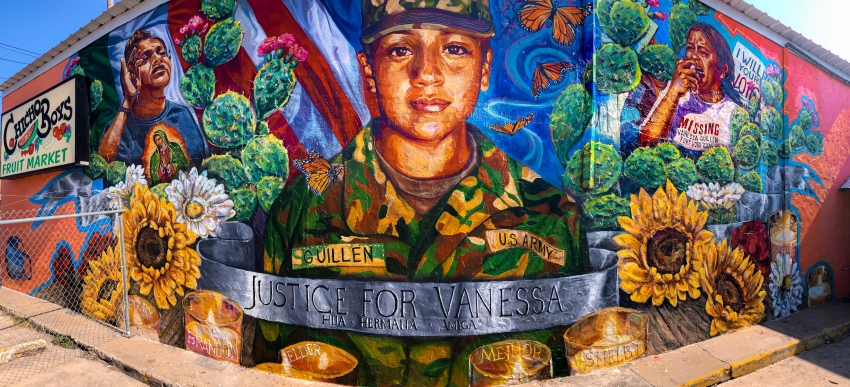 Watching the news and seeing Vanessa's mother and sisters screaming for justice moved so many of us towards action. We followed their lead. We signed petitions, called our representatives and many took to the streets to march and protest. As Chicanos do, murals began to appear on walls to honor Vanessa and to remind our communities that we will not forget her, we will demand justice, we will speak out against violence against women.
Entre Todas Las Mujeres: A Vanessa Guillen Mural
Meet Tracy and Stephanie. They are two amigas – my amigas, too – and they stepped into action right here in San Antonio, TX. We met in the Latina Leadership Institute, a program of the San Antonio Hispanic Chamber of Commerce. As alumnae, we often call on one other when we need mujeres to support our community engagement efforts.
These two started the call with a project that began over the July 4th weekend. They created a shrine to honor Vanessa and shed light on violence against women. That led to a mural in San Antonio's Westside. At every turn, a group of mujeres offered our support to these two. We all wanted to do just one more thing. Vanessa's undeserving death could not be forgotten. No one of us could do something like a mural alone but we quickly learned we could all do it together. Tracy and Stephanie led the way and so I interviewed them to talk about the journey. Watch the full interview here: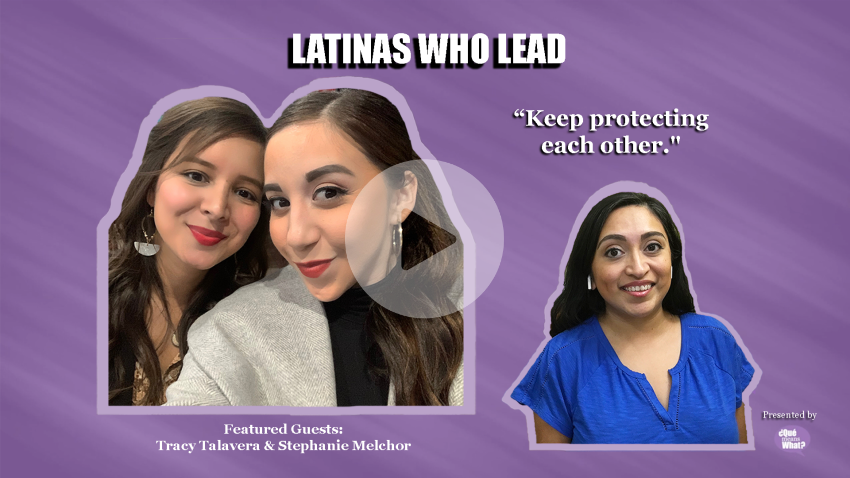 Listen to this interview on the Que Means What Podcast on Spotify and Anchor.
The Chicana Artists
Adriana M. Garcia and Ana Laura Hernandez are two incredible Chicana artists who said YES to creating the mural. The group of volunteers got on a phone call with the two artists. We shared our wishlist of what we would have liked to see in the mural. None of us could have imagined the beauty that they would end up creating.
Honestly, I can't write enough words or say just the right things about the imagery in this mural. That's what makes Adriana and Ana Laura so incredibly special. Listen to this interview I had with them just a week before the unveiling. Plus, they will share a lesson about muralism in the Chicano community right here in San Antonio, TX.
Both artists are products of the San Anto Cultural Arts Center. Adriana shares with us how SACAC taught her about how to create murals. She also talks about the Chicanos took to the walls when we didn't see ourselves represented elsewhere.
Awareness of violence against women, our cultura, our hermanas, and other fallen soldiers are all represented in "Entre Todas Las Mujeres." As Adriana states in the interview, her art is her activism.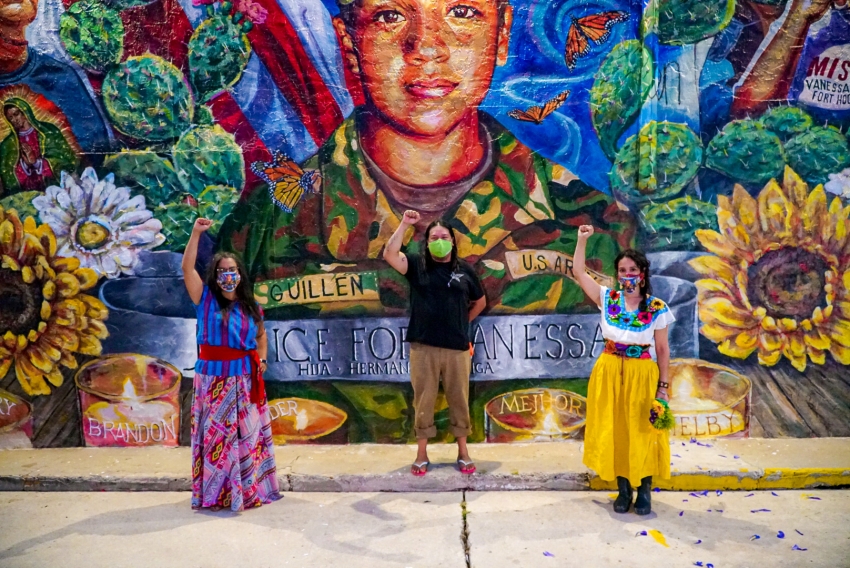 Find Adriana M. Garcia on Instagram at @adrianamjgarcia and Ana Laura Hernandez at @ana.hernanx
Along with both these Chicana artists, I want to acknowledge local artist Rudy Herrera who joined Adriana and Ana Laura in completing the mural.
The Vanessa Guillen Mural – San Antonio Unveiling
After two months of fundraising, planning and painting, the mural was unveiled to the world. We hosted a virtual unveiling. to respect social distancing rules and keep our community safe. The entire event was live-streamed on the Que Means What Facebook Page.
You can watch the ceremony here: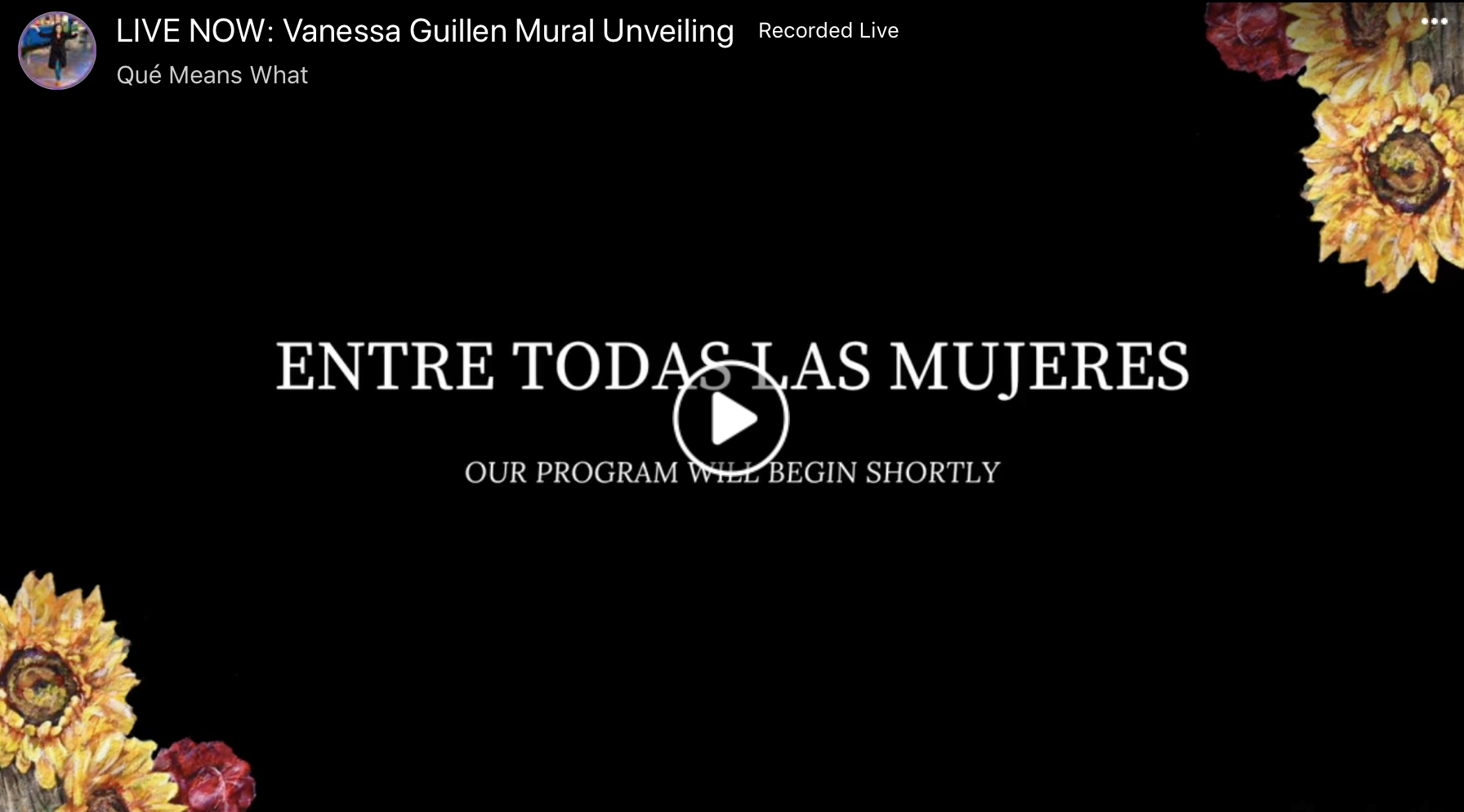 The unveiling event included moving remarks from the two women who started this project – Stephanie Melchor and Tracy Talavera.
"When you visit the mural, we ask that you think about the women in your life. How can you ensure that they are respected and protected?
Vanessa Guillen was a sister, a daughter and a friend. Honor her memory by listening and uplifting the women in your life.

Cuando visites el mural, queremos que pienses en las mujeres de su vida. ¿Cómo vas asegurar de que son respetadas y protegidas?
Vanessa Guillén era hermana, hija y amiga. Honre su memoria con elevar a las mujeres en su vida y escuchen cuando ellas hablan."

Stephanie Melchor and Tracy Talavera at "Entre Todas Las Mujeres" Mural
San Antonio's Mayor Ron Nirenberg sent a video offering recognition of appreciation of the mural. We witnessed a blessing of the mural by Grupo Xinochtli and Father David Garcia. And, of course, we heard from the artists Adriana Garcia, Ana Laura Hernandez and Rudy Herrera.
My Name is Vanessa Guillén – Tribute Video
One of the most moving parts of the our Vanessa Guillen Mural San Antonio unveiling was the beautiful tribute video. The script was written by Stephanie Melchor and Tracy Talavera. It was read by five community leaders:
Erika Prosper, First Lady of San Antonio
Rosie Castro, Community Activist
Dr. Carmen Tafolla, Author
Ina Minjarez, Texas State Representative
Rose Avila, Navy Veteran
Watch the full video here: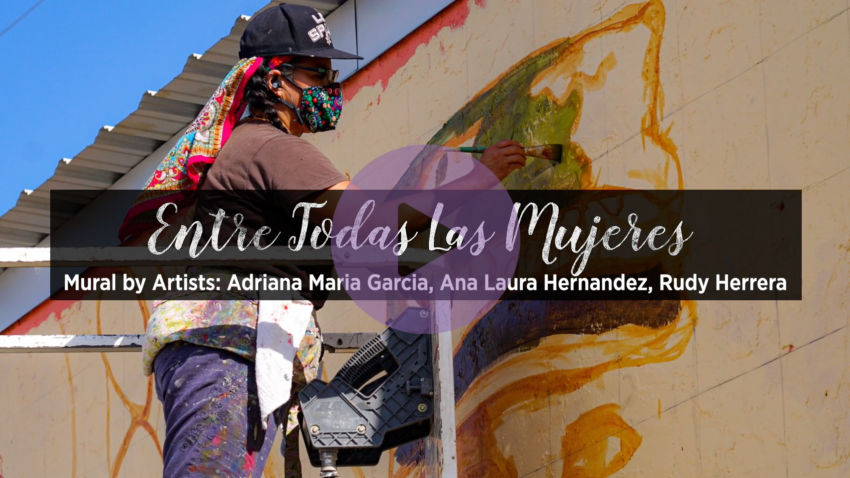 A special thanks to Uncommon Collective for creating the tribute video and to Chris Cantoya for all the photos.
The Lesson Plan
We must learn from our own history. One reason that violence against women continues to happen is because we do not speak about it enough. Keep this conversation going in our own circles, in our own schools, or in our own homes. Dr. Karla Duran and Keli Rosa Cabunoc Romero of Queremos MAS TX co-created a lesson plan for this mural and about the murder of Vanessa Guillen. It includes history about murals in the Chicano community. Find it in this Google Drive. Download it. Read it. Teach it.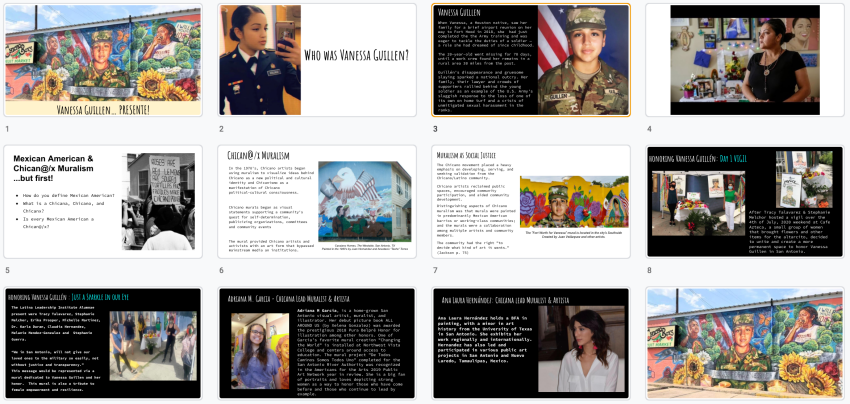 Guillén Family Resources
Vanessa's family is still fighting for justice. Join them! Follow Find Vanessa Guillén on Facebook and Instagram and @whereisvanessag on Twitter. The official Find Vanessa Guillen website also has all the updates and calls to action.
Now is not the time to stay silent, Queridos. Join the fight to demand justice for Vanessa. Take action! Sign their petitions and contact your representatives.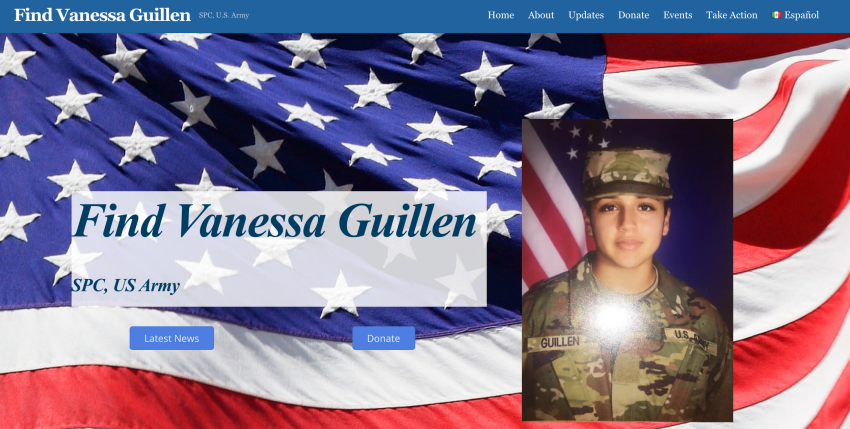 Gracias, San Antonio
So many people volunteered their time, resources, efforts, talent and money for this mural. THANK YOU!
A SPECIAL THANK YOU goes out to all the people who donated to the GoFundMe. We made the call and you answered. See the full list of Vanessa Guillen Mural – San Antonio donor here: https://www.gofundme.com/f/SATXVGMural/donations
To everyone listed below, THANK YOU!
La Familia Guillen
Erika Prosper 
Mayor Ron Nirenberg
Rosie Castro
Dr. Carmen Tafolla 
Representative Ina Minjarez
Rose Avila
Dr. Karla Duran
Melanie Mendez-Gonzales
Claudia Hernandez 
Michelle Martinez
Stephanie Guerra
Adriana M. Garcia 
Ana Laura Hernandez 
Rudy Herrera
Chicho Boys staff: Gilbert, Jose, Jesse and Fernando
San Antonio Cultural Arts
Manuel Montez
Marisela Olguin
Tony Olguin
Graciela Sanchez
Melanie Tawil
Laura Lopez
Nikki Martinez
Jessica Ruiz 
Irma Duran
Michelle Mata
Laura Perez
Flor Salas
Nancy Gonzalez
Letty Romero
Chris Burwell 
Juliana Burwell
Father David
Grupo Xinachtli
Victoria Martinez 
Sal and Yolanda Alderete 
Joy and Lee Cavazos 
Jacinto Guevara
Jane Garza
James René Gregory Duqué
Francisco and Evelyn Garcia 
Dan Quintanilla 
Jim Winterly 
Keli Rosa Cabunoc 
Chris Cantoya 
Michael Duran 
William Luther 
Heather Osbourne
Finally, Queridos, this post is in hopes that you will take action and demand justice – not just this time but every time you witness an in injustice. More so, find your tribe of people who will say YES when you call on them for support to begin something you know your community needs and is bigger than you.
Entre Todas Las Mujeres was our task to take on but the result is for you. For Vanessa. For her family.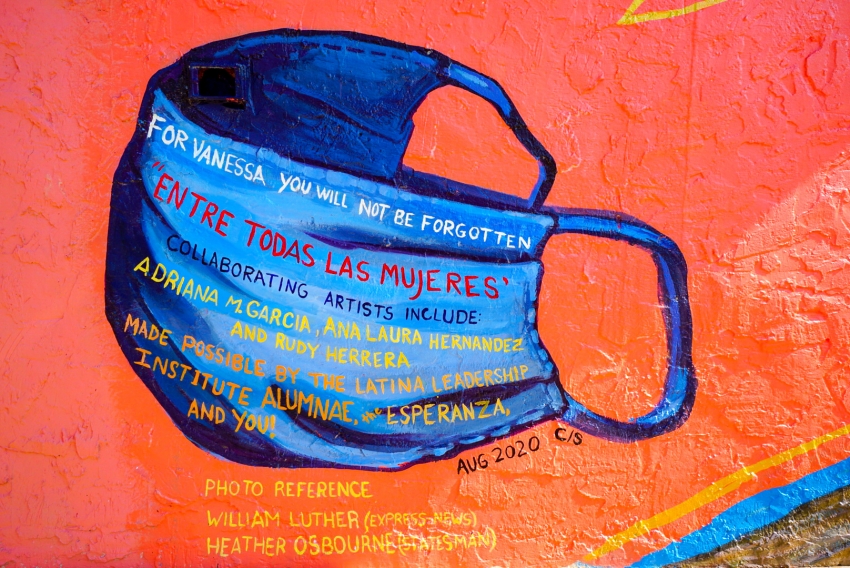 Learn about other artists and their Vanessa Guillen Mural – San Antonio, TX:
Mural Commemorating Army Soldiers Vanessa Guillen, Gregory Morales Unveiled